In the final part of her tour through South Africa, Rachel Fellows goes beyond Cape Town, to one of the country's oldest settlements, and one of the finest properties set among the vineyards of the Western Cape, the appropriately named La Residence…
Franschhoek is a chocolate box town in the heart of the Cape Winelands, where the bright white buildings typical of the Cape Dutch style abound, and gleam in the sunlight. They house a mix of cafes, art galleries and curio stores, as well as a handful of excellent restaurants (The Greenhouse, La Petite Colombe, Reuben's; vineyard-based Pierneef à La Motte and Chefs Warehouse at Maison, to name a few), which have afforded the area the informal title of South Africa's gastronomic capital. Cute, quaint, and pretty enough for any postcard, it is hard to imagine things getting any more idyllic. But keep driving, and you might just reach nirvana.
Another name for it is La Residence – a 16-roomed hotel set amid 30 acres of gardens, vineyards, olive groves and orchards. It is one of four within the Royal Portfolio, which was set up by Liz and Phil Biden in 1999 with their luxury lodge in the Kruger National Park. Their most recent is the statuesque Silo in Cape Town's waterfront area and so whilst the collection is small in size, it is certainly not lacking in heft. And if La Residence is good enough for Elton John then, hey, it must be worth a try.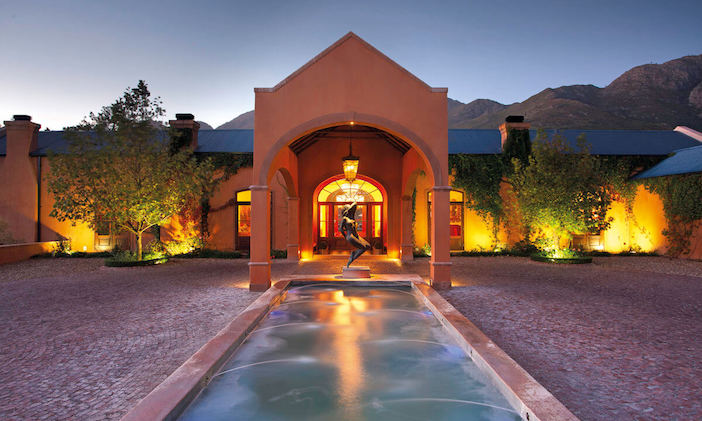 Despite only having been built in 2008, it feels like the town's grand old manor house, found past the end of the main high street and then round its own swirling driveway with springboks grazing at the side. When you finally reach the house itself, the staff waits in line to greet you, a large glass of wine at the ready. And this sets a precedent, because what might seem overbearing, or fussy, or just plain saccharine treatment somewhere else, feels entirely natural here. Call bullshit if you will, but the smiles with which this service is delivered come across as genuinely genuine, a distinction only identifiable when you witness it.
Thus put at ease, you walk into the Great Hall, a vast crystal chandelier dangling overhead and shiny black and white checkerboard tiles at your feet. This contrasts the naked wooden beams of the ceiling, the many gargantuan stone fireplaces and the bursts of colour in the (mostly velvet) furnishings. The overall aesthetic is eccentric glamour meets countryside chic – the former aided by Liz Biden's extensive travels to source exciting items from around the globe, the latter in homage to the town's history (the name Franschhoek translates as 'French quarter' owing to the influx Huguenot settlers to the area in the seventeenth century). It's grand, stylish, undoubtedly ostentatious, and it all boasts a sort of glee that prevents any of risk of pretension.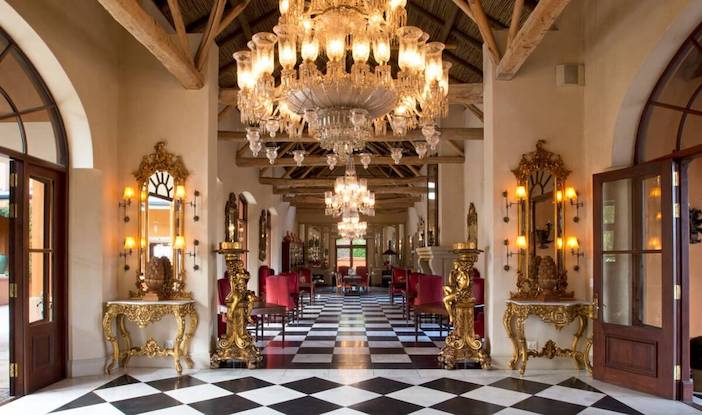 To your left is an inviting lounge area with sofas to sink into and fires aglow in the colder months; a sneaky mezzanine level provides a study-cum-library up in the rafters, perfect for hiding away in. On the right is the somewhat stately dining hall. But it is straight ahead that your feet will immediately find themselves moving, as if independently, out of the double doors, past the terracotta walls, over the red Persian rug and towards the vibrant vista in front of you: a pristine green lawn spliced by a path leading to an azure infinity pool surrounded by buttercup yellow umbrellas, which clash rather stunningly with the scraggy but formidable mountains behind. It is a strange perspective, but a fabulous one, only improved by the odd peacock or two who pootle around in front of you. They are permanent residents, the lucky things.
Hard to blame them, though – a strut just comes naturally when this is your home, even temporarily. Each of the 11 suites in the main house takes on a different theme (names include Maharani, Tang, Tibetan, etc.) and are grown-up playgrounds with bathrooms bigger than most people's flats, free-standing baths plonked triumphantly in the middle.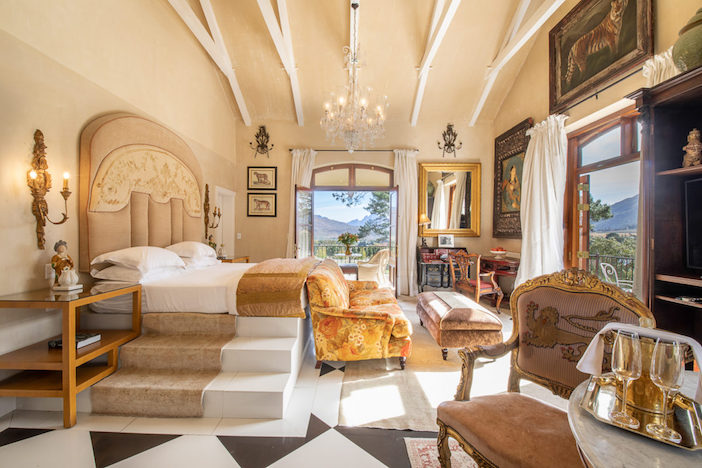 As in many high-end hotels these days, the minibars are complementary (well, incorporated in your room rate) and this would be satisfying enough, but we're not talking a stunted white fridge shoved under a desk here. No, at La Residence, you get a full-on maxibar housed in a grand wooden cabinet, with full-sized bottles, sturdy barware and snacks (including locally sourced confectionery). Nothing is in miniature here, and if you want something different, the hotel will fetch it for you. Even if that means a trip into town for something they don't usually stock. There may not be room service as such, but this is a pretty awesome alternative.
If you can tear yourself away, there is plenty more fun to be had onsite: a spa, of course, a gym, bikes to hire, you name it. Or there's more to imbibe, from the veritable tome of a wine list. Despite the selection, the perk of being a guest here means that you can enjoy the estate's own wine – made from the surrounding vines – which are not sold or solved anywhere other than the Royal Portfolio.
This homemade touch carries on, with olive oil made from ground's own groves, honey courtesy of its bees and so on. The food is overseen by executive chef Lennard Marais with a focus on this most local of produce and an exclusive Chef's Table option so that you can converse in greater detail with the team as they add inevitable little flourishes to traditionally-inspired cuisine.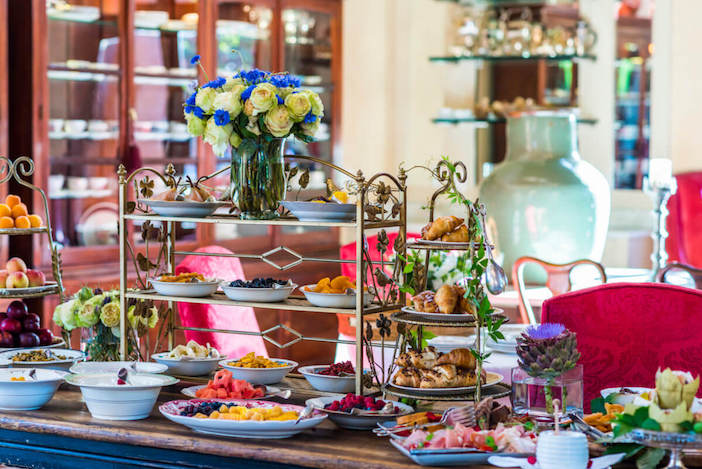 This extends to the breakfast menu, which boasts the "Huntsman" of smoked kudu carpaccio with scrambled eggs, sautéed mushrooms, a jam-like tomato conserve, parmesan shavings and truffle oil. Given that it's low on carb, it's not as overpowering as you might think, but my word does it set you up for the day. When people talk of a 'breakfast of champions' they should really only be referring to this. There is a bounteous buffet spread too, plus an extensive tea menu with fuller explanations than the food. Oh, and the fresh mint tea is made with mint handpicked daily from the garden.
If only Franschhoek itself wasn't so worth visiting, you may be tempted to stay put entirely. And if the 20-minute walk into town seems a little daunting, there is a car at your disposal throughout your stay to shuttle you back and forth. There's no denying it: residents of La Residence are the lucky few. This place is not cheap, but it has earned its position among the top hotels in the world thanks to its personal touches and stupendous service. You get luxury here – comfort, opulence, all of it – but the attention paid to detail is both transcendent and unobtrusive, making it seem like you're staying in some private lodge, perhaps at a house party, rather than a formal establishment. And somehow, making itself not feel like a hotel makes La Residence one of the greatest hotels of all.
For more information on La Residence, and other properties in the The Royal Portfolio, visit www.theroyalportfolio.com.