On the main road from Chiang Mai to its nearest urban neighbour, Chiang Rai, there is an oddity the like of which should have no place being there: a pie shop. We were in the far north of the country, cutting through a river-fed gorge with high foliage-thick mountains rising either side and few other buildings on this particular stretch. But it was, after all, the main artery through the country to the Golden Triangle on the Burmese border, so an oddity it may be, but a well-conceived one by some enterprising local baker.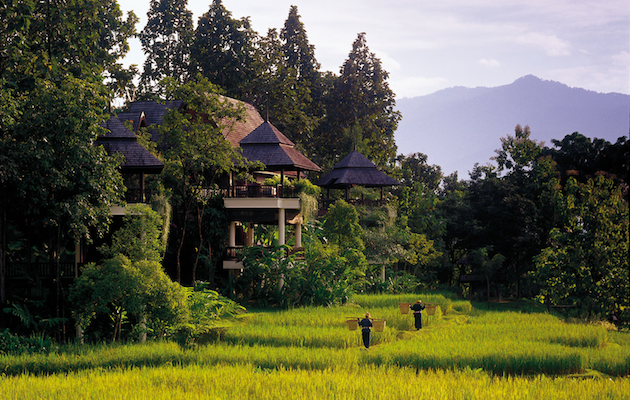 Curried pasties and standard savoury fare were on offer, certainly, but it was the sweeter options on the bottom shelf of the display cabinet that lit up my eyes. Lemon meringue? Here?? And more…pineapple meringue…and mango and even coconut varieties. It was extraordinary. But no more anathema than the culinary diversity that exists in this part of the world; northern Thai cuisine is not like Thai cuisine, as I had learned to my sheer pleasure in the preceding days.
The introduction to this gustatory enlightenment began in earnest two days earlier, as I sat down for dinner at Sala Mae Rim, the signature restaurant at the Four Seasons in Chiang Mai. Here I felt an immediate departure from the urban mayhem of Bangkok or the formulaic tourism of the beach resorts I'd experienced before. I was getting a glimpse of rural Thailand I'd had an impression of only in photos; the classic pointed 'sala' roofs, misty mountainsides thick with forestation; you can picture it, I'm sure.
Surveying the resort from the balcony off the lobby, I looked out on padi fields and raised villas being absorbed into the near-jungle surround. A warm orange sun burned through the haze that diffused the Doi Suthep mountains to the north and, instinctively, I heard the theme to Merry Christmas, Mr Lawrence in my head – until I realised it was coming from the stereo in the bar behind me, or a similar tune of sorts. At any rate, it set the scene. I felt remote, adventurous, gloriously and lavishly liberated. There is no business to be done here. This is not one of those hotels that have to cater for the MICE market, where you pass suits as often as Bermuda shorts; this hotel is designed for pure escapism.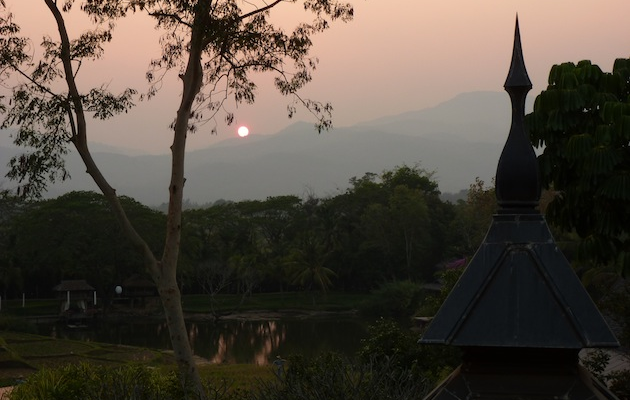 My suite – if you can call it that, it was more like an apartment – I was fortunate to discover, was one of those very villas perched on the edge of the padi fields. Palatial and indulgent, with dressing room and double basin en suite, the two things that did it for me were the bath, featuring a glass surround such that you're bathing amid the flora and the balcony with its connected stilted walkway to a private terrace over-looking the grounds. Again, all this is a conscious means to harmonise with the environment. It's not contrived, though – I was surprised to learn that the resort has been in operation for 18 years – it's been a distinct evolution. Far from it beginning to look tired and dated, it has literally evolved into its environment; the flora planted there at its inception has now absorbed the buildings so that there's a wonderful homogeny to the experience. The result is that one very much feels, well, exactly that: at one.
But I digress. Dinner. I was invited to dine that evening as the guest of the hotel's Food & Beverage Director, JJ, a fitting companion whose encyclopaedic knowledge of 'northern' Thai cuisine proved an invaluable insight and fuelled my appreciation for the food. Sala Mae Rim – literally, Mae Rim House, after the nearby village – had a menu dedicated to authentically Thai ingredients. While no surprise that these are locally-sourced, what did come as a surprise were the ingredients themselves; tomatoes, for one, and coffee. "There is less fish, less coconut in northern Thai cooking, as we're far from the coast. Also, there are several ingredients more typical here; tomatoes, particularly, and basil, eggplant…" Sounds more Italian, I thought. "…though Thai eggplant is not quite the same. It's much smaller, like a golfball…"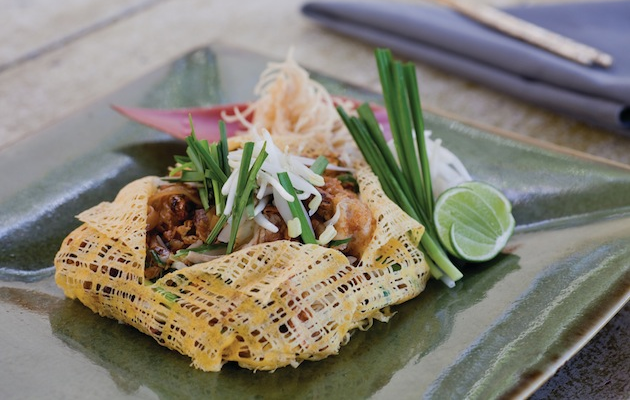 There was an array of choice on the menu, some things I knew, some I didn't. I dismissed the former and then, by process of elimination, sought to select my one opportunity from the latter. But JJ wouldn't let me get away with being polite. In spite of his disarmingly laid back manner, he ordered dishes like a man possessed, insisting I sample the entire country's agricultural output. "Northern Thai food focuses on meat, so there's a lot of pork and beef. We'll start with a beef salad, and get some pork ribs on the side. Most seafood is from the south but we have some good fresh fish from the royal projects, so we'll get the steamed seabass with galangal and kaffir lime…and we must have the Som Tham; spicy softshell crab with tomatoes, which is a Chiang Mai speciality. Then, for a main…"
"Now we have a main?!"
"You need to try the duck with nacha coffee sauce. Did you know coffee was grown up here? The bitterness is offset by fresh pineapple. I believe you'll make it tomorrow at the cooking school so if you have it now you can get a head start…finally, for vegetables, you have to try chayote. It's not native but we use it a lot. It's a sort of cross between a pear and a cucumber. Oh, and we should get the tiger prawns with pomelo, it's a sort of grapefruit but not as sour…"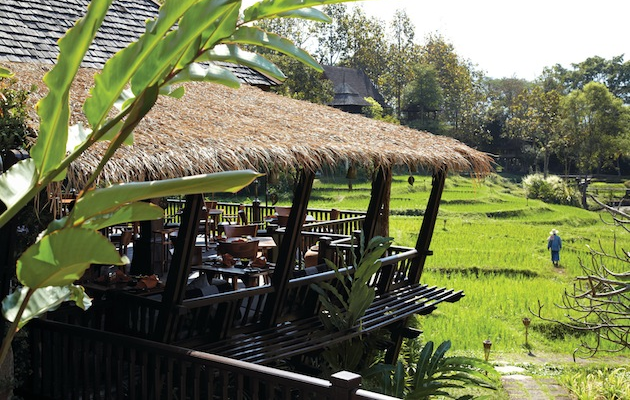 It all came at once. And as much as JJ couldn't stop ordering, I couldn't stop eating. It was delicious. I couldn't keep up with the many flavours and senses that were coming at me from all sides. It was complimented with two choice wines; the first, a crisp, fresh Marlborough Sauvignon Blanc, was a natural fit, cutting through the spiciness of the food. The other, a Thai Chenin Blanc, was softer, earthier, and while by no means a poorer alternative, it just didn't compare. As we dined, JJ explained more about the royal projects, an enterprise of the current King in the early 1960s it was a means of combating the opium trade, rife in the lawless north at the time, by providing an alternative source of income to local farmers. That enterprise extended to the introduction of those crops that now make up much of northern Thailand's culinary diversity.
Rolling back to my room, across wooden walkways, through fallen palm leaves the size of dinner plates, the pulse of the semi-tropical night emanating from the dark a mere arm's length from the torches that lit the path, I was swallowed into the familiar sound of cicadas. But what cicadas. The rhythm of crickets and dripping tap ripple of geckos were, every so often, forcibly outdone by a pneumatic cacophony of industrial proportions; a nocturnal creature of some sort, certainly, one that I probably wouldn't like to meet one to one, but, cocooned in the cool seclusion of my suite, it was a wonderfully exotic alternative to the more familiar police car sirens of south London.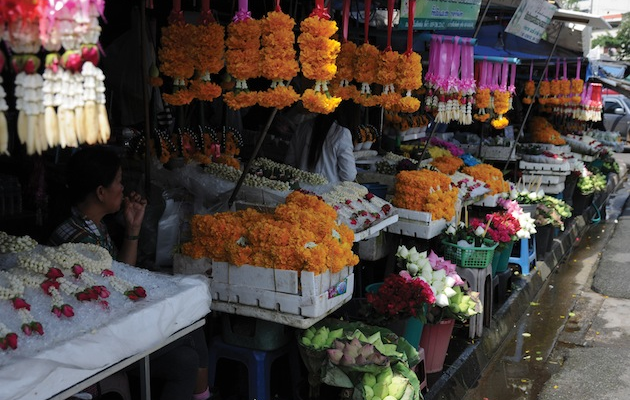 So, to market. At 6.15am, reveille sounded in the shape of the wake-up call necessary to make the first shuttle to Chiang Mai and one of its food markets for an introduction into Thai cuisine ingredients and to stock up on the odd pantry necessity for the cooking school. Typical, in many ways, of the Far Eastern markets you'd expect – many parts of animals on butchers' slabs and frogs in tanks – there were several surprises and plenty to try; a mound of ants' eggs (something of a delicacy and, no, I didn't), sweet milky iced tea served in a bag, Thousand-Year eggs fermented in the ground for as long as its name, it would seem, I couldn't suffer the gelatinous sulphurous grey mass inside, but among the sampling I did try Chiang Mai sausage; principally spiced pork, it reminded me of merguez but given an oriental spin with a touch of coriander, but the undoubted highlight was a dessert of penny-sized coconut milk discs baked like miniature pancakes and sprinkled with spring onions. As odd a combination as that seems, nothing was surprising here any more and I tucked in with abandon. They were delicious and mercilessly moreish.
The size and scope of the cookery school suggests the emphasis they place on educating and spreading the word of northern fare. Hangar-like and open-sided, it suggested they've had a number of burnt creations to contend with. And speaking of burnt offerings, before donning an apron we gave a blessing with lit incense at the shrine outside, wishing for health, prosperity and a steady hand. Once inside, the jolly bundle that was our instructress took us through four signature dishes; beef salad, green curry (naturally), that now infamous duck with coffee sauce and Thom Gha chicken soup in coconut milk, the instruction was tip-top and punctuated with encouragement – "Smile! Good mood, good food!" – though somewhat simplistic in its application, with the practical part virtually done for us. Nevertheless, any fear I'd had of ever putting together complicated sauces with 27 ingredients was pleasantly assuaged.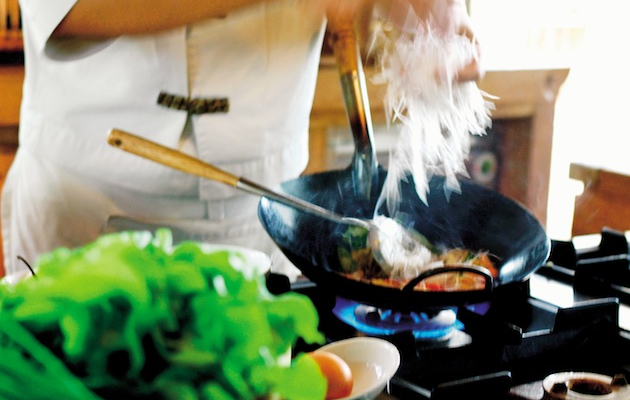 Rendered incapacitated by the consumption of the results of our efforts over lunch, not to mention the soporific effects of the midday sun, the next few hours were spent lolling by the poolside. Hardly a chore, mind, when one considers the setting. But laziness can devour time and soon it was time for the second jaunt into town, this time for a massage and, surprise surprise, another market. I craved getting a feel for the city, more than simply balking at ants' eggs and sniffing sulphurous fermented eggs.
Continues on page 2…