There is food in Thailand, for sure. But there is one other cultural entry into the country's pantheon that can also be defined with the prefix 'Thai': massage. And I had two on offer, at either end of the spectrum. One was scheduled the next day at the resort's spa, but the first was in the beating heart of the city and at what is now an institution in Chiang Mai: Lila Massage. It's an 'institution' in more ways than one. Founded as a rehabilitation centre for female ex-convicts, Lila's modus operandi is to give these women a skill so that they might find their way once reintroduced to society. And what a skill. I wasn't sure who was being punished. Slight in stature as the administer of my pain was, she certainly knew skills of a sort. I wanted to ask what it was she'd done to be sent to prison but it didn't seem appropriate. Besides, it became evident when, after what amounted to being wrestled for the next hour, pummelled, twisted and, at one point, ground into the pillow as she kneed me in the small of my back, it was likely she'd been incarcerated for GBH on many an unsuspecting male. "Relak," she insisted at one point, as if I needed reminding why I was there. "I'm trying," I protested, "but you try and relak with an elbow grinding into your nether regions." Still, she said I'd feel better the next day.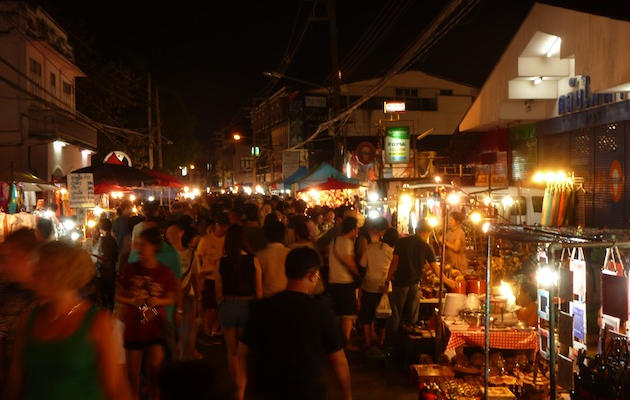 Emerging from Lila bent double as the sun began to sink, I decided to pass on the bar scene in favour of 'Walking Street', the evening market to the south of the old town. A kilometre of imaginably everything for sale, it's an evening well spent if one wants a snapshot of the city. Wood carvers, silversmiths and sarong-vendors alternated with sausage-sellers, pad thai pans and merchants of cheap tat. And in the middle of the street sat buskers every hundred yards, clearly the only space available. Between stalls offering paper lamps and carved 'magic' wood, I grabbed a portion of pad thai on a banana leaf, Chiang Mai sausage-on-a-stick 100 yards on, and concluded my dinner on foot with sticky rice and mango as I passed a CD vendor pumping out The Carpenters, which seemed to get everyone who passed singing along – the locals, I mean, not the tourists.
Here, too, I got my first proper taste of the Thai disposition, beyond the bubble of the hotel. They are, undoubtedly, a friendly and hospitable bunch, supremely polite too, but also embodied with civic pride which demonstrated itself when having finished my sticky rice and mango I heard a "Mister!" and looked round to see a hand at a stall beckoning me over. Here we go, I thought, prepare to be hustled but, instead, she gestured to a nearby bin and offered to take my empty styrofoam plate.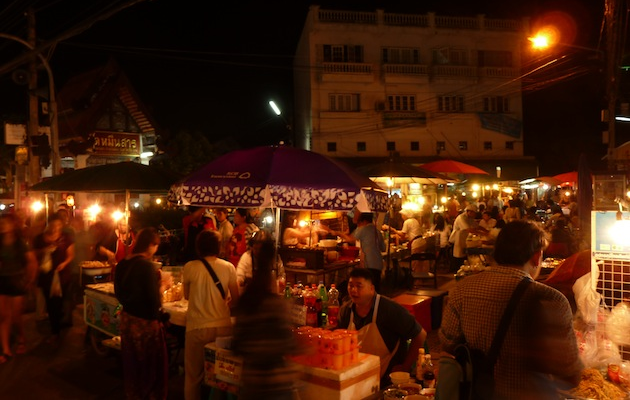 Rather gentle a jaunt as it began, since it had only just opened up as I started at the top, coming back up the Walking Street began to resemble something akin to Oxford Circus tube in rush hour. Even the buskers began to take umbrage as people almost had to step over them. Umbrage, perhaps, but certainly not losing their temper. In Thailand losing one's temper is a sign of temporary madness and simply not done. Short of demonstrating my own fleeting insanity, I made headway for a tuk-tuk rank and another exhilarating ride back to the shuttle bus to the hotel.
My closing engagement at Four Seasons' Chiang Mai was to be sent on my way with a 90-minute teak wood massage. If the restaurants, bars and pool make up one half of the 'Resort & Spa', then the other half is dedicated to sensory pleasure of a different nature; the spa, naturally. Like discovering a new part of a well-trodden garden, venturing past the pool and beyond a second lake I didn't know existed, the spa is built on a gentle hillside among the residence villas amid vines and palms and is reached by a wooden walkway. As with everything in this resort, constant attention is given to the building and its amenities. I was known as I walked in, welcomed and offered lemongrass tea. Within a few minutes I was ushered into a substantial treatment room, with en suite shower, toilet, basin and changing area. Presented with a choice of oil I couldn't quite understand what I was being offered, so I nodded and picked the blue bottle – I think she said it contained ant larvae and egg rind so I was in familiar territory from the morning – before the teak massage implements were laid out before me, like a medieval executioner taunting me with the instruments of my torture. I nodded gleefully. "Lovely," I think I even said. What followed, however, was anything but torture. Save an initial ticklishness, it was nothing short of heavenly – far more polished, if you'll pardon the pun, than yesterday's mauling – and concluded with an oil head massage that floated me to the ceiling.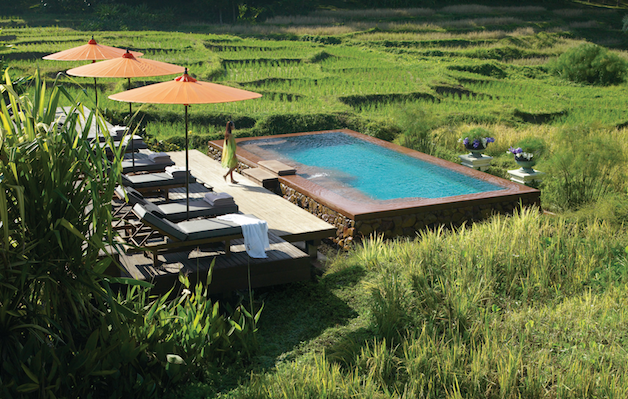 And so, that was Chiang Mai. Checking out, I was advised I had a driver for the four hours to my next destination, Chiang Rai, but I should have known; this being Four Seasons, I was shown to a saloon, offered water and cool towels and wi-fi. Short of a hasty trip and being conscious of time, my driver also offered to stop at anything of interest en route. Like all the best hosts, as I think back, he was able to gently guide the itinerary to remain on schedule but at no point seemed to deny me anything. "You'd like to stop for a coffee, sir? Certainly, sir. But might I suggest a particular spot further ahead, the coffee is nicer and it's only another half an hour."
And the only effort required en route was the challenging decision between pineapple or mango meringue pie…
Larry's tour of Thailand continues next week with the drive to the northernmost part of the country to camp in the jungle, take a temple tour over the border in Burma and has a lesson in elephant etiquette.
For more information and rates at Four Seasons Resort & Spa, Chiang Mai, click here.