I FIRST spotted the ginger-whiskered fellow over the breakfast washing up bowl.
Not that unusual, you may opine. All the more so, knowing I was mere miles from the Scottish border, where ginger-whiskered coves abound.
But this ginger-whiskered denizen of the woods was a red squirrel – the first I've seen in the flesh in my forty odd years on the planet. And he sat in a bush three or four yards away, giving me the nonchalant eye while tucking into the peanuts that hung there.
Northumberland is a crackerjack of a county. I'm way late to the party on that one. So late, that if it was a party, the DJ would already be home in bed, the crisps mashed into the carpet and rock hard sausage rolls and white bread egg sandwiches with the curve the consistency of a surfboard would be all that remained.
But nevertheless, I've finally made it; and I'm happy to sit in the corner, munch cardboard Twiglets and watch the balloons deflate, for Northumberland wants no revenge for my negligence. It is beneficent.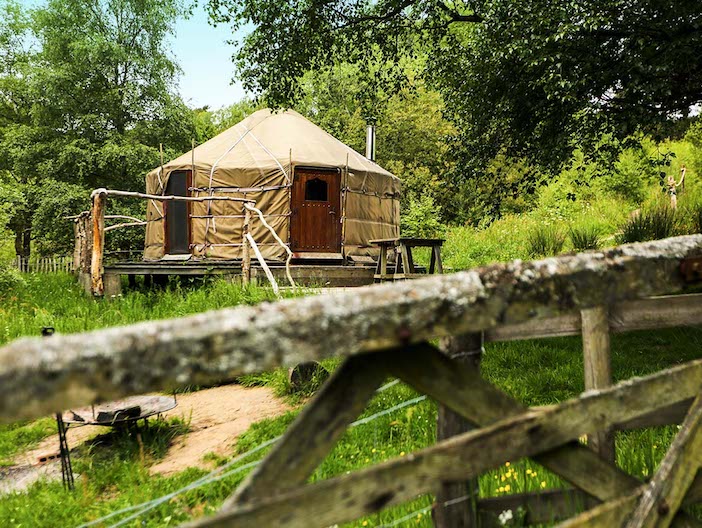 Wild Northumbrian is a place of magic and memories. Faithful readers may recall my aversion to camping and I can attest that it has waned not a jot in the intervening years. But this is camping par excellence. A return to nature for sure, but in a good way – not in the 'crap in a bucket and call it fun' kind of way that so many folk seem to enjoy on Godforsaken campsites the length and breadth of the land.
WN has a smattering of expertly erected yurts and huts in an exquisite 25-acre site which buzzes with wild bees, is alive with amphibians, hosts occasional otters and countless other scarce fauna and flora which, at times, makes you feel like you've wandered onto the set of David Attenborough's latest.
The family and I are stashed in a tree yurt, no less; a sturdy wooden frame strung with heavy duty canvas and kitted out within with proper beds, candle lamps, a wood stove, pots, pans, flowers and ornaments. It's delightful. And instead of dreading the patter of rain on canvas as one normally does in a flimsy tent, with the very material inches from your dripping nose, this is like being gently rocked in a rowboat on a benign ocean when a raincloud passes overhead as you fall into slumber.
Red squirrels abound in this, their last great bastion. There's an aerial walkway here – attached to our yurt and for our use only – and bird feeders strung in the pines around. Nuthatch and Treecreepers steal from tree to tree; woodpeckers dart and yaffle.
It's breathlessly, star-studdedly quiet here, apart from needy lambs and the soughing of the very boughs to which we're attached. There's a perfectly equipped kitchen and washroom further up the site, should you wish it, but the weather's kind and we cook every meal by campfire. It takes time and care; a forcible descent into a slower world where what matters most is making sure there's always water on a rolling boil; always a stack of wood to hand; always a torch or candle lamp within arm's reach. This is the day-to-day living of an older, gentler time.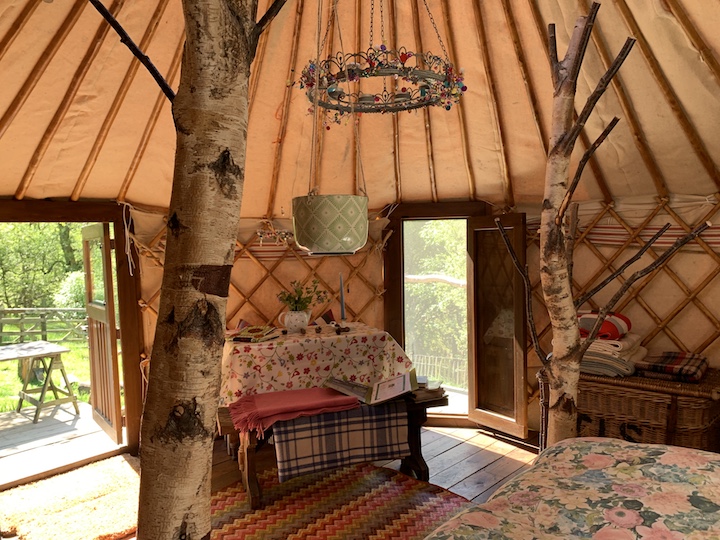 The kids get to charge off and explore by themselves, a rare treat too, these days. And there's no blasted telly to watch, or WiFi or even 4G signal to worry about, either. Might as well switch the phone off, grab a book and sit a little downwind of the smouldering campfire, so the mossies don't eat you alive. Noise becomes intrusive, so even conversations are quieter, more direct. It seems sacreligious to shatter this peace.
The nearest decent size town is Hexham – and this is a delight of bookshops, ironmongers and coffee stops – but jumping back into reality is done once in a while, just to remind oneself it's still out there. Better still is to wake up and after breaking fast,  and join Cain and Heather from Wild Intrigue to undertake a wildlife safari.
The place is jammed with deer and badger, owl and weasel, moth and butterfly and sweet-smelling meadows of orchids. The kids squeal and laugh when a frog is found and placed in their gentle palms; they set up trailcams along badger byways and find a secluded owl roost, which the Tawny vacates silently with a swoop and a gently descending feather, later to become a treasured memento. Incidentally, the footage from the trailcams is later emailed to us at home; Springwatch-sequel footage of humbugs on legs snuffling at the camera, before heading to bed, perchance to dream of soggy pastures of earthworms and deep, quiet, finely-crumbed soil.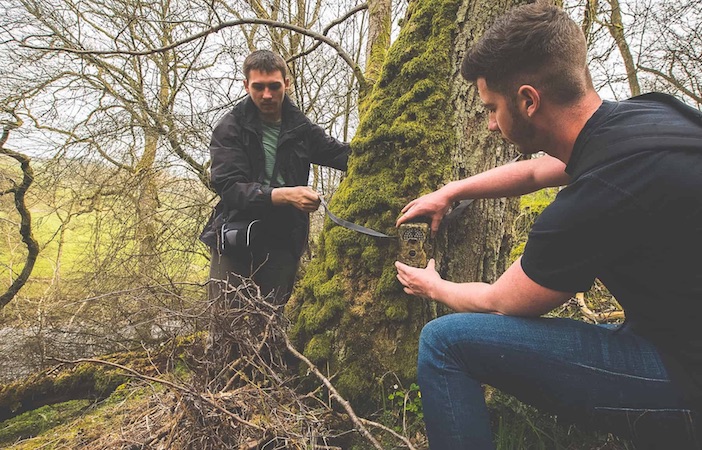 Another day we go foraging, accompanied by the local expert Linus, who's escaped the rat race and set up life in this beautiful, unspoiled corner of England. He seemingly knows every leaf; we pick wild strawberries growing among the graves in the churchyard; taste wood sorrel ("It's like Fangtastics, isn't it?") find valuable Chagga mushrooms and sample Herb Robert (which weirdly tastes of roast beef). Linus picks us a handful of flowers and once I've released as many little black bugs as I can find in the mixture, I turn it into morning black tea, which is weak but fragrant and another pleasing balm for the soul.
The Hollybush Inn is the local boozer, and local it is in every aspect. One corner of the bar has even had a belly-shape scooped out of its rim so that a large member of the community can comfortably take his regular seat. There's pub grub – if they can find the frying pan – fresh beer and the sort of clock-ticking, look-at-a-passing-car stolidity that both warms the heart and yet makes it ache for a world that used to be.
After a week of this, it's a quieter, grubbier, smellier and happier Family Hammond which reluctantly lugs bags to the car and packs to head home. Wild Northumbrian is special. Take your children there while such places still exist.
For more information about Wild Northumbrian, visit www.wildnorthumbrian.co.uk. And for Wild Intrigue, visit www.wildintrigue.co.uk. For further info about the region and other 'wild' things to do, visit www.northernwilds.co.uk.