The first komodo dragon I saw was a baby, hiding in the roots of a tree. This was understandable. Baby komodos are regarded as a tasty snack by the adults (including their own parents who don't recognise their offspring) and the only escape is to climb a tree – somewhere the lumbering adults (up to 3m in length) are unable to follow. The males will even eat the eggs if they find them – the females lay the eggs in a nest then promptly forget about them. Around 10% of hatchlings survive. Talk about dysfunctional families.
The vast majority of komodo dragons live on Komodo Island in Indonesia and it's not an easy place to get to. So I was extremely lucky to catch more than a glimpse of the world's largest lizard in December 2019 when Fred Olsen's Boudicca visited the island as part of its Indonesian Island Discovery cruise. 2020 is going to be a komodo-free year, as from January, the Indonesian government has decided to close the island to visitors for a year to give the creatures the chance to grow the population after a plan was discovered to smuggle around 40 of the creatures out (they fetch around £30,000 a piece).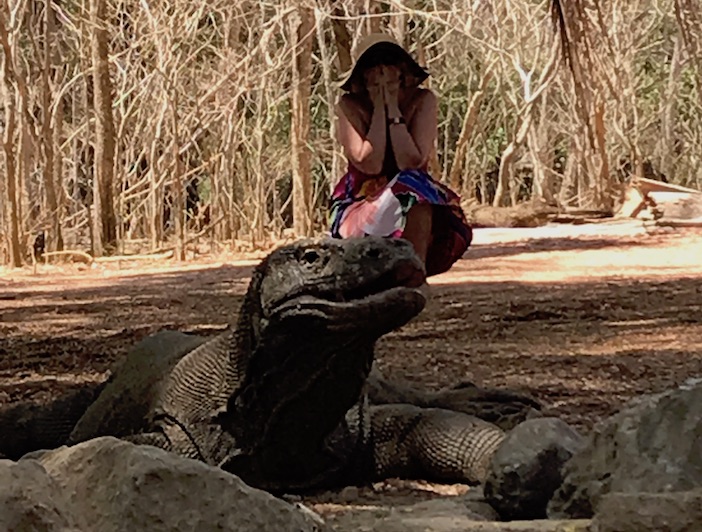 My guide Gabriel was armed with a stick which wasn't hugely comforting as, besides each other, komodos will eat just about anything including humans. If they approach with a hungry look, Gabriel advised, run in a zigzag (they're easily confused) or, like the baby komodos, get up a tree.
OK, so they're ugly and cannibalistic, but they were still probably my single biggest highlight of the cruise. There were, though, plenty of other great moments as the ship spent each new day at a new island. In Java I visited the largest Buddhist monument in the world, the extraordinary temple of Borobodur. Built from black lava stone, it has seven tiers, the lowest showing the worst of human behaviour, up through the story of Prince Siddhartha (who would become the Buddha) and finally to the purely spiritual level, Nirvana, on the top where a welcome breeze blows and you can see across the island's mountains, volcanoes and paddy fields.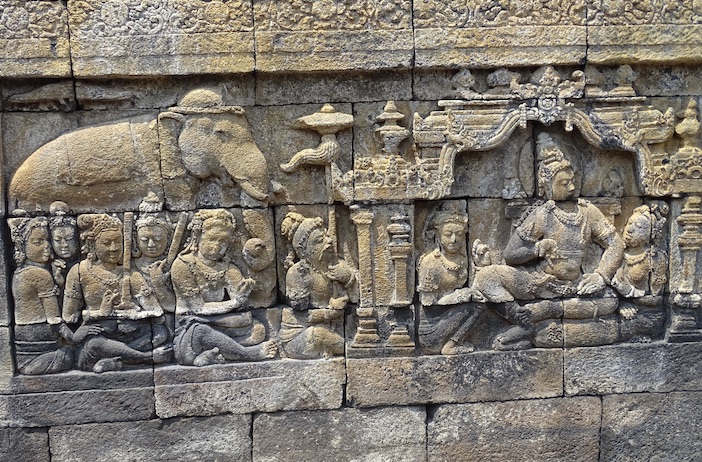 In Lombok, I went to royal pleasure gardens, a craft market, a museum of island culture and a Hindu temple. But I could just as easily have gone snorkelling in the nearby Gili Islands – three tiny islets with glorious white sandy beaches and coral reefs beloved by snorkelers and divers. Sea turtles swim just offshore and the water is warm and inviting – a perfect mini-Maldives.
There are plenty of choices available on board, too. So you can spend sea days on deck, soaking up the sun (26C in December – yes!) or you can hit the gym, join a choir, listen to a concert or a lecture, watch a show or learn to play the ukulele (really). You can enjoy a sumptuous high tea (though you will need to miss lunch) or have a luxurious spa treatment. Because the ship has a maximum of 880 passengers, it also has an unusually intimate atmosphere and you see the same waiters at your table every night for dinner (the only mealtime when you have a specific table).
We spent two days in Singapore, where they were celebrating their bicentenary, 200 years after Sir Stamford Raffles decided to turn a sleepy fishing village into a free port for the East India Company (for a long time the world's busiest port, only recently overtaken by Shanghai). The hotel named after him has just reopened, restored to its former glory and it really is obligatory to go there for a Singapore Sling (a cocktail originally invented for ladies pretending they were drinking an innocent fruit juice). It's the only place in town where you're allowed to drop anything on the ground, so every table has a bag of peanuts for husking and you throw the shells on the floor.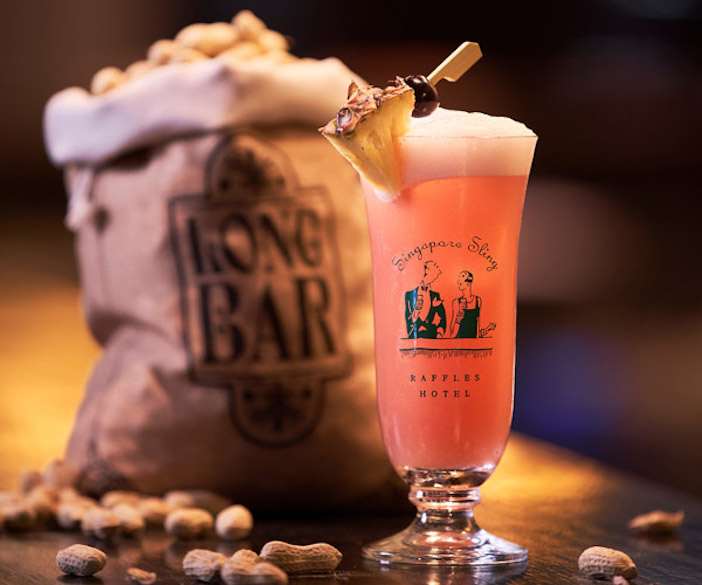 Otherwise, the place is, of course, spotless – no chewing gun stuck to the pavement or litter blowing around your ankles. They have free and highly efficient wifi, some of the best education results in the world, a multi-cultural society (hence a foodie heaven) and an architectural style that blends the best of British colonial with stunning modernism. Singapore's original port was actually based along the 3km long Singapore River.
The original shop-houses still line its banks but now they're all brightly coloured bars and restaurants and it's a place that's big on nightlife. Another area you have to visit is Bugis Street. Now one of the country's biggest markets, it used to be the haunt of sailors and ladies of the night. You can take a tri-rickshaw tour from here all around the Little India area – your "driver" cycles alongside you in an arrangement that's a bit like a motorbike and sidecar.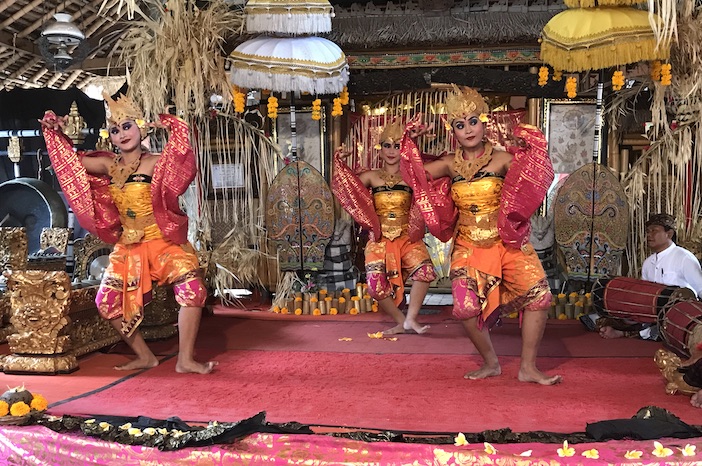 Bali was the final stop for this leg of the cruise and we spent two days here visiting rice paddies and temples (Bali is the only predominantly Hindu island in Indonesia), monkey forests and royal pleasure palaces and – my favourite – a school where children as young as seven learn the complex and rigorous techniques of Balinese dancing.
Then, Boudicca sailed on to Australia and I left for London and a fast-approaching Christmas. It was a perfect escape from the English winter. Note to self: next time, make it longer…
Fred Olsen has some similar (though not identical) cruises coming up:
Boudicca's 14-night D2102 'Vietnam, Honk Kong & Singapore' fly-cruise, departing from Hong Kong (flights from London Gatwick/Manchester) on 28th January 2021. Ports of call: Hong Kong, China (overnight stay) – Da Nang, Vietnam – Ha Long Bay, Vietnam – Nha Trang, Vietnam – Ho Chi Minh City, Vietnam – Singapore, Singapore (overnight stay) – Phuket, Thailand. For more details, visit: D2102 'Vietnam, Honk Kong & Singapore'.
Black Watch's 24-night W2105 'Exploring Australia & the Far East' fly-cruise, departing from Sydney, Australia (flights from London Heathrow/Manchester) on 5th March 2021. Ports of call: Sydney, Australia (overnight stay) – Burnie, Tasmania, Australia – Melbourne, Australia – Albany, Australia – Fremantle, Australia – Surabaya, Java, Indonesia – Semarang, Indonesia – Singapore, Singapore (overnight stay) – Sabang, Weh Island, Indonesia – Colombo, Sri Lanka.  For more details, visit: W2105 'Exploring Australia & the Far East'.
Selected photos by the author