Hidden away in the picturesque north Pennines, a 45-minute drive from Durham through glorious English countryside, is the idyllic village of Blanchland, built in 1165 from local sandstone and named after the white robes worn by the monks who lived and worshipped here. The Lord Crewe Arms was originally built as the abbot's lodge, guest house, kitchens and the abbot's dining room, and the hotel's gardens served as the monks' cloisters. More recently, WH Auden played Brahms on the piano and Philip Larkin and Benjamin Britten both dined here.
The main rooms are comfortable and welcoming with medieval features including vast inglenook fireplaces that once roasted pigs for feasts, flagstone floors and arched stone windows. There are also plenty of wood burners, hefty wrought-iron light fittings and centuries-old oil paintings of previous inhabitants, including Lord Crewe, Bishop of Durham, in one of the dining rooms. Guests' dogs are also welcome and add to the cosy country atmosphere; glossy brown spaniels seem especially popular.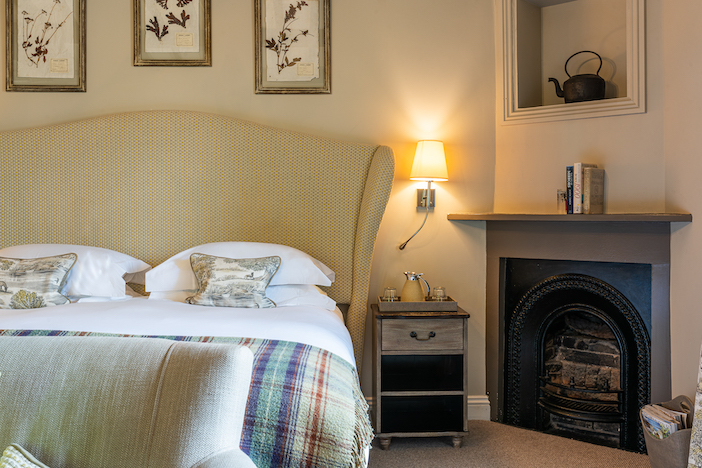 There are 21 bedrooms, each with their own style and character. My room, Eggleston, in one of the outhouses across the quiet road from the main hotel, is spacious and painted in gentle, grounding stony colours. The large, comfortable bed is dressed in soft white bedlinen with blankets on hand, should you need them but you probably won't because the room is plenty warm enough.
The bathroom is also spacious with an overhead shower and separate free-standing bath with Noble Isle bath products. An additional Roberts radio, plenty of tea and coffee plus buttery shortbread and fudge made in the hotel's kitchen add to a sense of being cossetted and embraced, as if you could (as we do later) walk out into the wide open countryside, get muddy and cold, then return to your room to enjoy a long soak before you dress for dinner.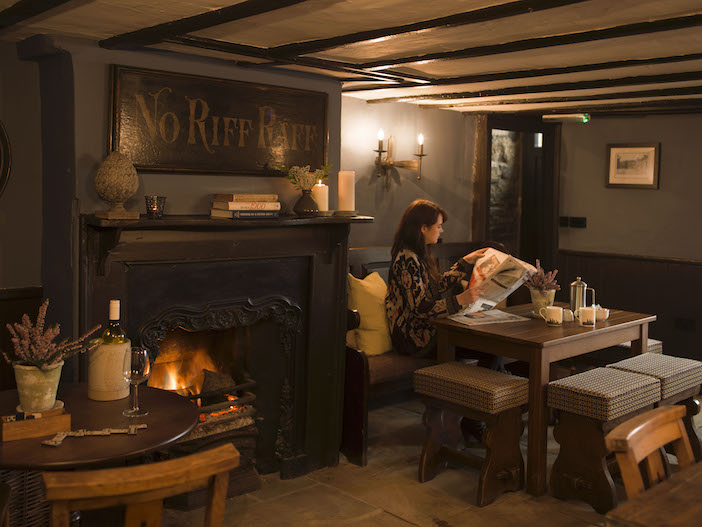 And it has to be said that dinner is worth dressing for (if you like, there are no rules here so jeans after dog-walking are just as welcome). First enjoy a G&T made with local Hepple gin in the Crypt, the Lord Crewe Arms' medieval vaulted pub serving real ale, then take your pick of three ancient rooms to dine in. A special mention goes to head chef Emma Broom and her team, who create excellent seasonal dishes from local ingredients where possible. Indeed, if you're in the area it's worth dropping in for the food alone.
Every morsel I tasted was outstandingly good. The first evening, I kicked off with North Sea crab on sourdough toast with Granny Smith apple (the sourdough is cooked daily here), followed by deliciously fresh grilled whole plaice, capers, buttered spinach and new potatoes. Pudding was a vanilla crème brulée with shortbread – the slightly orange colour of the brulée coming from the orangey yolks of local Burford brown eggs.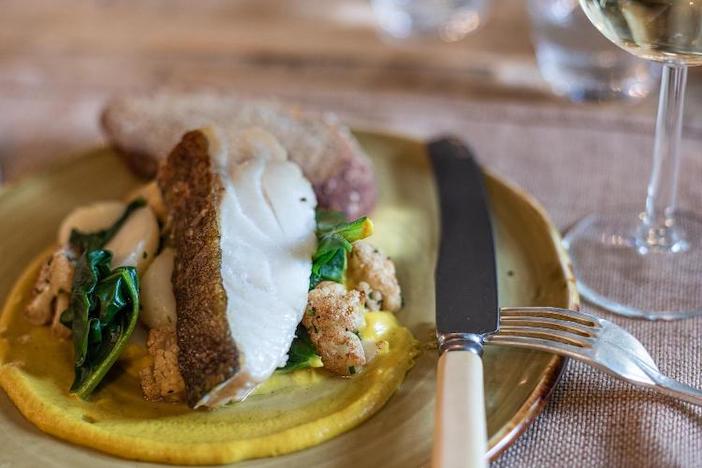 The second night, I kicked off with a tart of beer-braised onions, grilled raclette, thyme and pickled red onions, which was far lighter and fresher tasting than it might sound. To follow, I chose a delicately balanced vadouvan-spiced cod, lentils with golden sultanas, onion bhaji with coriander and yoghurt sauce. I went for a light option as we were eating later after an evening of stargazing (more on this later), but then blew it on an extravagant warm chocolate brownie with thick cream.
Breakfasts include freshly squeezed juices, overnight oats with yogurt and poached quince, plus pastries (Danish, croissants, pain au chocolate) baked in the hotel's kitchen. The humongous Northumberland breakfast includes Northumbrian eggs cooked however you like, streaky bacon, sausage and Stornoway black pudding; there's also eggs benedict or Florentine and, my choice, the smashed avocado on the hotel's own sourdough toast with poached eggs, toasted seeds and yeast flakes.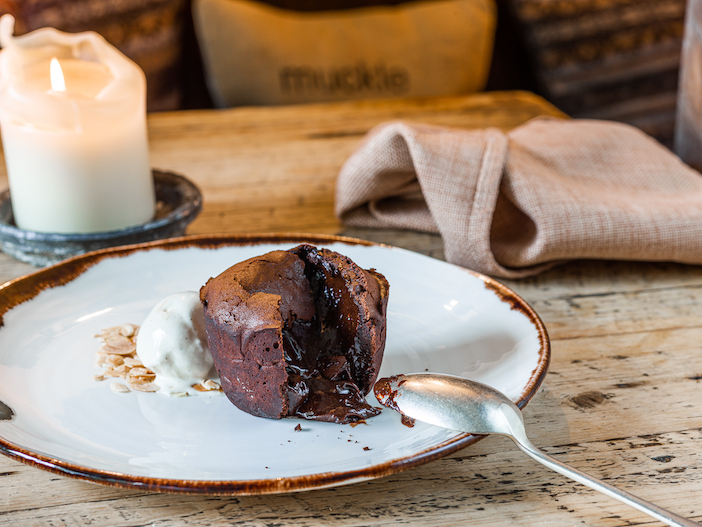 Time to walk off all that superb food. If you don't have your own kit you can borrow boots and raincoats as well as water bottles, socks, compasses, maps and walking sticks from the Boot Room and set off along the river Derwent. From spring 2022 you can book the services of Pippa Scott-Harden, who is knowledgeable with her degree in ecology and experience as a biology and field-studies teacher, enthusiastic ("these star lichen are so cool") and charmingly eccentric ("I like to ride here with my horses and hawks"). Our nature walk with Pippa revealed plenty of plants such as lichens that grow only where there is little pollution, and if you're lucky you may spot barn owls, hares, rabbits, badgers and ravens.
Another great walk is along part of Hadrian's Wall, roughly 30 minutes' drive away through the town of Hexham and built from 122AD to protect Roman Britain from marauding Picts to the north. It's now populated by occasional sheep and woolly cattle – this is a walk in a wide, open, windswept landscape for those who like to get away from it all and is well worth factoring into your break.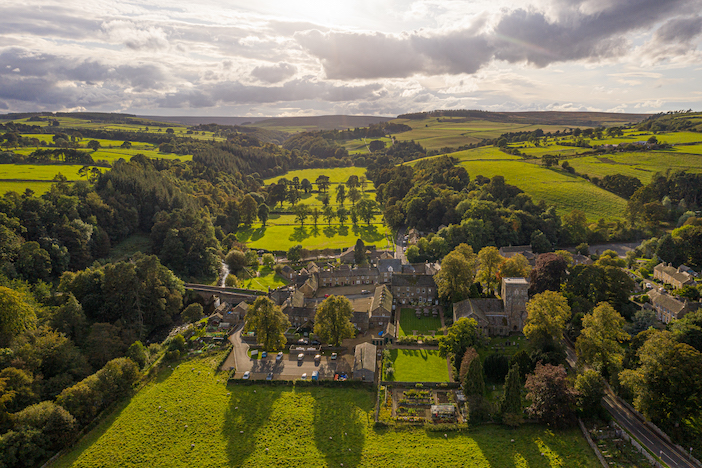 For a magical history tour of either Hadrian's Wall or Blanchland, Kevin Robson of Ancient Britain can meet you at the Lord Crewe Arms and tell you all about the immediate area around the hotel, including the nearby church, the former abbey, where you can see Saxon runes on the flagstones on the floor, and he'll explain how the stained-glass windows were replaced by clear glass during the dissolution of the monasteries when Henry VIII got the Flemish to do his dirty work for him in these parts. Survival was touch and go back then, adds Kevin, and a ghoulish figure in a white robe by the entrance seems to concur. Self-taught Kevin is as enthusiastic as nature walker Pippa and looks every bit the Viking soldier with his red hair and beard.
If you're enjoying the thought of being taught about nature and history by local people, it's also worth booking Andy Gray for an evening of stargazing. Ex-chemistry teacher Andy has the gift of making what you see through the huge telescope that stays in the hotel's garden come to life. It was intriguing to see a diamond-like dot in the sky and look through the telescope to see Saturn with its rings, then to look at the Pleiades cluster and for Andy to explain that when its light started its journey to earth Elizabeth I was on the throne. If you do fancy booking Andy's otherworldly knowledge for an evening, try to pick a clear night – there are no street lights in the village so the area is largely free from light pollution, helping the stars to be more visible.
As well as walking, stargazing, fishing, clay-pigeon shooting and more that can be organised for you by the hotel, there are towns to visit, too. The nearby historic market town of Corbridge, for instance, has award-winning bakery and patisserie Grants for chunky sausage rolls, pasties and elegant cakes, plus plenty of tea rooms and gift shops. There's also quirky emporium Re, where I could easily have spent an entire morning admiring everything from kitsch kitchenalia, including Virgin Mary tea towels, to soaps, jewellery, furnishings, pottery, posters and, well, you name it.
This was my first visit to Northumberland and it won't be my last. Reluctantly, we said farewell to the Lord Crewe Arms wishing we could stay longer but confident we'd be back at some point for more excellent food, restful rooms and a date with history.
Rooms at the Lord Crewe Arms start from £189 per night on a B&B basis. For further information or to book, visit www.lordcrewearmsblanchland.co.uk.
For special breaks, including stargazing, country walks and dog packages, click here.
Tours with Pippa Scott-Harden and Kevin Robson of Ancient Britain (www.ancientbritain.org) are available to book directly through reception on 01434 677100.