Craving warm weather, near constant sunshine and some cool food and drink? So is Nick Harman, as he swerves the rather commonplace Canaries and gets off the plane in Madeira…
For a lot less than paying for your heating right now, you could be on your way to Madeira and swapping your thermals for swimming trunks.
Okay, that's a bit of an exaggeration, but the fact is that a flight to Madeira won't break the bank – and you'll save on your gas bill by being away. You'll also benefit from the mood boost that getting out of broken Britain will bring you, as well as enjoying sitting outside with a drink in the evening and not being found next day frozen to your table like a long lost Arctic explorer.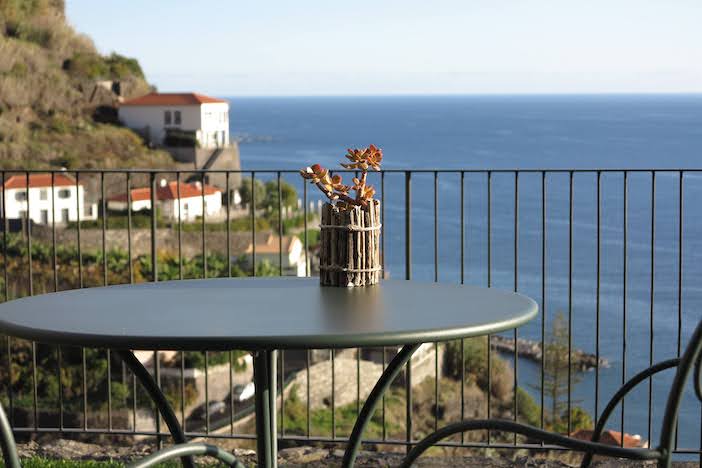 So, I ventured forth, and decided to avoid the ubiquitous Black Scabbardfish, found on every tourist menu, and see if I couldn't find some food that delved deeper into Madeira's food scene. It is, after all, an island that has been visited by seafarers for centuries, all of whom had culinary secrets to share.
Something Fishy This Way Comes: Akua
Obviously Madeira has no shortage of freshly caught seafood and most places will do a meal of simply grilled fresh fish. Akua, in the capital Funchal, is different. A small place on a side street there's outside seating to be had, but those diners taking things seriously sit at the bar to shorten the distance from stove to plate.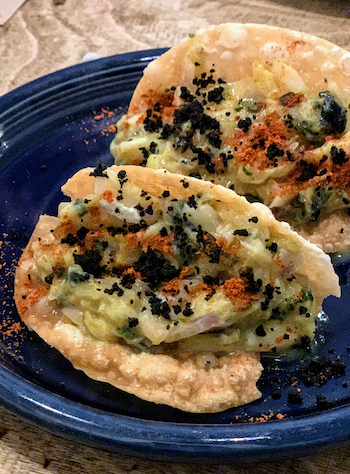 Chef Júlio Pereira had already won over Funchal's foodies with his larger restaurant around the corner, and so Akua was created to be less formal and more nimble in its menus, able to respond rapidly to the day's catch.
Influences abound from South American Fried Cod Tacos, a gloriously informal and messy handful, to my plump Asian-style Mussels In Jaipur sauce. The Braised Tuna With Razor Clam Rice had a definite Japanese vibe, the super-fresh tuna given the minimum attention so its flavour and texture sang through. Market Fish (that is, sea bass) With Tomato "Migas" and Onion Foam, was more of a European fine dining dish; the Migas, a classic Portuguese dish that uses stale bread, upgraded to meet the mood.
It's a lively place, cheerfully relaxed, and because it's down a side street, you won't find any tourists in Akua, so definitely a place to check out.
A Wine (and Food) Lunch at Quinta do Barbusano
Madeiran wines complemented Akua's food throughout; the abundant water, endless sun, and cooler temperatures up in the hills, lend themselves to fine wine making, so the next day I headed on a 'safari' to a vineyard 'with food'.
After leaving town, using the network of road tunnels that make getting around possible ("our island is now basically a giant Swiss cheese," laughed my driver), we were soon rocketing up impossibly steep and roughly potholed gradients past lush banana plantations with ever stunning views, and entering the shade of the eucalyptus forests.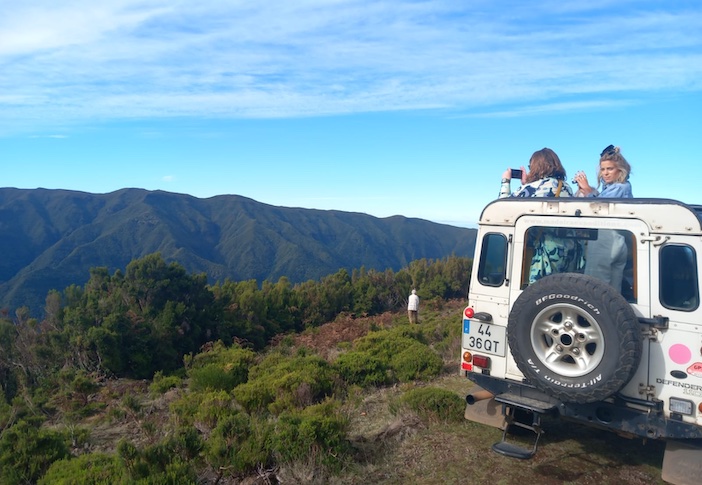 The venerable Land Rover was open-topped, so by standing up (and frequently falling back down) I could pluck leaves from the passing trees and crush them in my hands to release that familiar smell of Vicks Vapour Rub, inducing Proustian flashbacks to school sick days.
After stopping for a mini hike at one of the island's highest points on the northern coast, and to appreciate the view, we arrived at Quinta do Barbusano, a beautiful vineyard in the north of the island, to tour their 15-acre terraced vineyards and get some tasting in.
Among their range, the Vinhas do António, Barbusano and Barbusano Barrels, Rosé Barbusano were excellent, particularly the latter, a rosé in the claret style. Best of all were the white wines, made from vines that can see the sea; the salt air influences the grapes adding a subtle salinity to the wine.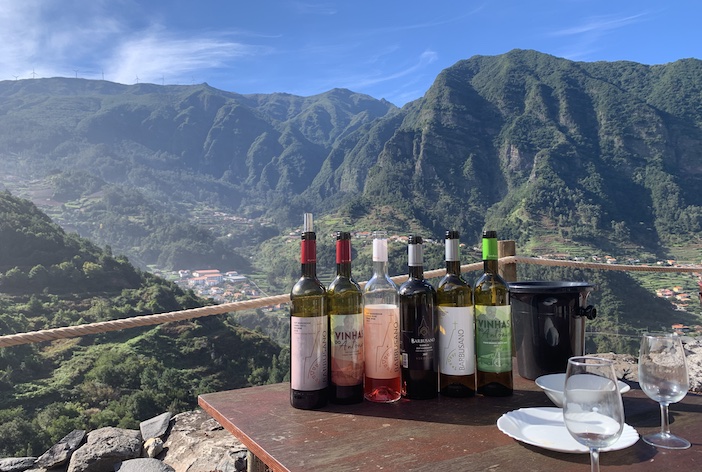 This worked particularly well with a simple and traditional Madeiran vineyard lunch of Espetada – skewered beef perfectly grilled over wood flavoured with vine cuttings, brought to the table and hung on hooks and served with bolo do caco, Madeira´s local bread, as well as with some superb freshly-dug island potatoes, which crop three times a year. The salad came from growers close by, while their vegetables are grown between the vines that use the pergola system to maximise land use.
I ended, like Falstaff, with a glass of classic Madeira Wine, a Blandy's 5-year-old, and made from 100% Verdelho, before happily bouncing back down to town very glad I wasn't driving.
All at Sea: Happy Hour Madeira
If your only experience on the ocean is an All-You-Can-Cram hour on a cruise ship, then this is for you.
From Funchal you can book all kinds of aquatic adventures; fishing, diving and whale watching being just a few, but for the sybarites among us, nothing beats a yacht trip with gourmet food.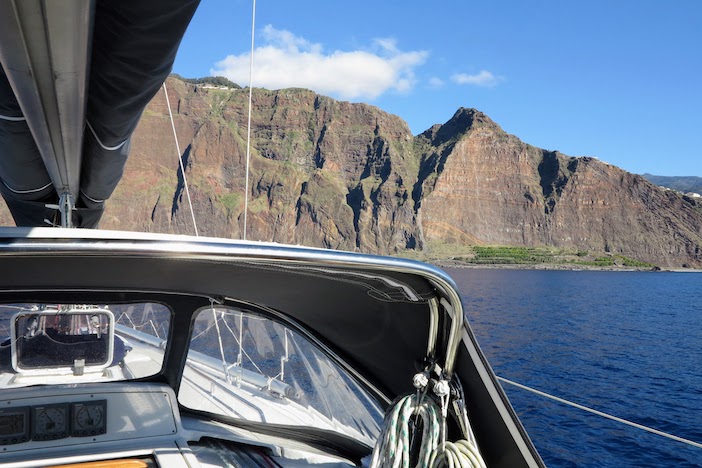 A small yacht took a party of five cruising gently out along the coast for a wider view of Madeira, before mooring up under a near vertical cliff face for swimming, sunbathing and a superb five-course lunch prepared by their own private chef.
Dishes emerged from an impossibly tiny galley, each a small Madeiran jewel, including a mushroom cream pâte à choux, a beetroot tartare, goat cheese, herbs and nuts and bolo do caco bruschetta, shrimp, avocado, jalapeño. All served on a petite table that unfolded from its clever stowage space. And the scary sight of a pirate ship (albeit a very convincing mock-up) bearing down on us at one point added a touch of drama to wonderful day out.
Fine Dining at Sky Bar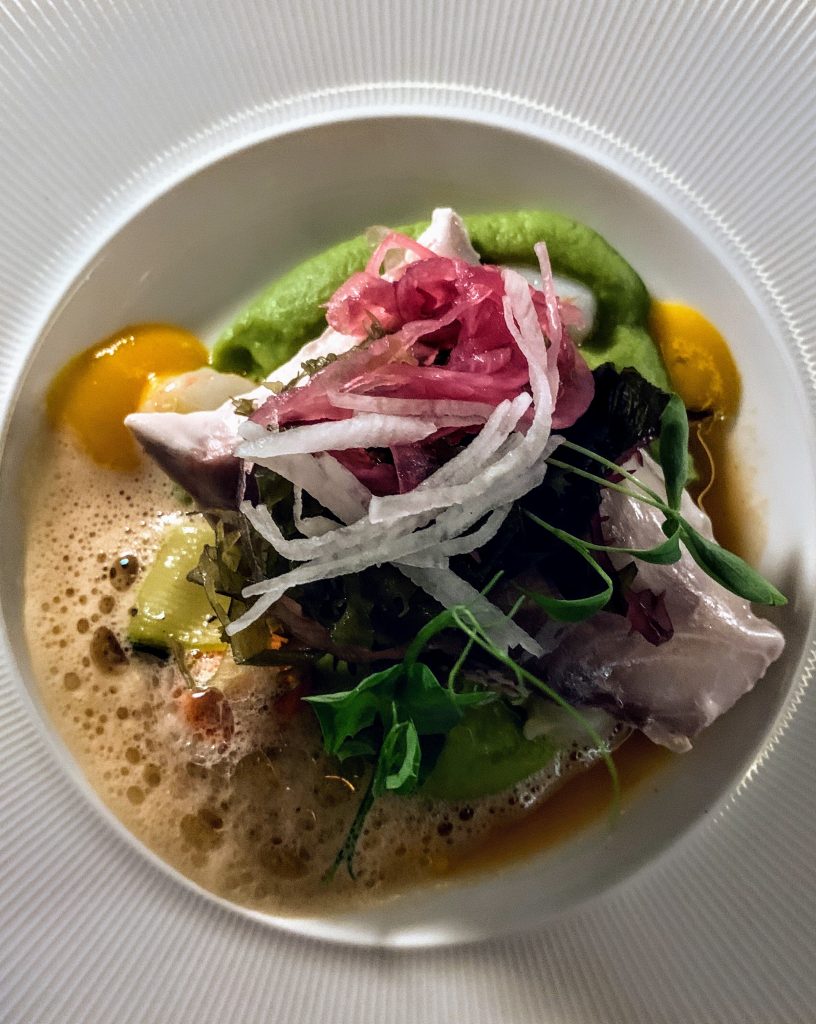 The recently built Savoy Palace Hotel in Funchal can be seen from the sea, an ocean liner moored on land. Absolutely huge, it's a luxury hotel that lives up to its name and Galáxia Skyfood, its restaurant on the top floor, the sixteenth, is all you'd expect from Funchal's hottest fine dining foodie ticket.
Chef Carlos Goncalves is behind the pass of this very glamorous room where stars twinkle from the ceiling and Funchal sparkles beneath the floor-to-ceiling windows.
Asian influences are here with a Wagyu Beef Skewer with a bread and garlic crumble, as well as local finds such as the Catch of The Day with prawns, seaweed salad, pea puree and seafood sauce, plus a very Portuguese Alentejo pork shoulder blade and a pickled vegetables puree. The room radiates class without over-blinging it, and the terrace is warm and wonderful for post dinner drinks.
It's terrific value for the quality of the food, and the setting, and worth dressing up for.
Country Cooking at Socalco Nature Hotel
You don't get more embedded in Madeiran food and wine than here. It's a Grand Designs dream created from an ancient farm and vineyard which clings to the rocks high above the bay of Calheta. The hotel blends rural tourism, fine dining, a cookery school and even farming, in a space that is mindful and magnificent, with some of the remarkable rooms even embedded into the rock itself.
Vines surround the rooms while vegetable gardens lead off in all directions. In its A Razão restaurant, there's an ever-changing seasonal menu of Madeiran food sourced from the sea, the garden and neighbours. Autumnal Pumpkin Cream with ginger and glacé chestnut then a vegetable gremolata with ocean fresh sea bass, followed by Iberian Porc 'Secretos' with a sweet potato and lime cream and Madeira wine sauce, before ending with a glorious dessert of Homemade Pitanga cherry ice cream with dark chocolate brownie.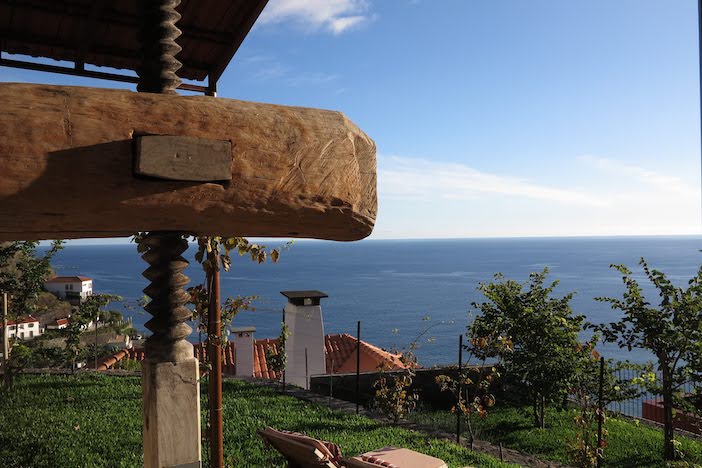 Breakfasts are your choice between super fresh and healthy, or more naughty but delicious cooked choices, and all come with homemade bread that can be gluten free, if you prefer. A very mindful hotel, but mind how you go as its unique design makes it a bit of a trip hazard for anyone with mobility issues.
So, has that fuelled your appetite? Flights to Madeira start at around £60 and there are plenty of places to stay at this time of year. Hire a car and you can really explore this 'floating garden' and its restaurants and warm up a bit, too.
For more information about the Madeira islands, including further suggestions of what to see and and do, and to start planning your trip, please visit the official tourism website at www.visitmadeira.com.
Nick Harman is the editor of culinary bible Foodepedia. Photos by the author.