Day 2
Having planned for disappointment, to the extent that we'd rejigged a carefully planned trip that had intended to take in Bergen and Trondheim, we were now faced with more time on hour hands than we knew what to do with in a town where there was little to do. So, after a lie-in and a missed breakfast, we set out to explore the town again in the two hours of 'blue light' we had left.
First things first, find out what else there was available. So we made for the Tourist Bureau to see what was on offer. Polar activities are, unsurprisingly, few and far between and, to coin a phrase, there seemed to be only half a dozen ways to skin a cat. We had huskie-sledding, a snow mobile tour, a Sami 'experience', a reindeer ride…and countless ways to 'see' the Northern Lights, namely by reindeer, snowmobile or huskie-sled. Not to mention that these tours were offered day or night or, in our case, night or night. By now dismissing any hope of experiencing Norway on a budget, we sold our gilt bonds and booked our activities: huskie-sledding was a must, although we passed on the opportunity to camp overnight – why waste the room? – with an option to snowmobile in the afternoon. Then, not content with our spectacular lights show the night before, we figured we'd up the ante the day after and book onto a boat to the see them, out into the fjords.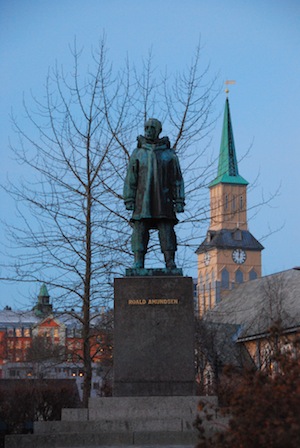 The next three days mapped out, we considered our options for the afternoon. With little more to see of the town, to be honest, bar a browse in some tourist shops for some unaffordable tat, we made for the Polar Museum. The aforementioned corrugated shoreline shack belied its cavernous interior and some cracking displays on life as a trapper, seal culling and other polar pastimes. If this sounds like they were missing a trick, it turns out I was. As charming as exhibits on living in the Arctic were, what I really needed was something on polar exploration. Thinking it was only on one floor, however, I completely underestimated how much time it would take to go round and just as I was wondering why there weren't any displays on Scott or, for that matter, Amundsen I found an entire upstairs section on them just as the tannoy announcement that they were closing in ten minutes. But, truly, what I did see revealed some astonishing insights, particularly, from the South Pole with some of Scott's original notes and drawings on discovering the Norwegians had beaten them to the pole. The Norwegians are nothing if not magnanimous. Back in Blighty we paint Amundsen as the villain and romanticise Scott as the plucky Brit. Here, however, sure there's the statue of Amundsen in the town centre and he takes centre stage in the museum but Scott, too, is also heralded as the plucky Brit. Well-versed in polar survival they may be but they don't take their advantage for granted. There's a respect for everyone braving extreme challenges.
Stepping out from the museum – and firmly into night (at 4pm) – we considered our options for dinner. Four laps of the high street later, nothing seemed enticing. Tromso, unsurprisingly, is not known for its gustatory offerings. One café-bar ran the slogan, 'Hard Work – Hard Fun' which was tempting not to at least look into but, alas, the anticipated riotous throng inside was nowhere to be seen. The cavernous interior instead proving virtually empty, save a table or two of the dining dead and a crackling stereo struggling through The Final Countdown. It certainly seemed so. Evidently the residents of Tromso were either still engaged in hard work or their definition of hard fun took them elsewhere. We settled for Egon, from the street an enticing, cosy little number with what looked like booths fashioned from untreated tree trunks and reams of bric-a-brac cluttering the place. It looked like it had character. Inside, however, we had to share its cosiness with what evidently looked like the rest of the town finding their hard fun – it seemed to stretch into the indeterminate distance and every inch bustled with people. Were hunger not starting to encroach, I should have left there and then but I bit my lip and continued into the woods. Catering for such volume clearly caused havoc, too, as once we'd sat down anticipating an attentive waitress we were told we had to order at the bar where I joined the longest, slowest queue in Christendom and during which my hunger, too, even began to give up.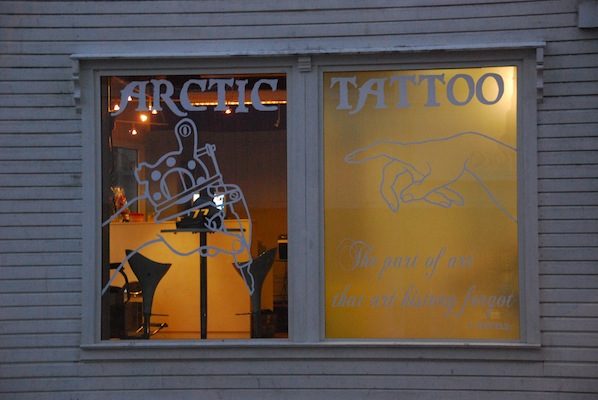 After a decidedly mediocre burger a nightcap was called for and we made our way to the bar adjacent to our hotel. It had been beckoning since our arrival, to be honest, as it seemed cosy and local. Inside, the burly bartender seemed to appreciate the company as he sprang to life gunning us with conversation and tales of the drinking prowess of the northern Norwegians. One strong ale was all we could muster but it didn't stop him showing how even he was outdone by his Russian neighbours as he showed us a can – yes, a can – of vodka that he said the Russians consumed like beer. Time for bed.
DAY 14
Today was huskie-sledding and our enthusiasm for this boys' own adventure was boiling over in our girlish excitability about what to wear. We knew it was going to be cold but not how cold so we braced ourselves and sported every longjohn layer we had. The coach ride out to the camp in Ljingsfjord took us past much of the route we made with Kjetil but in the morning half-light the sun behind the mountains was stunning; an eerie purple-pink hue hung across the sky and it seemed as nothing moved.
Out in the wilderness inland we must have lost some of the town's and coastal warmth because here, in this valley, it was nothing short of Arctic. Even donning thermal suits, hats, three layers of gloves you could still feel the pinch. It was -19c but, with wind chill on the sleds, would get colder. This didn't seem to stop our Sami guide from handling the dog harnesses with his bare hands. "You get used to it," he said.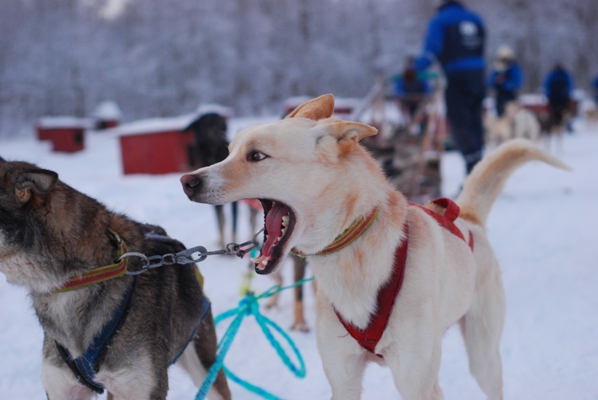 Once suited and booted we made our way down to the kennels where the yapping and squealing of some forty huskies, all straining at their leads to get going, was nigh on deafening. We were assigned in pairs with six dogs to a sled. Nick and I took the lead, by chance if not design, but first a safety demo. This lasted thirty seconds and consisted of two things: first, how to apply the foot brake. Bare Hands put his foot on the brake. And, secondly, a reassuring word, "Never to let go of sled." Right, got it. Brake. Sled. "After, you'll figure it out," he concluded.
I'm not sure what I was expecting by way of a sled but what we got was a rickety make-shift wooden runner which, honestly, I could have knocked up in the carpentry workshop at prep school. Still, these have served Sami herdsmen for generations so they must know what they're doing. We were told one would drive, one would ride and then we'd switch over halfway. I elected to drive first to give Nick the chance to take photos. The passenger comforts, however, were non-existent, more passenger 'discomfort' with nothing but a rancorous reindeer fleece to sit on which, it transpired, served no purpose whatsoever against the onslaught of bumps and dips that would follow along the track.
If ever I doubted that six frail-looking pups could pull our bulk I was sorely mistaken for, once in single file and our guide set off, as soon my foot was off the brake we shot off and practically went straight into the back of him. Immediately, this was fun. Admittedly there were previously-made tracks through the snow but the steering and braking necessary, not to mention the speed we travelled at, was exhilarating. Nick was not having the best time of it, however, as the non-existent suspension on the compacted snow of the trail can't have fared any better than a clapped-out banger on a pot hole-riddled dirt track. Once we got the hang of it, though, I have to say, it was one of the best, most simplistic, even visceral, ways to explore and appreciate the landscape. Weaving through sapling pine forests, coursing across clearings through the valley with mountains rising either side of us, and dipping and lifting over undulating banks, it was thrilling.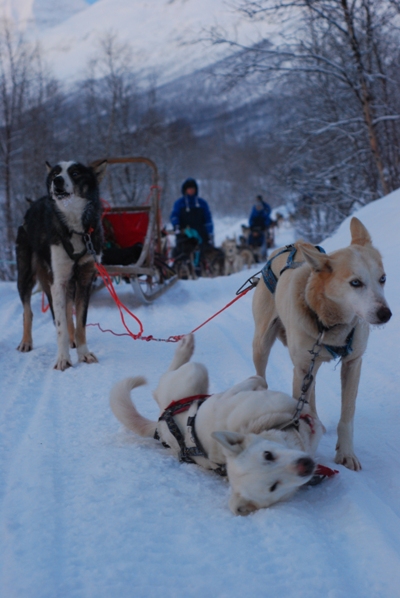 The trip was not without incident, however. Apart from losing the feeling in my fingers I did at one point confuse my steering and banked us into a drift, which then halted the whole column. Once I'd lifted the sled back onto the track, with all the complicated safety procedures to remember from earlier, as I collected myself and didn't subsequently hear the guide's "Hold on to your sled!" until it was too late. I just managed to get a hand to it as the dogs took off, dragging me behind and clinging on, literally, single-handed. Fortunately the bulk of snow I was ploughing through provided some resistance and I was able, albeit awkwardly, to get a foot to the brake and bring us to a stop. Nick, similarly, had a moment. About an hour in, having switched over at the halfway point, it was he at the helm. The narrow runners were clearly insufficient to accommodate his size 12 boot and, as we dipped across a partially frozen stream he lost his footing and came off. Had it not been for the guide ahead of me nonchalantly placing his foot out to stop my now driverless runaway, I fear I may have been whisked into the distant wilderness with just my plaintive cries of "Nick? Nick?!" for company. That's one thing about sledding in Norway though, it feels raw, untamed. Nick's fall was but one incident in our man versus nature adventure. The other occurred when a support on one of the other team's sled fractured and our guide repaired it by cutting a branch from a tree and lashing it to the broken stave as a temporary fix. I just couldn't imagine the same in, say, North America with advanced technology and health and safety standards – it was a refreshing approach.
Back at the hotel, I took the opportunity to try out the gym. Adjacent to the sauna was a small, similarly wood-panelled room with an exercise bike and a treadmill. Come to think of it, I think they'd simply put the machines in the sauna and billed it as the gym. Either that or it was connected on the same thermostat. Certainly, after the morning's bracing drive across the windswept tundra I was soon losing half my bodyweight in sweat running in sub-Saharan temperatures, confounded all the more by the view through the huge facing window of the snow-laden Nordic landscape beyond.