Day 1
By contrast to our UK leg, the flight to Tromso was uneventful save the embarrassingly quick de-icing process and the beautiful views through the clouds of fjords and mountains as we descended. The simplicity of stepping off the plane, collecting luggage and boarding a bus behind a fellow passenger with an 'Arctic Expedition' badge on his snow jacket made me feel I'm somewhere different. The journey to the hotel confirms this; it's 11am, cars have their lights on, it's drizzling, dirty snow lines the roads and my first sight of the town centre is met with 'Restaurant Amundsen' and what appears to be makeshift wooden buildings among far more modern glass and concrete numbers. I'm surprised, too, by the amount of construction that's underway. Ms Lumley's influence perhaps? I say this about every place on the fringes of the familiar but it feels like a frontier town – never more so confirmed when we later visit the Polar Museum to it's basically a corrugated iron shack on the wharfside – but I am surprised at how built-up the town is, particularly as we pull up outside our hotel, in our case, it's the Radisson. They may be Scandinavian in origin but it's evidently testament to how developed and tourist-oriented the Arctic is becoming as nearly every hotel group is represented here. Built-up it may be but they still know kitsch as we're met by a stuffed polar bear as we enter the lobby. And, far from being basic, as we'd anticipated, the hotel is well-served, well-appointed, comfortable and, on further exploration, its obligatory sauna has terrific views across the bay. Frontier town this is not.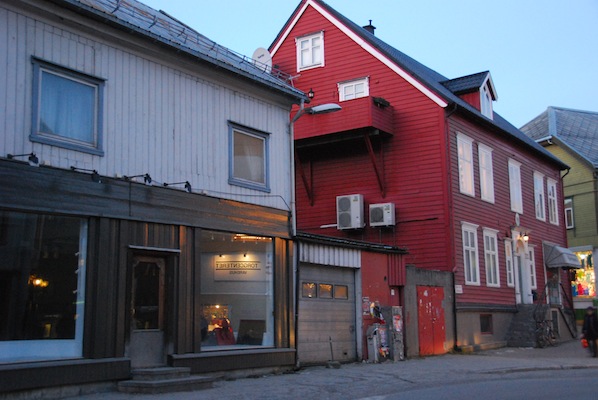 No sooner are we in the room than we're out again and into the oddly un-Northern Norwegian 4 degree drizzle to assess our home for the next four days and seek lunch. At this point I should say that it's 1pm and nearly dark. It's confusing, the diners inside the cafes made us think they're tucking into supper and by 3pm I'm wondering if I shouldn't be in bed. Still, predictably, the exploration of Tromso's two main thoroughfares and town square is short-lived. I'm surprised to see a long pedestrianised shopping precinct, a cinema showing current titles and a library that wouldn't look out of place in LA but the whole tour takes about ten minutes so we duck into a café for a baguette doused in pesto and a Coke that requires a downpayment. It's frustratingly reassuring that Norway's regional economy is not to be outdone by its capital. As we make our way through the drizzle-sodden greyness back to the hotel I begin to question our Northern Lights trip, scheduled that very evening. Aside from the lack of cold (which I thought they required), it's completely overcast. I text our guide, Kjetil Skogli. The very same, no less, Ms Lumley had taken a year earlier. Billing himself as the 'Aurora Chaser', if anyone's going to know, he is and, sure enough, he writes back saying we're very much on and that we should ignore the weather. I can't fault his optimism but I certainly question mine.
Two hours later, having tried on and off various items of clothing we debate to be appropriate, we head for the rally point outside the hotel. Kjetil is there not, as I imagined, in an empty, engine-revving, beaten-up Landrover but in stationary Peugot people-carrier full of, well, people. Kjetil, too, is not what I expected, certainly by appearance. I couldn't recall what he looked like in the Lumley programme but the photo on his website seemed to credit him with more rugged Norseman than I was met with here. Which, in fairness, was to his credit since Kjetil was most amenable.
We boarded his people carrier and took off, my neighbours in the back not taking long to strike up chatter when they heard we, too, were English, which was just as well since Kjetil's friendliness seemed to have escaped him for the first hour of the drive. Evidently he preferred to remain silent until spoken to. That first hour was an odd one – I thought we'd be coursing through Nordic wilderness but not so, Northern Norway is surprisingly populated with roads, service stations and houses seemingly continuous around the fjord we were circumventing. Kjetil had said we needed to head inland to 'hunt' for the lights – which sounds more dramatic than it is, really only involving driving and driving until we saw them, or Kjetil calling a pal to see if he'd encountered any – and it seemed we were coastal for an age, such is the geography of the place. A brief pitstop for a coffee and chocolate, and a chance to shed layers in the Peugot sauna, and we were on our way again, all eyes scanning the night sky.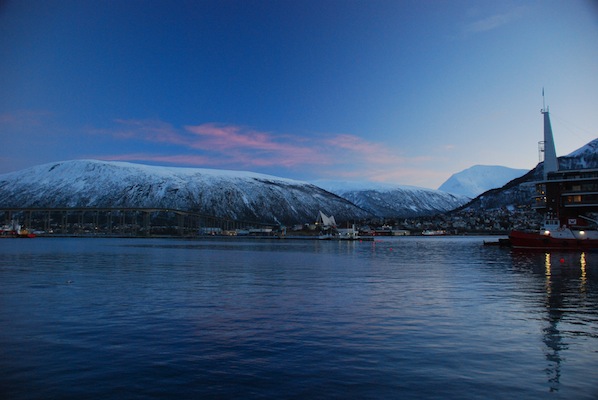 Just as I thought we were in for a long haul, he suddenly pulled over, "we've found some aurora", he said, and we all bundled out of the car with enthusiasm. What we saw, however – well, we couldn't really 'see' anything. A very faint green lustre hung in the sky which could have been moonlight off a cloud now I think about it. One of our number, Brian, optimistically took a photo of it anyway. His camera flashed, he looked at the result – yep, blackness. I'm not sure what he was expecting. Kjetil immediately appraised our expectations; contrary to popular belief, the Aurora Borealis are not a constant display of multi-coloured lights shimmering in the night sky. We got back in the car.
Not twenty minutes later and we were pulling over again. Brian's girlfriend had seen some activity out to the left, over a fjord we were running alongside. Sure enough, as we got out there was a distinct light green luminescence above the water. The setting was ideal. We were on the lip of a fjord, looking down its length, with the lights of a village flickering across the water to our right. Nick hurriedly unpacked his camera equipment and set up on the shoreline.
What happened next is definitely one of those few unforgettable moments one experiences. As we watched, the green shimmer began to intensify and spread further across the sky. Then, suddenly, what felt like God's hand clutching a giant invisible fluorescent pen drew a bright wavy line underneath the darker green band, literally unzipping the black sky to let the green pour out. From where we stood it didn't look much wider than the fjord but realistically must have been miles across. It hung in the air for a moment and then faded. A few minutes passed when, again, in the same spot, came more activity. This time long thin strips yellow-green light shot up into the sky coming almost to a point high above us – the best way I can describe it is like standing in the nave of a darkened cathedral, under the spire, with someone switching on lights that shine up the walls to the apex. These beams formed a screen as they rose and – something that you can't see in pictures – began to ripple and dance. The whole display lasted about ten minutes and it was, if you'll forgive the overuse of the word, stunning. For about the next half hour, we watched lights come and go, some in the same spot, some hovering over the crest of the mountain behind us, some to our left, and during which time Kjetil struck up a fire and served up coffee and we all swapped stories and chatted about our respective plans in Norway.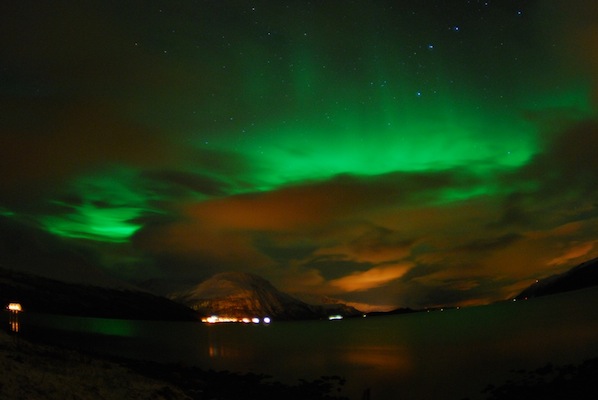 When it looked like we'd seen the last of them and Brian's ill-prepared girlfriend was about to lose her toes through her cheap TK Maxx boots, we packed up. On what had seemed such a dismal night in Tromso and certainly not having expected to have seen the lights so soon, if at all, I asked if we might see a bit more of the landscape and even, since we were nearby after all, if we might cross into Finland. The rest of the party thought this agreeable but probably soon regretted it about ten minutes into our rally ride up, down, round and into some hairy corners, through thick snow and pine woods with nothing but our headlights for guidance. Here, then, was that wilderness I was after – albeit from a road. By the time the border was upon us, I practically missed it. There was no checkpoint, no passport stamp, no barrier at all, simply a sign as we left Norway and then, 100 yards later, another saying 'Soumi – Finland'. We pulled over for a photo opportunity by the sign, wading through knee-high snow to reach it. And, with the lights out, we really did feel in the wilderness suddenly, the only light being from the abundance of stars above – another treat.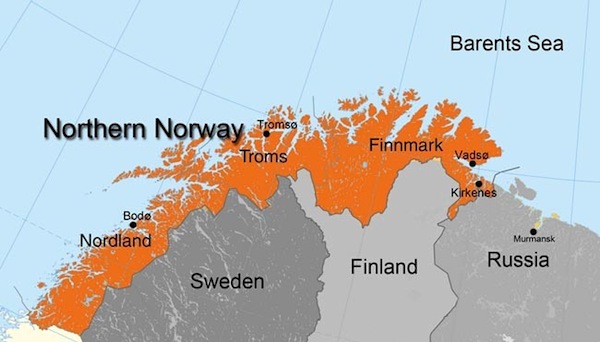 Two and a half hours later, at about 1am and significantly earlier than we expected, we returned to the hotel, fortunate to have seen the lights, got the photo, and crossed a border. All this being rather fortuitous, back at the hotel for a decent night's sleep it now dawned on us that we had booked four days in Tromso to allow for several failed attempts to see the lights but, having seen them so spectacularly on Day 1, now what?