In the second of a two-part art-travel feature on Van Gogh, art writer Rosalind Ormiston goes back to the region he called home, the places of his early life and career in the region of Brabant…
There's been a surge of interest in Van Gogh this year, with many exhibitions in the UK and mainland Europe. He lived just 37 years, with his career as a painter lasting a mere ten years from 1880 until 1890 when, living near Paris, in Auvers-sur-Oise, he killed himself (see part one, Van Gogh in Auvers). In that short span, Vincent – as he signed his letters and art – left near 900 paintings, about 1000 drawings, and more than 800 letters written to his family and friends.
His remarkable art and fact-filled letters draw people to Brabant in the southern Netherlands, where he was born, to discover the artist beyond the paintings. Exhibitions aside, Van Gogh 'pilgrims' visit Brabant to see it through his eyes, travelling though the countryside he knew, to visit where he lived. It was this pilgrimage I was keen to undertake myself, and see if I could discover something of the man, through his life and work.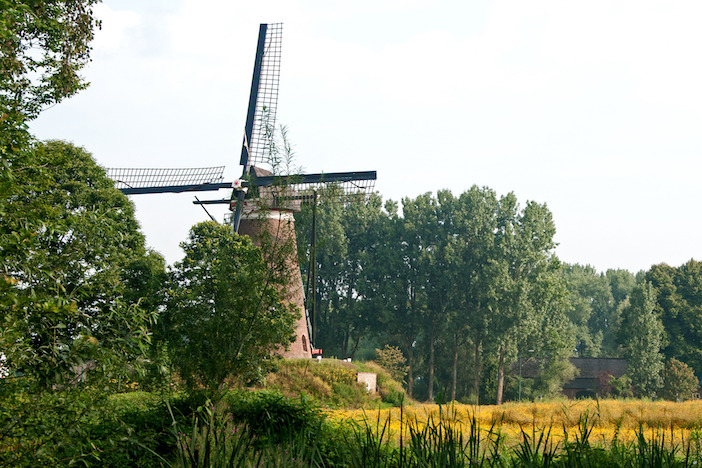 The province, a largely agricultural region about 70 miles south of Amsterdam, close to the Belgian border, is where Vincent grew up, in a middle-class family with his five younger siblings. His parents, Theodorus, a Dutch Reformed Community pastor, and Anna Cornelia, an avid gardener and a good artist herself, it was she who encouraged Vincent to draw. As Protestants in a mainly Roman Catholic region, life as the son of a pastor could be difficult but the family were closely bonded, the children and parents would take a walk together every evening, and were encouraged to help in the family garden, to take an interest in plants and wildlife, for health and wellbeing, all influences from which Vincent would draw inspiration.
Vincent spent half his life in Brabant and three towns are closely linked to him through family homes: Zundert, his birthplace; Etten-Leur, where he first began to draw and paint; and Nuenen, where he returned as an adult to live with his family for a short time. Between the three locations are many sites that Vincent painted, and Brabant trails make it easy for visitors to get around, to see all the different locations – and in different ways, if one wishes, such as the ten-route 430km Van Gogh Cycle Trail – travelling through the countryside he would have. Each town has Van Gogh locations, all easy to find and, thankfully, never a tourist trap. Perhaps that is what makes Brabant so special.
I begin in Zundert, a friendly town that wears its Van Gogh heritage lightly. Here Vincent was born on 30 March 1853. The small church where his father preached is here. In the churchyard is the gravestone of his elder brother, his namesake, who was stillborn a year to the day before Vincent was born. The old presbytery in Zundert, where Vincent lived until he was sixteen, was demolished but rebuilt and is now the Vincent van Gogh Huis, housing a permanent exhibition 'Roots of a Master' that focuses on Vincent's childhood.
The beauty of this house is that it retains the ambience of a family home in its furnishings, objects, photographs and original papers from the family archives. The lovely garden remains, too. Vincent wrote down memories of playing in this garden, the birds that visited it, and small creatures and insects he found. The garden was his mother's pleasure, and it is said that she based its design on the gardens of Versailles.
Across the road, adjacent to the Van Gogh house, was the school that Vincent attended from 1861-64 before going to boarding school in Zevenbergen, around 20 miles away. Opposite is the town square and town hall, which years later in 1890, while living in Auvers-sur-Oise, Vincent painted its distinctively similar town hall. It reminded him longingly for Brabant and his family home here in Zundert.
Some ten miles north lies Etten-Leur, where the Van Gogh family lived from 1875-82. The church where his father was pastor remains as it was and is now an excellent museum dedicated to Van Gogh with historic tours, with talks given. The nearby vicarage they lived in was demolished but a statue of Vincent, and a garden, mark its location. By the age of sixteen Vincent had left home to work in The Hague, one of several jobs he undertook, but regularly returned to visit his parents. It was here, in the spring of 1881, that he made the decision to become a painter, registering himself as an artist for the first time. His first studio was in Etten and became the turning point in his life. He was 28. More than 100 drawings that he created in and around Etten are conserved.
Theodorus's vocation as a pastor prompted the family to move from time to time, and between 1883-85, it was Nuenen that became his new parish. The parsonage that became their home proved fruitful for Vincent, creating drawings and paintings of the house and its beautiful garden. In this delightful town there are no less than 24 locations relating to the artist, ten are directly connected to him, and a further fourteen are locations relating to his life. In the heart of Neunen is the newly-renovated Van Gogh Village Museum, conveniently opposite the parsonage, and officially opened by Queen Maxima of the Netherlands on 16th May this year. It's a fabulous museum, dedicated to Vincent's life, and is the perfect starting point for a visit, to discover him, his family, friends, and how all those locations in Nuenen are connected.
Of the many sites, it's the parsonage and beautiful church where Vincent's father preached that gives a sense of their life here. Not to miss is the remarkable life-size, multi-figure sculpture on the village green close-by. It is a reconstruction in bronze of The Potato Eaters, that van Gogh painted during his time in Nuenen. Showing a peasant family around their dining table eating from one large plate of potatoes, and drinking chicory coffee, it is an insight into Vincent's compassion for those of lesser means.
Painted in dark, earthy colours ,'something like the colour of a really dusty potato, unpeeled, of course', as he describes, he called this painting his masterpiece. It summed up everything he felt for poorer peasant communities and the harsh reality of their lives. While living in Nuenen, on 26 March 1885, Vincent's father died suddenly from a stroke. He was buried in the local cemetery at the foot of the Old Church Tower, which Vincent painted before it was due to be torn down. It would be one of his last times in the region. There is a finality to his time here from this moment; from this time on he lived mainly in France; in Paris, Arles, and Auvers-sur-Oise.
One of my favourite cities in the Netherlands – there are so many to choose from – has to be s'Hertogenbosch in Brabant, colloquially known as Den Bosch, and the birthplace and namesake of another Dutch master, Hieronymous Bosch. It is an essential stopping place for the Van Gogh fan. Apart from it being the most fabulous place to visit, it is home to the Het Noordbrabants Museum with a unique collection of twelve original works by Van Gogh exhibited in a comprehensive permanent presentation, 'Van Gogh in Brabant'.
It is a rich, chronological survey that includes many paintings, as well as preparatory drawings, family documents, photographs and films that bring together aspects of his early years as a painter and shows how Brabant shaped his artistic thinking. It gives a wonderful sense of who he was and how this province defined him. Perhaps most evocative are Vincent's letters, available to read here (and online), with frequent references to Brabant, reminiscing on his life here with a longing for its landscape, and in his own words, demonstrating that Brabant, in Zundert, Etten-Leur and Nuenen, is where to find the remarkable, incomparable Vincent Van Gogh. 
For more information on Van Gogh and Brabant, please visit www.vangoghbrabant.com. For inspiration for your own Van Gogh pilgrimage, visit the website for the Het Noordbrabants Museum in Den Bosch at www.hetnoordbrabantsmuseum.nll. For information on the  Vincent van Gogh Cycle routes, visit Van Gogh cycle route | VisitBrabant. And to read Vincent's letter online, please visit Vincent van Gogh The Letters (vangoghletters.org).
Photos courtesy of Visit Brabant