There is something profoundly disorientating about travelling through Brixton, sitting, hidden away, in Cygnus, the perfectly restored, 1930s-built train carriage of the British Pullman, the very carriage that took Sir Winston Churchill on his last journey as part of his funeral train. I have rarely felt such an extraordinary juxtaposition. Brixton market stirs and whirs and hisses with uninhibited activity. Graffiti is sprayed plentifully on walls, smoke from jerk chicken outlets wafts through the air and flashy mobile phone repair stalls hum with energy. All this happens a mere stone's throw away, as our carriage slowly, almost silently, pulls out through South London on a trip that will take us deep into the reserves of nostalgic yearning and shared memory.
The Orient Express! Are there three more romantically charged words in the English language? Even the proposition of Murder on The Orient Express sounds thrilling, quaint and rather exotic. Now for clarity's sake, I must be precise. Today's 'Orient Express' is in fact, The Venice-Simplon-Orient-Express, a slightly different operation than the original Orient Express which was made famous in the late 19th and early 20th century as the most elegant way to travel across Europe. Back then, the train service linked some of the greatest European cities in a long, meandering necklace. The journey started in Paris and ended up in faraway Istanbul. There is something so deeply, robustly appealing about this manner of train travel. In my mind's eye, all is clipped straight from a Le Carré or Greene novel, that inter-war and then cold war period. Boarding a sleeper service at Gare du Nord and falling asleep amid oak and Egyptian cotton, to snake your way through Lausanne, Venice, Belgrade, before finally waking up on a cool winter's morning to stare up toward the minarets of the Blue Mosque.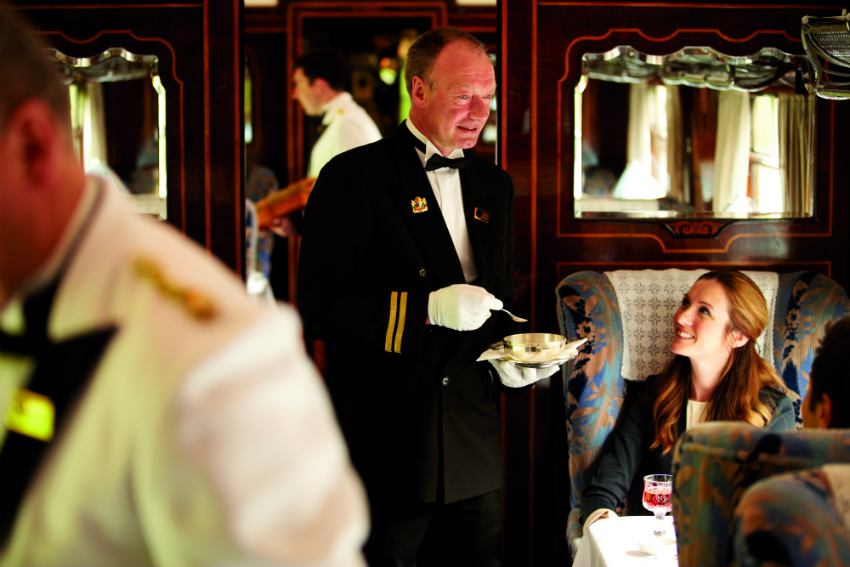 Today's journeys are no less luxuriant, possibly more so, but focus on a slightly more restrained set of routes across the UK and Europe. The most popular by far is London-Paris-Venice, but for those with a born traveller's disposition, there are still routes to Budapest, Prague and, once a year, down to Istanbul. The non-continental trips around the UK are also legendary – ours will be a tour of the Kent coast.
The journey leaves platform two, London Victoria at 11.30am sharp. We make said journey out through south London and the suburbs beyond, before leaving this grey, shapeless, urban landscape and reaching the green pasture beyond. Our aforementioned carriage, Cygnus, is a wonder to behold. The original 1930s décor was lovingly restored to its former glory in the 1980s and everything from the golden patina of the tables to the well-worn creak of the chairs feels entirely authentic.
Champagne is poured at table by a gentleman with a welcome, somewhat anachronistically sturdy, gait. He moves slowly around the carriage, silently purposefully and reverent. Canapés arrive – salmon with a effete sprinkling of caviar and stuffed dates, for a breath of exoticism. We press on, breaching the county line into Kent, before the solid silver soup tureen comes around. Conversation is hushed and discreet. There are no iPods, no mobile phones sing out, children are nowhere to be found; there is only the gentle hum of the wheels on the line, and the sound of adults in discussion.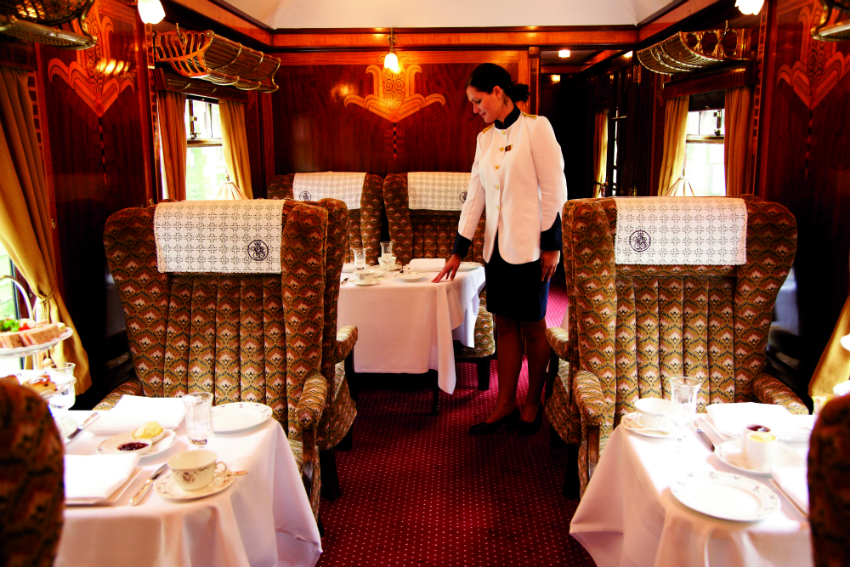 The soup is of spiced parsnip, a piquant, seasonal start to a meal, and is followed by smoked salmon with celeriac remoulade. The tone of the menu is classically British, in the 'Old English' tradition. Wine, if you like red, is Chianti or Cotes du Rhone, although there are various options to upgrade, if you are so inclined – there's an excellent tasting selection of wines from Rothschild holdings, or an extensive selection of classed growth claret and Grand Cru Burgundy, depending on how your alcoholic tastes manifest themselves.
By now we have reached the Kent Coastline – there is little separating old Cygnus and the seemingly endless expanse of the English channel out to our right. The vista is mesmerising, familiar and peculiarly British. The train comes to a standstill with a view, and we await our main course. Guinea fowl is served wrapped in Parma ham and presented with a sweet cranberry sauce, and jus that is served at table. We've chosen the Cotes du Rhone from Roger Sabon as a vinous accompaniment and the crisp, black cherry and garrigue notes of the young Grenache work well with the gamey meat. We finish up, and a somnolent quality descends upon the carriage; we, the assorted diners, settle into our deep chairs, as the wheels of the British Pullman start up and we begin our journey back into the metropolis.
The sun is beginning to droop in the sky, the day is coming to its close. As dusk takes over, the lights in the carriage come on and Cygnus is bathed in a festive glow. There is music and gentle laughter. If we were without the tell tale signs of iPhones on tables and of the skyscrapers of the City in the middle distance, we could suspend our disbelief fully and allow imagination to run away. A trip on the British leg of the Venice-Simplon-Orient Express is everything that you might dream it to be, a singular departure, a trip that transcends time and space. All aboard.
Belmond British Pullman offers an extensive programme of luxury day excursions to Britain's historic towns and stately homes. Prices start from £205 per person and include all table d'hote meals. For further information call 0845 077 22 22 or visit the website.