If you asked me to choose one place in the world that I've always wanted to visit, Rotterdam probably wouldn't have been at the top of my wishlist. But having now experienced the place The Beautiful South once sang about in 1996 – if you like modern art and design, cycling and giant gnomes, then Rotterdam should really be on your to-do list.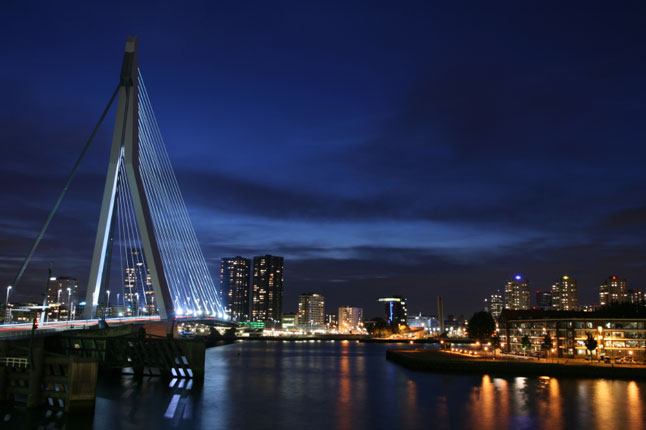 I say gnomes, because right in the city's main square is a piece of work by American artist Paul McCarthy, funded by the government to celebrate the spirit of Christmas. I imagine the brief went something along the lines of, 'Paul, can you create Santa Claus holding a Christmas tree for us?' Not too difficult, huh? But what they actually ended up with was a bronze cast statue that resembles a giant gnome holding a sex toy. The statue is now commonly referred to as the 'buttplug gnome' and caused a public outrage among many religious folk when it was first erected (no pun intended). While everyone else, including me, just sniggered lots and then climbed onto it for a photo (see below). But enough of naughty gnomes.
I flew into Amsterdam Schiphol airport and travelled on to Rotterdam via high-speed train link, arriving on a sun-filled day in the city, and the image that first greeted me was the hoards of people on bikes – literally everywhere you turn there is someone peddling towards you. The Dutch city is traditionally industrial in its heritage, which is mainly due to having one of the largest ports in Europe and being an international commercial centre. In later years it has become one of Europe's most vibrant, multicultural cities with new cutting-edge architecture popping up all the time, and some of the old warehouse buildings next to the port have now been renovated as trendy apartment spaces for young, up-and-coming professionals.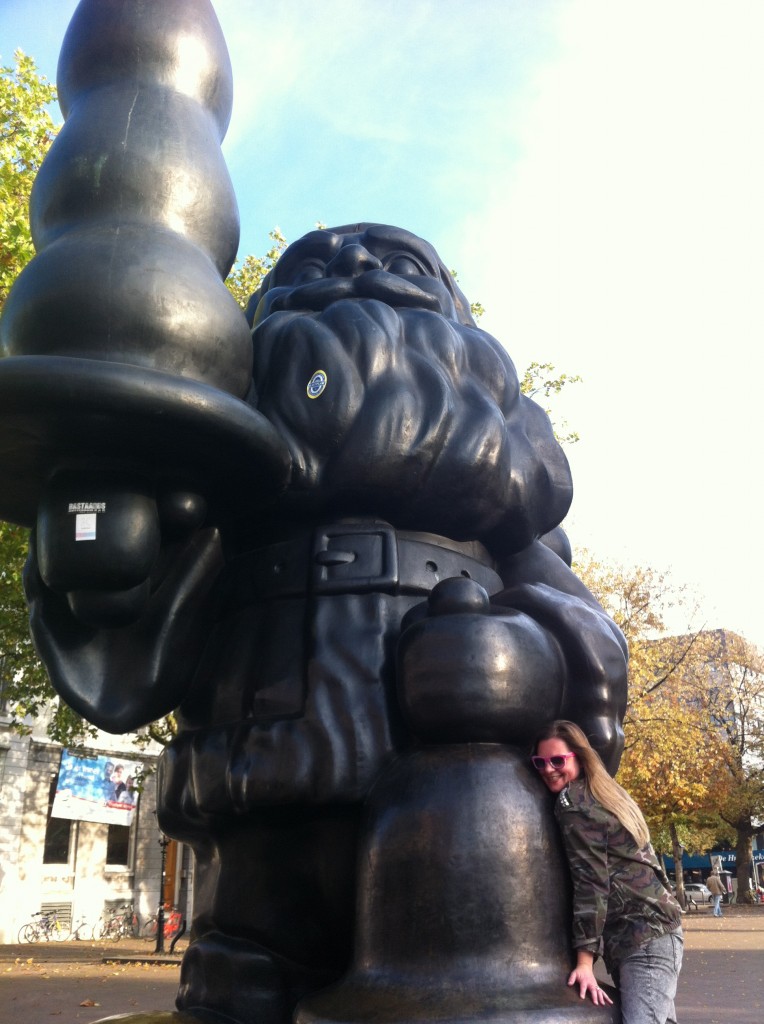 The area is also home to one of Rotterdam's top eateries, Las Palmas, owned by chef and TV star Herman den Blijker ("the Gordon Ramsay of Holland"), where the specialty is fish – a theme that runs throughout the restaurant as artworks of fish eyes stare at you while you eat, and thanks to an after-dinner liqueur which tastes like a B52 cocktail and a warm Espresso Martini all in one, you'll feel like you've been drinking like a fish too. Around the corner from the restaurant is the New York Hotel, an impressive building that used to house the administrative headquarters for the Holland/America cruise line. Situated at the end of a pier, the hotel overlooks the Nieuwe Maas River and is a mixture of both modern and nostalgic decor. 
The New York theme is strong throughout Rotterdam, and as I found out, this is mainly due to the fact that the city's skyline is twinned with that of Manhattan – apparently on a clear day or night, the view from the Erasmus Bridge is similar to looking out over the Big Apple's iconic skyline. Staying at the 5* Manhattan Hotel, I failed to spot any soaring skyscrapers or Chrysler Building-like art-deco architecture from my 10th floor window. But nonetheless, the hotel was modern and comfortable and its location in the heart of the business district, opposite Centraal Station, the tram and the Metro, makes it a good choice for getting around. During my stay I was also given a sneak peek at The Presidential Suite, which has hosted tennis player Roger Federer and will also welcome Jean-Paul Gaultier and Jennifer Lopez next year.
Positioning itself up against Amsterdam as a thriving cultural city, Rotterdam is perhaps the place you come to for modern architecture and art – a direct result of the city being bombed during WW2 and having to re-build itself from scratch. The city holds various events including an annual film festival which has earned itself a reputation for introducing up-and-coming talent, new media trends and films from developing countries.
In terms of art and design, a must-see is the Museum Boijmans Van Beuningen, which is full of Dutch and European masterpieces including the latest exhibition, The Road to Van Eyck – which one of my fellow travel companions, Charles Darwent, Art Critic for The Independent, described as a "stupendous display of the works of a Flemish master who, at a stroke, invented oil painting and changed the course of art history". If you like art inspired by biblical stories, then you will most definitely appreciate the valuable and fragile works on display, curated from all over the world.
If like me though you prefer something with a little more edge, then The Kunsthal (meaning 'art gallery' in Dutch), is a display space with no permanent collection of its own, but it houses a large part of the Triton Foundation's avant-garde collection – showing works by more than 150 famed artists including Salvador Dali, Edgar Degas, Marcel Duchamp, Andy Warhol and Roy Lichtenstein.
In February 2013, the gallery will exhibit 'The Fashion World of Jean Paul Gaultier: From the Sidewalk to the Catwalk' – a display which follows the designer's 35 years in fashion – presenting over 140 original creations from the early 1970s to 2012. The eclectic mix of iconic and cutting-edge haute couture collections, stage and film costumes and ready-to-wear pieces will be seen for the first time in the Netherlands – including creations loaned exclusively by stars such as Madonna and Pedro Almodovar.
Talking of fashion, if you go off the beaten track to explore the neighbourhoods around the gallery, in particular, Witte de Withstraat, you will find a variety of vintage shops selling everything from retro vinyl to old school Levis for just €2 and an assortment of kitsch gifts. If it's high-end designer garb you're after, then Marlies Dekker's lingerie boutique is well worth a visit – housed in an old bank with some of the original fittings still present such as a heavy-duty safe door and barred windows – the shop is designed to seduce the senses, and the innovative and highly stylised mix of pieces are a favourite with celebrities including Lady Gaga.
Continuing on the avant-garde theme, Margreeth Olsthoorn's white-walled, minimalist fashion emporium is a fusion of edgy and contemporary brands and designers, all hand selected by Margreeth (just don't look at the price tag). The stylishly curated collection includes Acne, Avelon, Rick Owens, Ann Demeulemeester, Maison Martin Margiela, Comme des Garcons, Spijker & Spijkers, Peter Jensen and Victor & Rolf. Margreeth, herself a designer and stylist, also curates various art pop-ups in store.
Once you're all shopped out, head to Blender, an industrial-style space that houses a cocktail bar and restaurant with a lively atmosphere – and make sure you try the Pornstar Martini, a heady mix of fresh passion fruit, vanilla vodka and prosecco. Three or four more later, and you'll have forgotten how much you spent on that Rick Owens leather biker jacket at Margreeth Olsthoorn.