For Britain's expats hailing from the U.S. West Coast, like myself, the song-based maxim 'California dreamin' on such a winter's day' is of particularly personal relevance. In our reveries of balmy, light-hued seaside retreats frequented by well-to-do surfers and coolly casual entrepreneurs, we momentarily forget why we moved to England in the first place.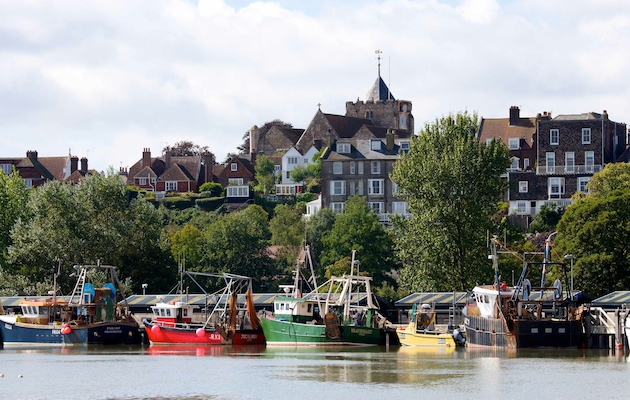 The Gallivant Hotel in coastal Rye however, weaves the charm and breathtaking beauty of the English countryside into such California dreams – minus the balmy weather (you can't have it all). They even manage to draw some cosmopolitan TV star power: Homeland actor Damian Lewis is rumoured to have dined at the hotel's restaurant — following visiting Hollywood royalty George Clooney and Matt Damon to Rye's shores, no doubt.
What could bring such A-listers from the likes of manicured Malibu beaches to East Sussex's humble Camber Sands? Perhaps a destination eatery like the hotel's Beach Bistro manned by Chef Trevor Hambley, who boasts his own type of notoriety, having cooked in the kitchens of Marco Pierre White and Jean-Christophe Novelli.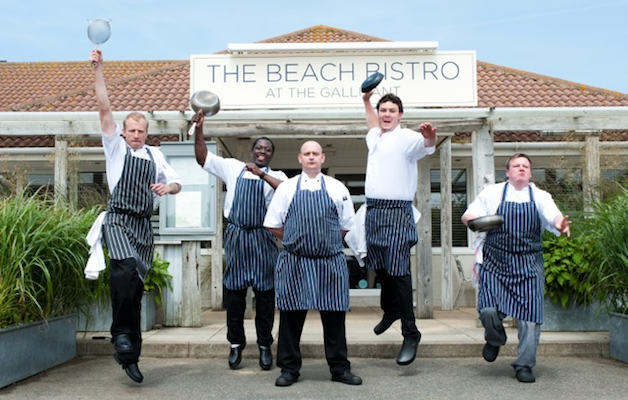 When Hambley is not preparing exquisitely fresh and supple local fish like Rye Bay sole or whatever the catch of the day may be, he can be found putting his touch on another area-sourced specialty: wild boar. The Beach Bistro is poised to be a particularly hot foodie destination for visitors from near and far during Wild Boar Week, which promises Rye area restaurant showcases, tastings, live entertainment, and woodland tours — all in celebration of the tasty, albeit elusive, creature who roams the area's sylvan swaths.
The casual hotel eatery — with its pristine light wood tables, including a prized picnic table, and blue and white motif punctuated by minimalistic aquatic artwork — recalls an upscale California 'beach shack'. This is no mistake, as hotel owner Harry Cragoe apparently sought to incorporate influences from his visit to the Golden State's coastal areas. The luxury boutique hotel is perfectly positioned beside the closest sandy beach to London, and about a ten minute drive from Dungeness and medieval Rye town centre, respectively — off a nice, quiet stretch of road.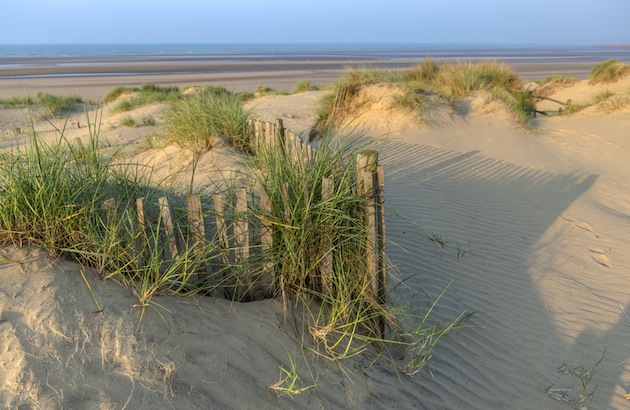 A short drive from The Gallivant through Romney Marsh, past apple orchards and roadside farm stalls will get you to the wild boar's stomping grounds. Tour guide and wild boar expert Mike Pepler explains: "People aren't aware that there's boar here if they're just visiting. [Wild boars] are all over the area." This is evidenced by the large (boar-sized and -shaped) dug-up holes, and trails of acorns — the tusked creature's favourite shrubland snack.
Back at the Beach Bistro, the big pig gets its culinary '15 minutes' in the form of beautiful dishes like wild boar risotto cakes presented with Rye Bay scallops, apple and sage balsamic glaze. The eatery will serve this as well as roast wild boar loin with suet pudding of braised leg and sautéed greens during Wild Boar Week. When culminating such a meal with Chef Hambley's unforgettable caramelised pear puff pastry tart with house vanilla ice cream, one may find oneself in a blissful food coma — writhing around, glassy-eyed in a proverbial wild boar mud bath.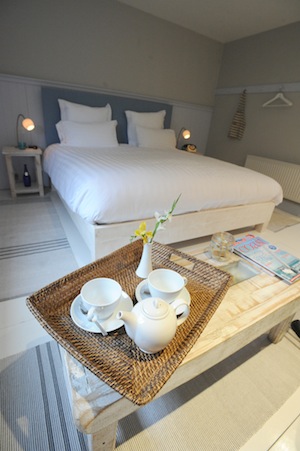 However, it's of course possible to enjoy post-indulgence languor in an infinitely more civilised way, within the small hotel's pleasant confines. Each of its 20 rooms is decorated in what it calls 'shabby chic' style — however this seems a misnomer, at least in reference to the word 'shabby'. There's nothing shabby about the thoughtful and fresh vintage-modern coastal decor of the rooms with their pristine wood floors, artisan driftwood aesthetic, white shutters, oversized bathtubs and charming touches (like colourful old rotary dial telephones).
The walled-off outdoor decks, attached to some of the rooms, provide a petite retreat in which to lounge on a deck chair. There, you can busy yourself making those "important calls" if you happen to be a famous actor, well-to-do surfer or laid-back entrepreneur. Even if you're not, the stylish but accessible vibe of The Gallivant ensures that you'll "do lunch", "catch some waves" and get the tranquility and privacy you deserve in the relaxed and homely spirit of the English seaside.
Rooms at the Gallivant start from £115.
For more information on the Beach Bistro or to book a table, visit the website.
Finally, for more information about Wild Boar Week, visit the website.

Getting There
Rye is just 90 minutes from St Pancras International and tickets start at just £11 return. For timetables and station information or to purchase tickets online, visit the Southeastern trains' website.
Southern Railways run a regular service from Ashford to Rye. For more information and to purchase tickets online visit their website.