From the windows of a tiny Loganair plane (Scotland's very own airline), we propel our way from Glasgow airport out and over towards the Hebrides islands. In early April, the engines hover over still-snowcapped mainland Scottish peaks, and we are afforded further aerial views of dramatic coastal landscape – ones for which this part of the world has become best known, and increasingly, endlessly, adored.
Our final destination today is Islay – often dubbed "Queen of the Hebrides" for her ethereal charm, jaw-dropping landscapes, legend-laden history and the unmistakable smoky scent of peated, Islay whisky. This inner island has long-captured traveller's attentions, and in recent months has turned heads again with the opening of luxury hotel, The Machrie – inviting fresh reason for a first visit, or indeed a return one for those already so fond of her distinctive charms.
The Machrie, once known as a more rustic, rural bed and breakfast, sits ten chauffeur-driven minutes from Islay's Port Ellen airport. The hotel re-opened its doors to the public in September 2018 after substantial renovation and expansion from its previous footprint as a smaller farmhouse. This smart new property now offers visitors 47 guestrooms, centered around an attractive central white-washed internal courtyard, and is owned by Scottish-born Gordon Campbell Gray, founder of similarly stylish lodgings in London, Beirut and Antigua.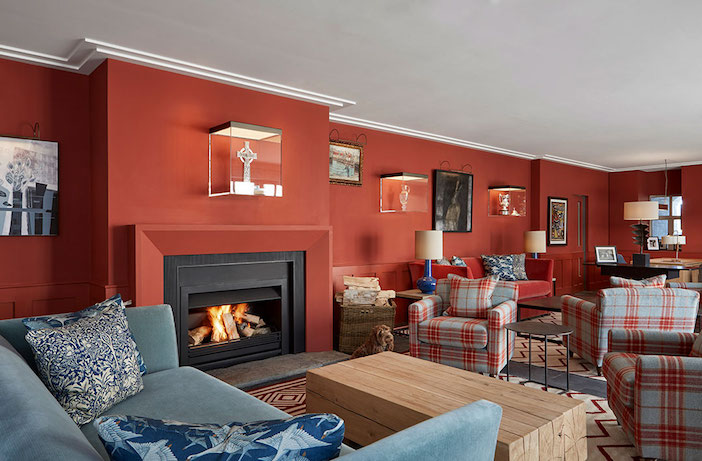 The Machrie's elongated buildings sit on extensive grounds and are resplendent in their structural presence across the horizon. Wellington boot racks greet visitors at the main arched doorway, indicative of popular local pursuit – either on walks out towards the beach, or along the mile-long gravel driveway back towards the 'main' road.
A sense of homely coziness permeates from the tartan-rich sitting room style entrance hall. Guests can fold into enormous sofas, flanked by coffee tables that are topped with heavy duty Scottish-themed travel books and copies of the local fortnightly Jura and Islay 'Ileach' newspaper. Local Scottish artist's work adorn the walls hotel wide, alongside touches more golfing in nature, while the overall colour scheme throughout the hotel has been thought about in a nod towards the nearby North Atlantic shoreline.
One of the most captivating things about this hotel is the views that are afforded from the '18' restaurant and accompanying bar. Watch out for the large wooden deer head sculpture clinging to the wall above the fireplace, designed by Fabian Von Spreckelsen as you sip on an aperitif or finish the night off with one of the very many premier choices of Islay whisky.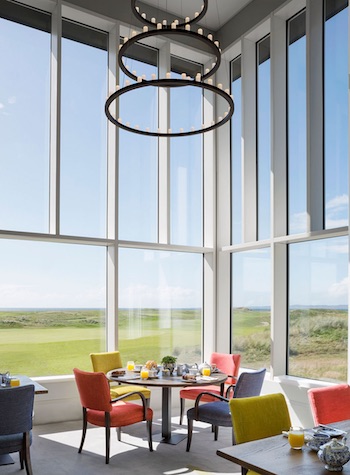 À table, you can enjoy sumptuous haggis and salty porridge or haddock and eggs in the morning, or Isle of Mull cheese soufflé, seared scallops and pan roasted seabass for dinner, reveling in watching the sun rise, or slowly set across the stunning Laggan Bay – a real highlight, if you're lucky to witness one over any stay here. Laggan Bay beach stretches for seven miles from one end to the other – its silvery waters are best viewed through the extensive floor to ceiling windows, and high-domed atrium style roof, and can be easily reached on foot or by golf-buggy.
In between the restaurant terrace and the sand, lies the hotel's main calling-card – its links golf course. Originally designed by Willie Campbell in 1891, the course has now been fully modernised and is overseen by new resident PGA Gold Pro, David Foley.  State of the art equipment has been installed to facilitate better coaching and train members who play, and David has also created a programme for the island's school children, hoping to find and promote golf to the stars of the future. Lesser versed golf players can enjoy a run of the wee course – six enjoyable holes that permit views out onto the magnificent surrounding landscape, as well as offering a little more light-hearted fun to those who might be a little rusty, or simply beginning to learn the game.
A wider golf theme is subtly interwoven into the hotel's ambience. Framed plush silk scarves of golfing premise dot the walls site wide, bolstered by the impressive trophy cabinet that sits opposite the golf shop. Wooden golf clubs frame the doorways of the upstairs amply sized meeting room – and vintage golf prints depicting Hollywood stars on golf vacations between movies, make escapes to the bathroom over dinner more interesting still.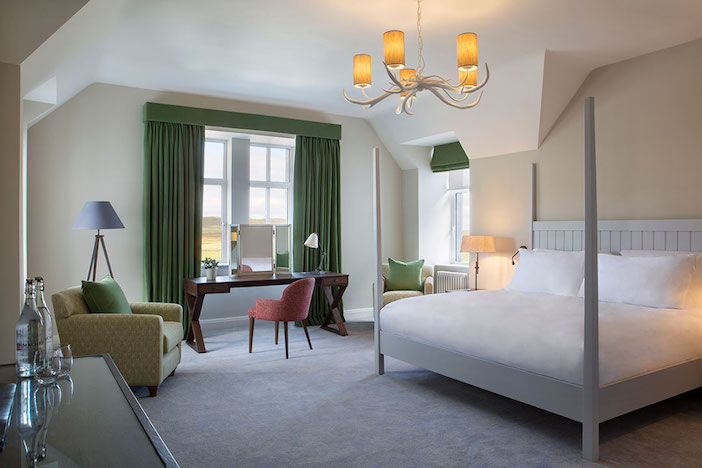 Bedrooms at The Machrie include some that have been designed as standalone lodges, and others as larger, more palatial suites. Each is decorated in sharp Scottish-sympathetic design, mastered in collaboration with Peter Young. Beds are some of the most comfortable you might have the good fortune to sleep in, and bathrooms are filled with fluffy white robes and heady aromatherapy associates branded toiletries. These are replicated in the hotel's PureGray spa – two rooms downstairs next to the gym, for those feeling more sprightly after a whisky-laden dinner the night before, or some further relaxation time.
There are a number of activities that can be organised from the hotel by the staff, many of whom are 'home-grown' and clearly very passionate about their island. You can visit one or many of the island's unique seven whisky distilleries including the newest one – Ardnahoe – opened in April this year. We visited Laguvulin, arguably one of the island's most prestigious – touring the grounds and tasting drops of Islay: bottled.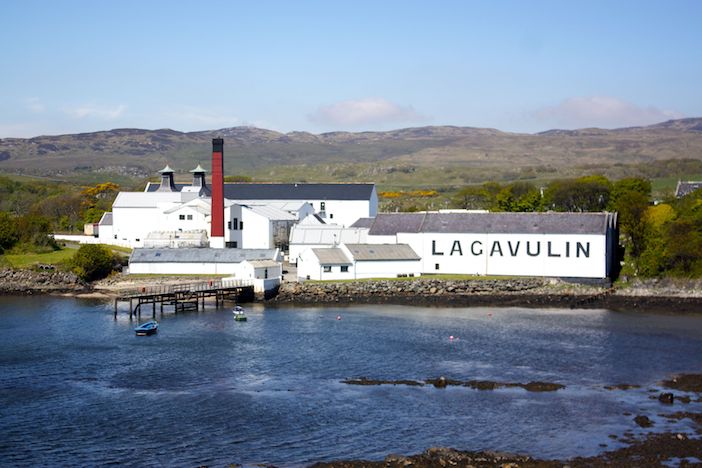 Other recommended visits include the Kildalton High Cross and old Parish church – where you can also pick up a sultana flapjack from honesty-box 'Cakes at the Cross', or visiting the Iconic Woolen Mill in Bridgend – depicting famous faces who've worn their wares and tartans in a myriad of colours over machines that would look every bit appropriate from something out of the industrial revolution. Finlaggan – ancient seat of the Lordship of the Isles hosts an interesting interactive exhibition, and charming boardwalk to Elian Mor – the larger of these islands, and home to the Lords in the Middle Ages. From then, the Lords of the Isles became clan Donald – one of the most powerful ruling families on the west coast.
Fresh air, locally sourced produce, comfortable beds and stylish design ensures that the Machrie, in its new guise, and the first hotel of its kind on Islay and will surely soon become quite the Scottish island destination retreat.
Winter rates start from £145 per room, per night and Summer rates from £235 per room, per night, including breakfast. For more information, visit www.campbellgrayhotels.com.
Getting to Islay – There are daily flights with Loganair from Glasgow and Edinburgh airports to Islay as well as local inter-island flights and there are also several daily ferries from the mainland and connecting with other Islands. The Machrie also has its own Islander aircraft which is available for private hire.