Wednesday June 15th, 2011
The pain came suddenly, seemingly out of nowhere, and seemed to flow on from an earlier mishap which had already clouded the day. I had stopped to ask directions in Northwich and the gentleman I spoke to – bearded and cheerful – suggested that I could take the canal all the way to that evening's destination if I didn't mind a brief diversion in the Manchester direction. This seemed a great idea. I knew the Grand Union Canal well in London, the ground was flat, there was a tarmac-ed path and the views were interesting, sometimes beautiful. Most attractively, there would be no traffic. This section of the canal was all those things, although the path was gravelled and potholed which slowed things somewhat. What I hadn't counted on though were barriers set every couple of miles to thwart motorcyclists. There was enough space in between for a single bicycle, but with full panniers and the extra baggage on the back, it was impossible.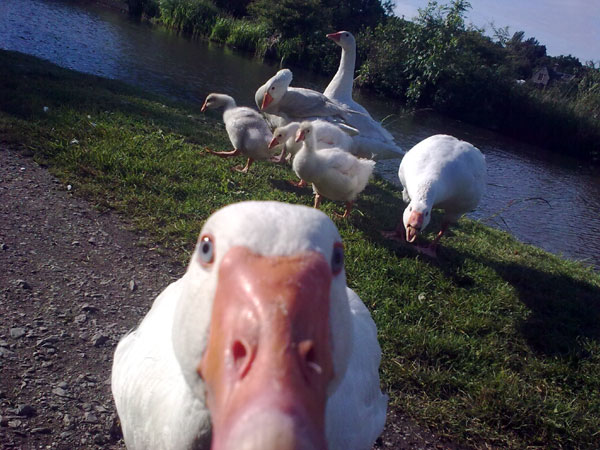 So I left the canal cursing and made my way back onto the roads. I had wasted a couple of hours. It was no longer looking like a short day; it would take the rest of the afternoon and perhaps longer to reach Parbold where my brother's in-laws had offered to put me up.
But then the pain came, strong, fully formed, a snarling testosterone-fuelled adolescent. It was like the stab of a dagger in my kneecap at every downward thrust of the pedal. I had experienced this once before when I had cycled the off-road hundred mile track of the South Downs. It had come on at the end of the third and last day so I was able to shrug it off. And it was gone a few days later. But what about now? The enormity of what I was doing dropped on me – I was only half way through my journey and every pedal was just short of agony. As with the day of rain, my world contracted to the experience of pain and getting through it. I barely noticed that coming into the area of Wigan, the traffic had increased and the space for my bike had shrunk. Although it was pretty miserable, if it had to happen then the timing of the pain was spot on.
The in-laws were great hearted, generous people, full of North Country charm and hospitality. Would it be possible (would it be considered failure?) if I stayed an extra day to recuperate?
Thursday June 16th, 2011
It's a long time to be away from a wife eight months pregnant. There were a few tears when she found me on the map and saw how far I still had to come. I was surprised myself; Britain, on the map, seems to roll on like a huge head of exfoliating granite. Scotland is vast. I'm missing her too, and the baby, which is not a living child to me yet, but an idea, and one which stretches the bounds of the imagination. But what can I do? We both knew we would be apart for some time (although as usual I underestimated just how long). The truth is that it will be closer to three weeks than to two. As much to go – almost – as what has gone.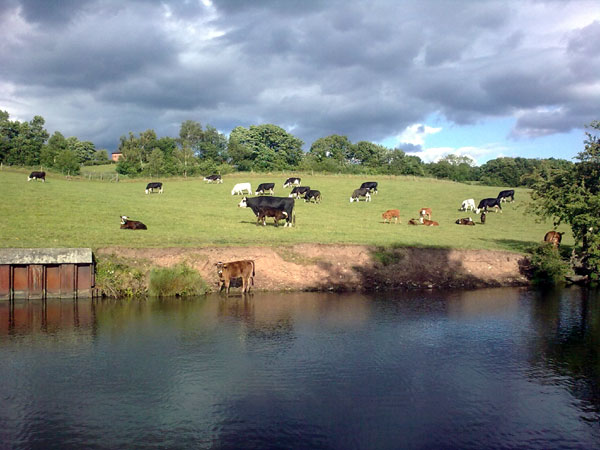 The day of convalescence was necessary (I tell myself). Part of me – the conventionally competitive part – wants to achieve an admirable time. But then I said, from the outset, that this was not a race, that it was the experience, the encounters and adventures that counted. I'm worried though that I'm no longer enjoying it. I am looking forward to the end of each day when I can throw down my load, to the end of the thing itself (I almost said 'race'). It is relentless, day after day, climbing back into the saddle for seven, eight, nine hours (twelve on the 'Dartmoor Day'). But I am hesitant, tentative now with this injury. My body is flawed, delicate it seems. I can't rely on it like a machine (although in truth it would outwear any machine I know, including the bike itself).
I got to Silverdale, just south of the Lake District, in good time last night, staying at an old friend of Mum and Dad's. For once the place name was apposite – it's a glorious spot set on a wooded hill overlooking the giant swathe of Morecombe Bay. The sun was glittering off the shallow pools and rivulets when I arrived; the tide was well out. On a clear day, apparently, you can see four countries – England, Scotland, Wales and Ireland. A sort of cross roads place. I ate richly and slept in a soft bed with clean sheets – the last in I don't know how long.
Friday June 17th, 2011
It is quiet apart from the sudden rumble of the boiler. No one is yet up on the campsite – which is unsurprising; it rained during the night, a varied pitter patter on the dome of my basha, and it is consequently wet with a forbidding aspect to things. I am sitting in the laundry room (my usual parlour at campsites). This one is luxuriously appointed with four chairs and a table so I actually have something to dine on. I have closed the door enough to shut out the wind. Through the sliver of a gap I can see the majestic waters of Ullswater quivering in constant dilatation. If you fix your eyes on a single spot you become giddy with the movement. I have two ice packs from the camp freezer on my knee and a pocket full of Diclofenac anti-inflammatories which Anne the family friend uses for her arthritis and which she kindly lent me. So already the journey has become drug-assisted. I wonder if I should disqualify myself?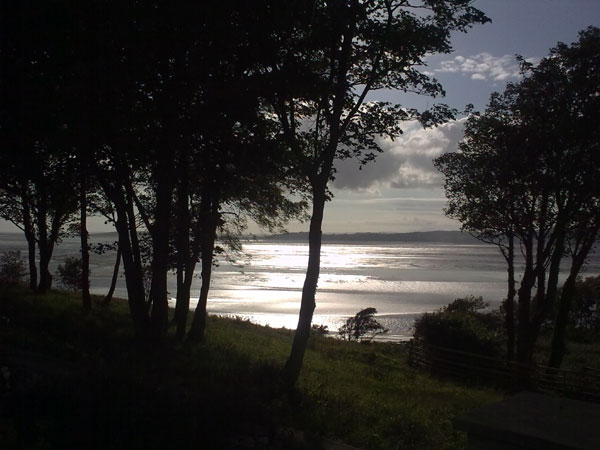 I crossed the eastern chunk of the Lake District yesterday. I could have pushed on but I was determined to spend at least one night in that landscape that is so famous and which has such a powerful hold on people's imagination. The first climb over the hills to Windermere was windy rather than steep. It was an intensely bucolic landscape of sheepfolds, stone cottages in dells and wooded rises, rolling and knotted, pleasing and containable to the eye and the imagination – an environment perfectly planned and preserved. It was beyond this, past the curiously alpine charms of Windermere that the landscape soared and became one fit for gods and giants. As I clunked up the road to the famous Kirkstone Pass – an enormous cleft in the hills I'm sure created by the mis-stroke of a demi-god's broadsword – I felt myself dwindle to a living speck. My knee had held out – in fact, the ascent was nowhere near as bad as a couple on Dartmoor although the altitude was greater. The atmosphere was different here too. It was majestic, on a kingly scale. It invited you to marvel and take part. There was a bleakness to Dartmoor, a sort of shaggy recalcitrance which accepted you disobligingly, like a hard bitten old timer.
In the distance I could see the snaking form of Ullswater and I dropped through the valley towards my night's destination.
Saturday June 18th, 2011
I crossed the border yesterday. I am now in Scotland! I relented at Penrith and climbed onto a long stretch of A road to Carlisle as being the quickest and most direct route and the one most likely to spare my knee. I was right. It was as straight as an arrow (or an English arrow). The road rose and fell like an escaped ribbon and I had enough downward impetus to just about get me up the other sides. There wasn't much traffic either, most, presumably, having taken the adjacent motorway. But what there was of it hurtled by. The countryside was surprisingly bleak and non-descript after the grandeur of the lakes, although the green of the fields was so deep and full it made you look twice.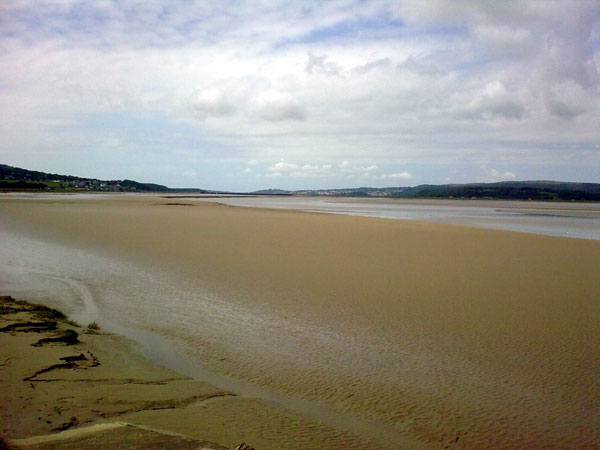 So, the going was good and I made decent time. For once. But I could see the dangers in travelling in this way. I once met an artist in Northumberland who had done the end-to-end route, taking a month by back roads and staying in youth hostels. She in turn had met someone who had zoomed up the A roads and done it in something like ten days.
"Why didn't you just drive?" she quipped.
Carlisle looked interesting and of course is full of history from the Romans on, but it flashed by and I was soon whisked, by way of by-passes and roundabouts, onto the A7.
Now the A7 is a 'green' road and up until now I had studiously avoided them. The 'greens' were the major secondary roads and I hoped, a little naively, that heading towards the border would see some cessation in traffic. Although marked as a bigger highway than the Penrith road, it was smaller in width with at least treble the volume of traffic. Lorries laden with cargoes of whole trees thundered down from the north and I blinked in relief that they weren't going the other way.
Things changed dramatically at Langholm where I turned off on a twisting B road. The traffic stopped almost instantly – for the next three hours I was to see maybe a half dozen cars, if that. I was into the hills, following a river. Maybe it lacked the sweep and exclamations of the Peak and Lake Districts but in its own way, with its broad valley floors, rivers, streams and hump-backed hills, this was landscape every bit as beautiful, and to my knowledge, untainted by tourists.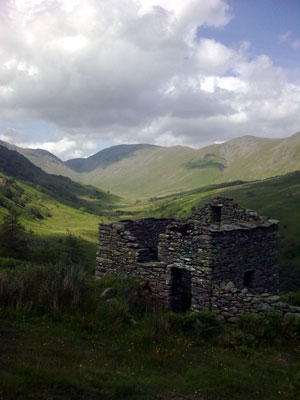 I had my eye set on the Samye Ling monastery – which I had discovered on the map – for that night's accommodation. It was a Buddhist monastery, I presumed, and bizarrely cast up in the middle of nowhere in the Scottish Borders. Monks in general had a reputation and duty for hospitality and I was hoping for a free bed for the night. I had a vision of a host of saffron-robed Tibetans welcoming me in and breaking bread with me, ushering me into a gilded hall lit with butter lamps where my sleeping mat was unfolded. Instead I found a bony, shaven headed Northerner with a gloomy demanour presiding over a rather tawdrily converted private house with box-like outbuildings which resembled some cheap conference centre. Which indeed this was to a large extent, more so than an actual monastery. The receptionist monk could offer me a bed, but at a price.
"But, you see," I pleaded," monasteries often put up travellers and I'm doing this ride for charity."
"Well, you need to ask the abbot. You really should have booked in advance."
"Can I speak to the abbot?"
"Oh no, "the monk replied with weak acidity," he left at twelve."
Of course he did.
"Couldn't you call him?"
Outraged at the suggestion – "He's in the middle of prayers and meditation!"
Which is how I found myself in a forest, next to a river, my shelter up, fire blazing, bathed in the upland waters, dinner simmering. A far better alternative.
Sunday June 19th, 2011
Having once more tasted the freedom and joy of wild camping, I detest even more the pokiness and strictures of camp ground camping, but it is in one of the latter that I once more find myself. Friday night was an absolute delight. I chose my own bit of ground (which evidently had been used before and more than once, probably by local kids). I could set camp properly, distribute my kit, make a little home of sorts. Here at the camp site though, everything is crammed under my shelter, both to keep it out of the rain and for very rudimentary security. But that other kind of security – that of being amongst your own species – is a double-edged sword. It is being on your own in nature and being totally reliant on yourself in this environment which brings its own considerable rewards. Selecting a suitable spot, setting camp, building a fire, cooking, washing stark naked in an ice cold river or lake – all these feel like major achievements when done out in the 'wild' (I use that term loosely in the context of Britain, but really, even a spinney in Southern England can feel gloriously wild and exotic in its own way). I was determined that in Scotland of all places, broad and sparsely populated, and notably without the petty laws of ownership which make wild camping in England such a challenge, here I would lay my mat wherever I wanted, avoiding the over zealous charges (and they have crept up the farther north I have travelled – five pounds in Cornwall to nine pounds last night) and the suffocating propinquity to my fellow man. So what went wrong so early?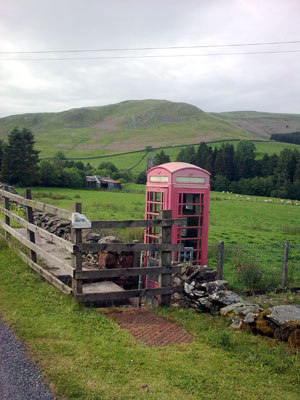 The day started bright enough with spittings of rain through the sun. It could have gone either way. Unfortunately it went a watery one. The first heavy shower occurred at about one, timed with my lunch break. Serendipitously I came in sight of some barns almost immediately, and ducked into one open-sided one containing stacks of rolled hay bales the shape of giant tomato tins. There is something lovely and relaxing about hay and I sat munching until the farmer appeared. He started when he saw me but he was happy to play host. We chatted for a few moments. He was a hill sheep farmer ("I get funny if I'm on flat land for too long," he observed drily) with sixteen hundred acres. With his soft voice, austere face, long dignified form and round black framed spectacles, he looked more college don than farmer. It was difficult to pull myself away from my little parlour, particularly as it had continued to rain.
At about three thirty, an hour after leaving, the sky emptied – it was an utter deluge. I soldiered on for another couple of hours but once again I could feel my body temperature dropping. By the time I reached Innerleithen – a rather dour little town – I was spent, and having spent an hour in a café warming up, I made the wavering decision to stay in a nearby campsite.