Monday June 20th, 2011
Sitting in a launderette at a quarter to six in the evening. In Edinburgh. Beautiful, historic, romantic Edinburgh with the sun shining outside. Such are the prosaic practicalities of travelling, particularly this type of rough shod journeying that I am at present washing my clothes. In order to maintain a modicum of cleanliness and self-respect and not to descend into total barbarity, it is necessary to actively snatch these moments when entering civilisation. Not for me a wander up to the castle, a drift round the streets or into a museum; it is getting the bike looked at, sorting out my washing, re-victualling.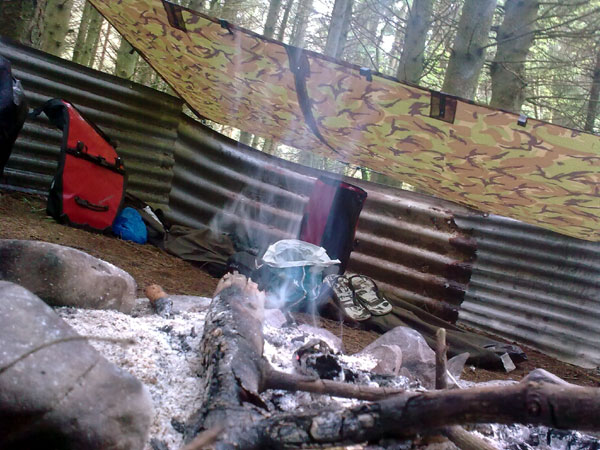 I got into the capital late yesterday afternoon after another thorough soaking on the road, performing a completely pointless circle on backroads where I'm sure the map was malignantly at fault. What a beautiful feeling though! To be in a proper, cosmopolitan city. To sit in a well designed coffee shop drinking a real cappuccino. The wilds or the heart of civilisation for me. Two contrary pulls. Two contrary sides of myself.
I am staying with an agreeably eccentric couple – Justzina (silent 'j') and Tommi Sheridan and their five year old daughter, Mango. Justzina is Hungarian, small, dark and energetic with a slightly sylvan character, and a genuine circus performer (although she might baulk at that term) – juggling and the rest. Tommi, dreadlocked and bearded, of English and Irish descent but brought up in Italy, is none of these or perhaps all three. Mango is an extraordinary mixture of the two and a dash of something else – blonde hair of finely spun gold, the most enormously blue and expressive eyes, precocious, coquettish, fearless, an unearthly sprite of a creature. I can't see her growing up to be anything but a performer. But I may be wrong. Into this charmingly chaotic world I was flung and made to feel welcome. Tomorrow I leave.
Tuesday June 21st, 2011
So tired today. I needed an early one but it was approaching midnight before I finally laid my head down. I crammed it in yesterday, and as well as my own film and the shorts surrounding it (a short documentary I made with Open Cinema and nine of London's homeless was showing at the Edinburgh Film Festival), I saw a documentary feature titled, "Bobby Fischer Against the World" about the legendary chess champion. It was a sad and tragic tale about genius gone awry. It threw up as many questions as it offered conclusions. Was it Fischer's obsession with chess that led to his mental decline and paranoia? If he had had a more balanced life would things have been different? If he had, in fact, had a more balanced life, would he not have scaled the heights of the game as he did?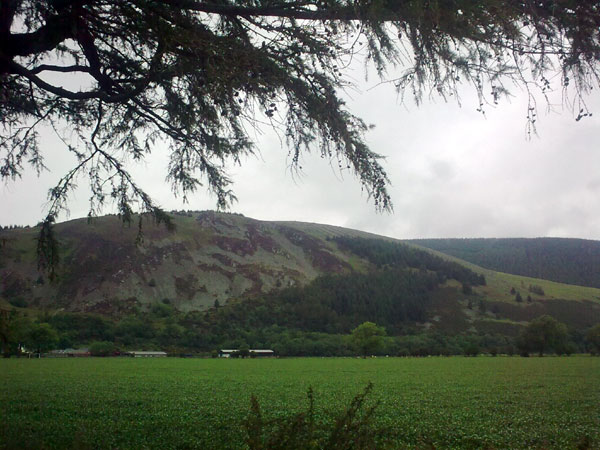 They rolled out the expert (and I have heard this before) who declared that what high achievers have in common, including musical geniuses, is not so much an innate genius, but a cultivation of skill by spending a minimum of ten thousand hours practising or engaged in their art. I wonder about this. Is it true? Statistically speaking it probably is. But there are plenty of examples of people who burst upon a scene in fiery suddenness (Dickens for instance). But behind this musing is, I suppose, the question of whether I have dedicated myself enough to achieve the heights. What, in fact, am I – film maker, writer, artist, traveller? Have I spread myself too thinly? But isn't to focus on one thing at the exclusion of all else singularly lopsided? It seems a strange sort of half-life. And I want to drink up the world. But the so-called 'high achievement' that the expert referred to is defined in narrowly societal terms. We are all trapped by this, particularly when chasing success. The true genius is perhaps the one that can find their happiness outside the box, whose deep satisfaction rests not on praise and the adulation of their peers, but on an interior contentment which has its own standards. This does sometimes happen, when a person seems to be living exactly the life they should, that is almost ordained, and the world rewards them for it because it also falls in line with what society appreciates. But love is perhaps the crowning aspect to anyone's life and Fischer died, finally it seemed, from a lack of it.
Wednesday June 22nd, 2011
Lying here looking out the window from the comfort of a bed at the rain falling straight and steady with a solid thrumming sound, I am conscious of the fact that I have at least another four nights on the road and no guarantee of another bed. The weather has been vicious. It rained all day yesterday with three variations – light, medium and hard. Not for a moment did it stop. It was slightly hellish getting out of Edinburgh. The cycle path that was meant to take me all the way to the Forth Bridge petered out and I was left cutting my way through the ugly outskirts on busy arteries. My breast swelled with frustration but two hours later I found myself on the ramp leading up to the bridge. It was massive and swung out over the Forth as though it had been bent by the wind. The uprights were lost in cloud and there was something unreal and forbidding about the whole thing. Once again I became a minute figure in the landscape as I inched across the span which must have been more than two miles across and half a mile or more from the slate grey waters below. There was no colour in anything. It had all been leeched out leaving a bloodless, drooping environment.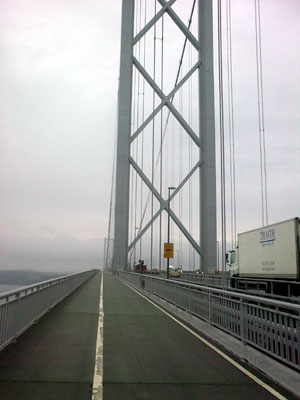 The landscape immediately north of the Forth was squeezed and sullen and the traffic was relatively heavy on the minor B road I was travelling, as it usually is near major conurbations. Eventually the countryside began to open out. By the time lunch had ticked round it was coming onto rain quite hard. I tried to get into a church but it was locked, so instead stopped at a large house on the crest of a hill in the hope of sitting out in a garage or barn. A slight, sprightly, balding man, dressed smartly, met me at the door. I rolled out the usual plaintive request but instead he invited me into the warmth of the kitchen and offered me a bowl of soup and bread and butter. The place was warm and pungent with the aroma of half a dozen cakes which were still cooling down in their baking tins. He was a keen cyclist himself and had done numerous tours in Europe so was sympathetic to my plight. We chatted pleasantly for nearly an hour. As I was getting ready to go he dug out a pair of rubber overshoes.
"Here, take these. They're a spare. I haven't used them for a couple of years."
It was after this that the rain really started. When I hauled myself off my bike for a coffee an hour and a half later, I was numb and contorted with cold. At a quarter past seven I rolled through the gates of my host's house in Blairgowrie and stepped into probably the nicest bath I have ever experienced.
Thursday June 23rd, 2011
How I wish I could remain where I am for another six hours, gazing out at the green of the hill and the purple flowers of the rhododendron bush. The bed I'm in is old – as in antique – with a mahogany head and foot-board. The room is capacious and the ceiling height is vast, twelve or fifteen feet with elegant cornicing encasing the whole. When I stopped for lunch yesterday in a forest park I was surprised to find a message from Christoph announcing two options for accommodation. One, in Blair Athol, was only a few miles up the road, the other, in a place called Kingussie, was just about exactly where I had intended to break.
"Kingussie. Perfect!" I texted back.
Miraculously the rain had stopped by the time I had left 'Ladeside' and the Garthwaite's where I had bedded the previous night. You could feel the strength of the sun behind the blanket of grey and the roads began to dry out. For me though, it was as if it was a glorious summer's day. There was no rain! And it looked like it might continue. As I pedalled along I sang the embarrassing nonsense that you do (or I do) when out of range of human ears, and called out to the cows who turned their munching heads to me in bovine inscrutability. It was pretty, rolling countryside, green and well wooded with streams and lakes. It was a containable and welcoming landscape and reminded me of the Welsh Borders I had been through. After lunch though (and the heartening message from Christoph) the going became increasingly tough. I had little option to get where I was going than to take the cycle track running alongside the A9 which brimmed and thundered like a motorway. This was reasonable enough although sometimes the path dwindled to a scrubby track. On one occasion it disappeared altogether and I was forced in and up land on a significant detour. To have braved the A9 itself would have been suicide and was probably illegal.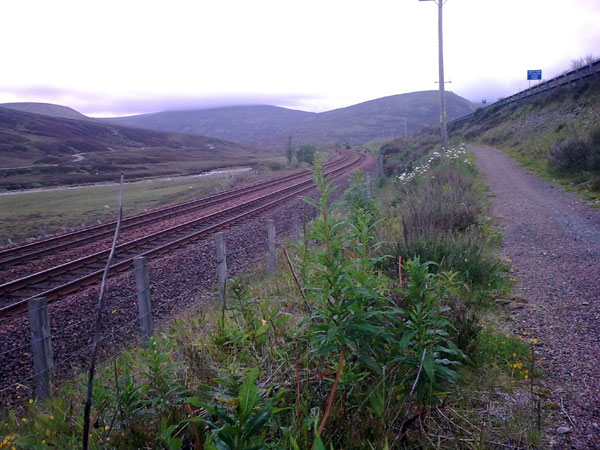 The landscape was changing. The rich pastureland fell away leaving bare hills of gorse and heather. And then the gigantic scattered shapes of the Cairngorms appeared, mottled and forlorn – probably the biggest hills I had so far encountered. When I passed the sign saying "Welcome to the Highlands", I was hit by a vicious head wind which stayed with me for the next twenty miles. My energy gradually dwindled and once more my focus narrowed to the little squares on the map. When I finally reached my hosts at eight thirty, up a steep gravel drive of maybe a mile, I was wired, irritable and hungry. But what a house and reception! I was staying in the massive Georgian residence of a genuine Highland sporting estate. Mr Macpherson-Fletcher met me at the door, shortly followed by his wife, and led me through a bewildering series of rooms bristling with animal heads to the 'kitchen' (as big as a London flat) where a fire burned in the grate and where a beer was waiting for me.
Friday June 24th, 2011
I am in a caravan – the first, I think, I have ever slept in. It is cold, even with my sleeping bag and two rugs, and I can only imagine the pinch of having slept out in the open. There is a heater in here, and as everything else, is hooked up to the mains, I have just switched it on. Am I getting soft? Or is this a half step towards camping again after four nights of being indoors? The cockerel has just trumpeted a reveille and I can hear the soft atonal cooing of wood pigeons. Nearby the rushing river thunders over rocks and boulders. The sound is very like heavy rain and all through the night I was tormented by the idea that the rain was continuing and wouldn't stop. The rain that had played cruel games with me in the day, falling lightly, becoming increasingly heavy until I was drenched right through, stopping for an hour or more until I was thoroughly dried out (apart from feet) then beginning over again. It happened twice at the end of the day just as my spirit was rising and the sky looked benign. The first was coming down off the steep hill from the Black Isle and over the murderous Cromarty Bridge (I now have a point of reference for part of the glorious BBC shipping forecast). The bridge was low and flat on its supports and cut at an angle across the wide firth. The traffic flashed by, indifferent to my plight, throwing up water and detritus, making me wobble from the force of their passing. It was hard to believe that there were actually people behind the iron and glass. People like me. Or not. And then the rain stopped on the other side on Easter Ross and the sky cleared, glowering very slightly. I was pushing up the hill from Alness when the rain clouds closed in again and once more the rain came. It was nearly eight – time to start looking for somewhere to camp. Could it really be that I would be soaked once more, at the very eleventh hour, just when I though I had escaped? It really did feel like someone up there was being mischievous, toying with me, testing me. I cursed God – someone had to be to blame – but then like a chastened child I told myself to submit. Weather and nature is beyond morality, beyond the mind of man. All you can do is lose yourself in it. Fighting against it is mentally and spiritually wearying, destructive.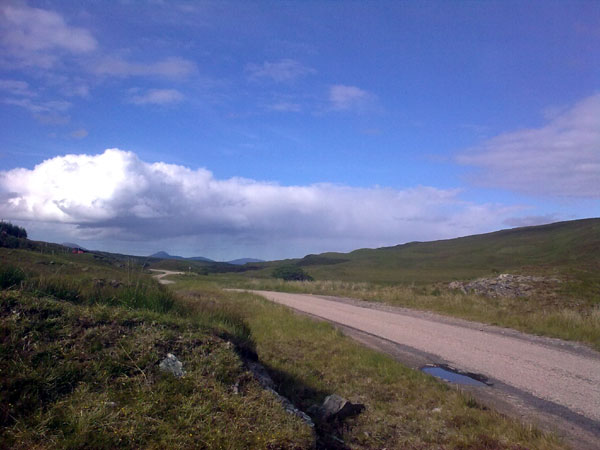 So up the hill and past the golf course I went (and there were a few out there who were still playing). I came to a junction – a turn off up the hill led to the farm house with plenty of big barns I might be able to sleep in. Down the hill, down, down to the rushing river through tight and dripping woodland, lay the mill. Somehow my steps were guided there. The road plunged, deeper and steeper. What would happen if I was turned away? The climb back would be punishment. The setting, when the ground levelled, was beautiful – an ancient mill and the miller's cottage, a wildflower meadow, plenty of outbuildings, the pounding river screened by trees. I wasn't turned away. I was invited in by the lady of the house, fed, given a towel and shown where to shower, housed very comfortably in the caravan. And now I am sitting down to breakfast on toast and fresh laid eggs, marvelling at my turn of fortunes and the incredible kindness shown to me by strangers.
Saturday June 25th, 2011
Today with any luck (is it luck at all?) I will reach John O'Groats. Twenty days after I first set out – that is, about six days later than my initial prediction and four days later than my revised estimation. It feels strange to be approaching journey's end. For so long have I toiled and struggled, laboriously crawled up the land and traced myself on a map, which despite my best efforts, always seemed to stretch away for miles across another headland, county, across moor and firth. But I haven't done it yet. There are still sixty five miles to go (and another twenty to get to Wick after this to catch my train) and I'll need all the help, focus and good fortune I can get despite the fact that I feel I can do it on my own steam. It's dangerous to feel like that, to let your conceit convince you that you alone are responsible for your achievements. Looking back I know that isn't true. Yes, I had the tenacity to pick myself up each day and to drive myself when things were against me, but I couldn't have done it (and I still haven't quite) without the help of others, and I like to think, the benign nod of Providence. I am reminded of Bobby Fischer who achieved so much on his own and against the odds that he eventually slipped into total solipsism. He ended his life alienating even those who cared for him – a sad, rancorous individual who at the end fought even his own shadow.
Yesterday was memorable, one of the most memorable so far. I got into wild, remote Scotland, skirted ruffled, majestic lochs, crossed moor land and peat bogs, traversed huge commercial pine forests, large tracts of which had been laid waste and were filled with the shattered stumps and bleached skeletons of dead trees like the aftermath of some awful battle. At lunchtime I stopped at the 'Falls of Shin' between Inveran and Lairg and saw full sized salmon leaping up ten foot cascades. There was something in the spirit of their journey, in the desire to do it and get to where they had to be going that touched me profoundly and almost made me weep. I, at least, have a choice in what I am doing, they are compelled by an implacable force. Or perhaps I am bound and compelled by the same force, despite all the trappings of civilisation.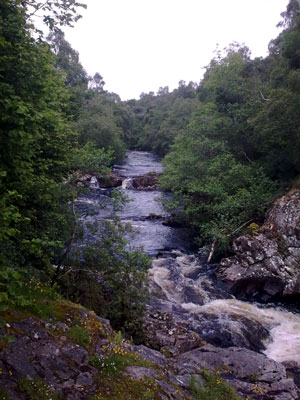 At tea time I stopped by the lonely Crask Inn, far out on the road inland to Tongue. It was run by a shepherd and his wife and it was one of the most welcome stops on the whole journey. The large pot of coffee, slice of home-made cake and perhaps flash of human contact fortified me for the final part of the route to the Kyle of Tongue – the name itself which has long since fascinated me. The views, particularly towards the end, were so awesome they were difficult to take in or even believe. No camera could do them justice. Only the lens of the eye and the imagination working in union for that single instant. And everywhere here the sky stretches in every direction. In one corner black storm clouds gather. In another, blue sky and the glittering sun. It is the biggest sky I have ever seen with every feeling and emotion writ large upon it.
It was eight when I got to Tongue and I spent forty minutes looking for a place to camp. Eventually I decided on an old abandoned boat shed, the size of a barn. One side was stone, the other side facing the kyle was of wooden planks. Many of these were missing so I could watch the sun setting over the water as I cooked my supper. The shed was strewn with old boats, ancient cast iron boilers and defunct farming equipment and with the fading western sun falling between the slats, it transformed the discarded and unwanted into a beautiful Dutch still life. Perhaps what sold it to me finally as a place of rest was a large pile of straw at the far end between two boats and here I sit, pen in hand, surveying my temporary kingdom.
Sunday June 26th, 2011
It's done. Got to John O'Groats at ten past eight last night. Took some pictures of the dilapidated Victorian hotel framed against the western sky and the pretty little harbour on which a lone fisherman was casting. There was not much else there apart from a visitor's centre and some tacky looking souvenir shops and cafes. I had been warned. In a way the two ends of the country meet in their drabness. Apart from the sea and the lonely light house, Land's End was equally unprepossessing. Here the island of Stroma sat flat and broad across the Pentland Firth.
Then came the prosaic business of setting camp, showering and eating. I hadn't realised how cold I had got. My hands resembled a dead man's – the joints were blue and the finger ends were pale and bloodless. I had a brief moment of worry when I thought something was seriously amiss. Never had my hands looked so foreign. I didn't recognise them as my own. But the life soon returned to them.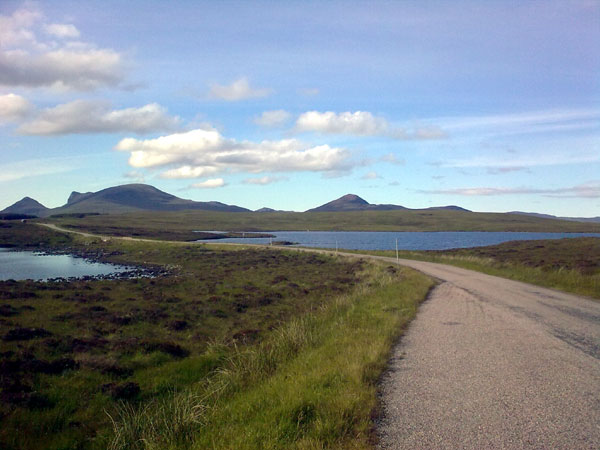 The relaxed sun-kissed roll into John O'Groats never happened. The first fifteen or so miles from Tongue had some of the steepest climbs of the whole trip, and combined with a malicious headwind, it made the first couple of hours a painful slog. The countryside was bleak too, comprised of bog and knotty moor-land, without the grandeur of the hinterland. It was only the coast which was appealing – scimitar curves of white sandy beaches and crystal blue waters with lines of shallow breakers.
Beyond Melvich and into Caithness the moors gave way to featureless farmland, rolling but largely tree-less. Villages in the English fashion didn't really exist. Houses collected together but there was no centre – no church, or pub, or village store, and curiously no history. The further I got towards my final destination, the greater the proliferation of modern, box-like homes, pebble-dashed and gaping blankly through double glazing. What traditional stone cottages I saw were ruins, sometimes standing in the same plot as the banal usurper. Oddly, these latter were usually no bigger than the old. They cut starkly into the landscape like discarded fizzy drink cans. They spoke of a people, a mentality, that had severed all natural bonds with the land.
Epilogue
A slightly dour and anti-climactic final entry but then accomplishments often seem to come with this flavour – the energy sags all of a sudden and one feels empty. What was it all about?
But the journey for me wasn't quite over – I still had to navigate my way back to London. The trip down to Inverness was littered with a series of mishaps and indignities – the hatchet faced Scrooge in Wick who turned me away from his café in driving rain because he wasn't technically open for another ten minutes, the misunderstanding with the station guard which saw him walking away from me shaking his head and muttering at my stupidity. Worse was to come. In Inverness I was told that no berth had been booked for my bike for the next day's train. To transfer my ticket would be the same cost as a new one. I spent a sleepless night running through all the possible permutations (would I be jailed for assaulting rail staff in desperation?) In the end an impassioned plea to the train guard at seven in the morning involving charities, physical endurance and a pregnant wife saw him fitting me and the bike in to the Euston train without too much bother.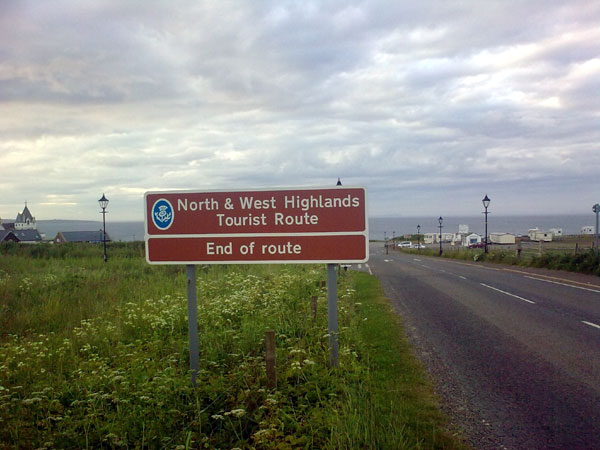 I was on the home straight I suppose and the long journey from Inverness actually seemed to fly by. As we rolled south and crossed the border the sun came out and the temperature slowly increased (London when I got there was about ten degrees warmer than the north of Scotland). But I was missing Scotland already and the mountains and forests that flashed by from the comfort of my seat. I was glad the trip was over but I wasn't quite ready for the anonymity that would swallow me on being flung back into the seething metropolis. In fact this transition had started on the train where I would stare through others and others would stare through me. The intensity of experience, of physical activity and mental focus had ended and now everything was flowing into each other and blurring sensation. I wasn't quite sure who I was, what I was meant to be.
I had imagined bursting into tears when I saw my wife but when she opened the front door we were like virtual strangers, tentative, uncertain. This I had also half expected. Like the completion of the journey itself our reunion also was an anti-climax. She looked very pale, as though she had been creeping about indoors all these weeks, which she probably had. But the bump was the thing that really startled me. It thrust forward like the prow of a ship, pointed accusingly at me. She had swollen, multiplied. She really was enormous…
But what of the bike, the means of locomotion? Despite my unkind words and the grim predictions of a few naysayers, it had seen me right through to journey's end. "He"/"she" – and I never did decide on or look closely enough to discern a sex ( a "she" I concluded, although it did seem somehow ungallant to have ridden a thousand miles on the back of a lady) – like Don Quixote's old nag 'Rocinante', proved unfailingly loyal and full of grit. I had a new found respect and fondness for the old rust bucket. A couple of months later though, I detected something strange in her gait. On inspection I found a crack in the rear fork of the chassis. This time the doctor confirmed what I had feared. The frame was aluminium and couldn't be welded. There was nothing they could do. The bike was a goner. Of course I was saddened by the news. But what a strange coincidence that if it was going to happen it happen now, after the completion of the journey. Or was it? I like to think that the old Dawes felt her life coming to an end but held it together (literally) until she had seen me to John O'Groats.
With the passing of the old comes the arrival of the new. A little over three weeks after I returned to London my baby was born. In un-Chapman-like style, three days early. A little girl, bouncing, smiling and full of life. But that, as they say, is another story.
Written and illustrated by Harry Chapman