The pandemic took many things from us, most of which do not need to be repeated here. Everyone has their tale of travel woe – and ours came in the form of the swiftly dawning realisation that a much-anticipated long weekend in Rome in honour of a significant birthday was no more likely to happen than the pantheon being turned into luxury flats.
Only mildly less horrifying than the latter eventuality was the advent of the vulgar little virus that shall not be named. And Italy had it especially hard. Two years on, it is only recently that semi-normality has returned to its cities, and we threw ourselves upon the opportunity with unseemly enthusiasm of to resurrect the trip to one of the world's finest metropolis.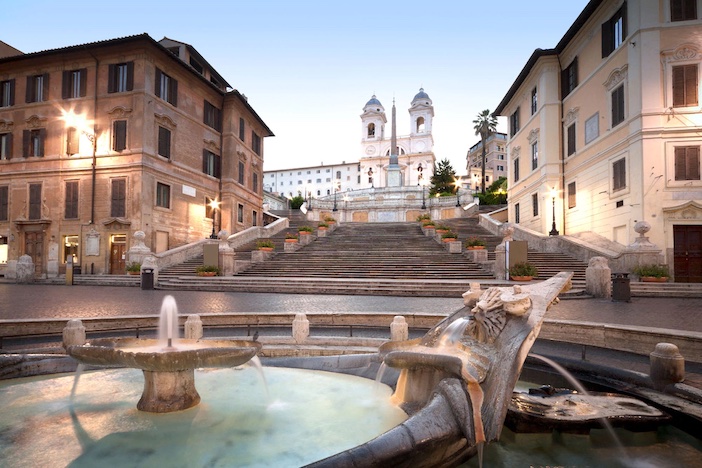 And if you're going to luxuriate anywhere, arriving in suitable style at the Hotel de la Ville is going to make a trip delightfully sybaritic from the beginning. Weary travellers will find this reassuringly elegant retreat at the top of the city's ravishing Spanish Steps (a place I cannot visit without my grandmother's contemptuous expression 'look at the youth of the world, hanging around the bottom of the steps' echoing in my ears). One of the crown jewels of the Rocco Forte Collection, as soon as you cross the threshold, you sense your pulse slowing and any cares ebbing away, confident in the knowledge that your stay will be little short of splendid.
From the warmth and informality of the welcome to being deposited in a lavishly appointed room that combines Italian chutzpah with British eccentricity – there is a small collection of Everyman editions of PG Wodehouse novels that guests can dive into, along with the more conventional selections of Machiavelli and Cellini – this is the kind of hotel that reaffirms what understated, high-class contemporary urban luxury should be, even if it so often is not.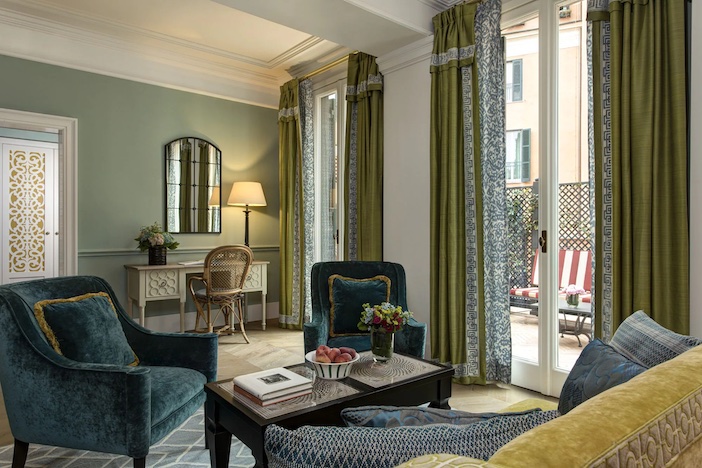 Countless features enthral. Our room not only looks out onto a quiet enclosed courtyard, but has a lavishly appointed terrace area; ideal both for quiet contemplation and for our six-year-old daughter to run out into, laughing giddily. The air of calm salubriousness in the hotel is matched by the breakfast service in the Mosaico restaurant.
Here, an apparently endless buffet of cold cuts (do especially try the mortadella), cheese, fruit and cake is complemented by some of the best pancakes that we've ever had. The other guests are stylish and chic, even at nine in the morning. And the staff are consistently on point, but friendly and funny as well. If this is the domain of the one per cent, then all I can say is that we should all aspire to the very finest things in life.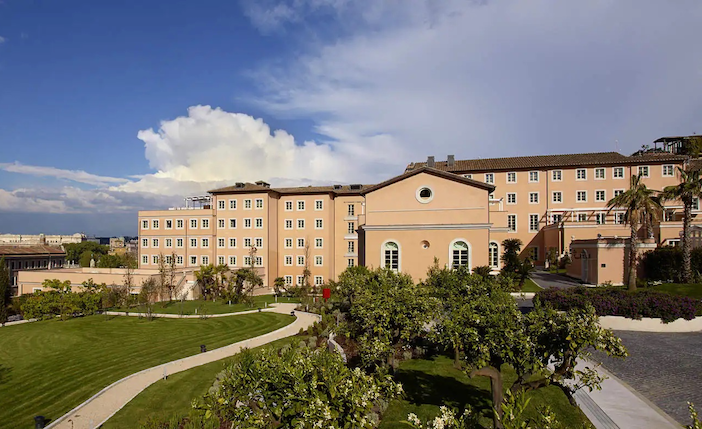 We could have tarried at the Hotel de la Ville for days, even weeks, longer, but duty – duty! – demanded that we head across town, just beyond St Peter's and the Vatican, and venture up a hill to the fabulously named Villa Agrippina Gran Meliá, a place that could not be more different to its rival. It's only a short walk from the Vatican and St Peter's Square but feels exclusive and detached from the madding crowd, even before you factor in the sublime, even jaw-dropping panoramic views over Rome.
While the Hotel de la Ville is the very model of an urban landmark, the Villa Agrippina feels like a splendidly appointed resort, complete with lavish outdoor pool, beautifully tended grounds and, as befits its ownership, a vaguely Spanish atmosphere; a coffee-table book of Pedro Almodóvar's cinema is prominently displayed in the lobby. Our daughter Rose is greeted with especial delight by a charming member of staff called Camilla, who treats her as a long-lost friend. We know, immediately, that we shall be equally happy there.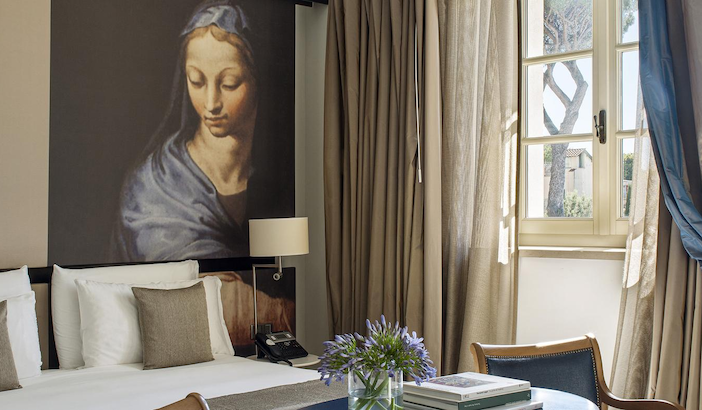 And so it proves. The room is as stylish and comfortable as we've come to expect from the Meliá group – the double bathroom, complete with a plethora of mirrors, is an especial delight, and the presence of everything from fresh flowers to a bottle of welcome Prosecco is a greeting that makes the experience feel intimate – but it's the other features in the hotel that truly beguile, whether it's the Clarins-branded spa, the suavely intimate lounge bar Amaro – set in an eighteenth century church building – or, best of all, the Ossimoro restaurant, where we both breakfast and dine.
In the morning, it's decent but standard five-star hotel fare, with a lavish selection of options sweet and savoury and complimentary Prosecco; we do not indulge. But by night, its red velvet seating offers an atmosphere both decadent and inviting, helped by a well-chosen menu that doesn't stint on Roman specialties (excellent carbonara, even better beef tagliata) but also excels when it comes to hospitality. Our excellent waiter Cristiano (Ritz-trained) is both charming and witty, ensuring that we are kept suitably topped up with fine Sangiovese even as we relax and luxuriate in the glorious surroundings.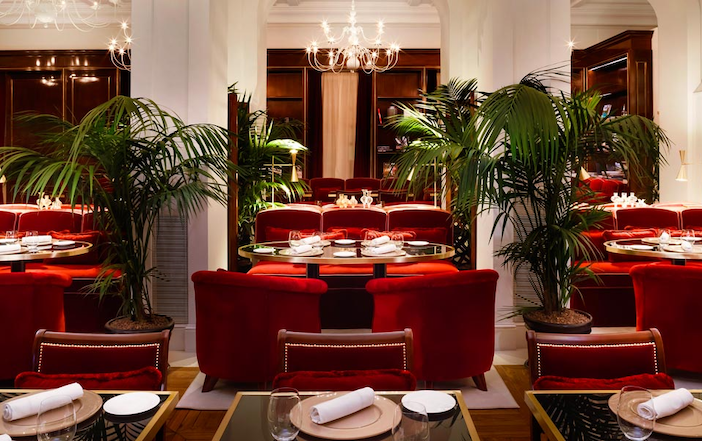 But when in Rome, no matter how lavish one's lodgings, it would be a crime not to venture beyond, if only to check on the eternal beauty of the city. Turn left out of the Gran Melia and you climb the vertiginous but rewarding path to Gianicolo, whose views are possibly the most spectacular in Rome (we'd go so far as to say even more so than those from the famous Pincio). Turn right out of the hotel and you find yourself at the river at the perfect crossroads between St Peter's, the impossibly romantic Trastevere and the edgy-sounding but, in fact, foodie mecca that is the Ghetto.
It's a sublime set of choices. The only thing for it is to stay and stay and explore all of them properly, wandering hungrily between bars and restaurants. (Our favourites on this trip were the wonderful Il Baffetto, a pizzeria that commands queues around the block, and the always-excellent Il Goccetto, a medieval wine bar that's still going for excellent reasons.)
We do not wish to leave Rome. We could never wish to leave Rome. Good job then that our daughter defied the over-zealous guards at the Trevi Fountain to deposit a coin and have a surreptitious (and, apparently strictly prohibited) splash. If life follows legend, then we shall return – and soon. Pesky pandemics willing.
For more information about Hotel de la Ville, including details of offers and their 'Grand Tour', please visit www.roccofortehotels.com.
Villa Agrippina Gran Melia is part of the Leading Hotels of the World. Room rates start from £534 per night. For more information, including details of rooms and suites, please visit www.melia.com.