Bristling with Greek and Roman ruins, a harbour town dominated by the 15th-century Neratzia castle, lavish mosaics at the 3rd-century Casa Romana villa – not to mention gorgeous beaches – Angelina Villa heads to Kos, and the latest in the Ikos portfolio, for a distinctly destination-led approach to luxury holidays…
From the highest point of Kefalos, the arms of the windmill stretch out gracefully above me while, far below, the turquoise waters of the Bay of Kastri glisten as the dying sun catches the surface ripples. The air is infused with the cooking aromas of thyme, aubergine and rich tomatoes, signalling that dinner is soon to be served. It's a good place to be.
I'm on the Greek island of  Kos, at Mylotopi – an authentic local restaurant found in a traditional windmill settlement and just one of the local restaurants you can dine at when staying at the new Ikos Aria, found just a half-hour drive away. It may be an all-inclusive resort, but Ikos Aria is redefining just what this means for travellers who want the practicality of a pre-paid holiday but still lust after getting under the skin of a destination.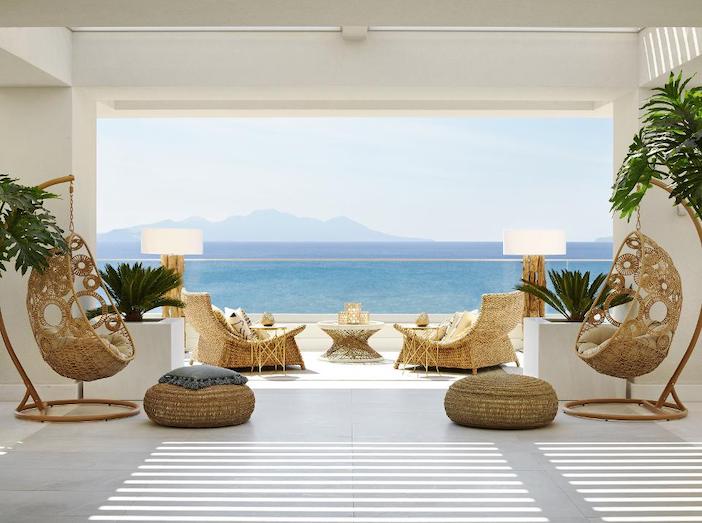 The latest opening – the fourth from the Ikos Resorts stable – threw open its doors earlier this summer, and is the latest Greek property from the group which is making waves with an innovative all-inclusive approach to holidaying. At its heart is its Local Discovery programme, which encourages guests to go beyond the walls of the hotel and to explore the location they find themselves in. Each guest is offered a complimentary 'Ikos Mini' car for the day, for instance, complete with pre-arranged entry to local attractions, such as museums, ancient sites and even wineries. While the 'dine out' offering includes a choice of handpicked and noted local restaurants, such as Mylotopi, where you can choose to dine at no extra cost.
Ironically, once you've checked into your boutique-style room and wafted along the hotel's breezy all-white corridors, pit-stopping for a cappuccino on a sun-drenched terrace, you'll actually find it hard to leave the resort (although taking a spin to the picturesque village of Zia, on the slopes of Mount Dikaios, is thoroughly worth the effort of leaving your sun bed).
One of its draws is its location – the resort is found on an impossibly pretty horseshoe-shaped bay and faces the tiny island of Katri, complete with a dome-shaped blue-roofed chapel with a bell that rings out through the day. In the distance lies the island of Nisaros – a twinkling mass of azure waters separating it from Kos.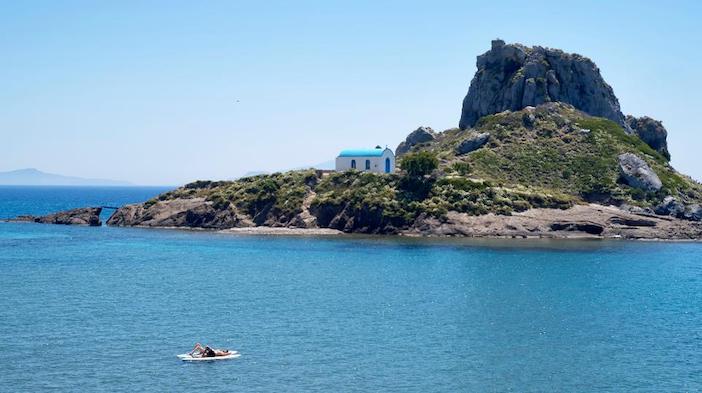 Stretched across 47 acres, the resort's design is inspired by these surroundings and feels spacious and peaceful, even when its 374 rooms and suites are full. Décor throughout is impressive and has nods to typically Greek themes mixed with a boho-chic feel. Lobby areas are airy and bright filled with a mix of textures – rough-hewn coffee tables, woven hanging chairs and hand-painted cushions give personality. A living wall brings the outside in, while copper, silver and glass statement lighting throughout the public spaces adds a level of glamour.
Bedrooms, meanwhile, come in calming palettes of duck-egg blue, silvery tones and dove grey. Large windows, seamless built-in wardrobes and outdoor spaces – whether it be a balcony or garden – mean they are filled with light. Rooms are dressed thoughtfully with fabric headboards, high-end textiles for bed throws and cushions and monochrome, thick rugs. While the marble bathrooms, complete with Anne Semonin products, are gloriously pampering.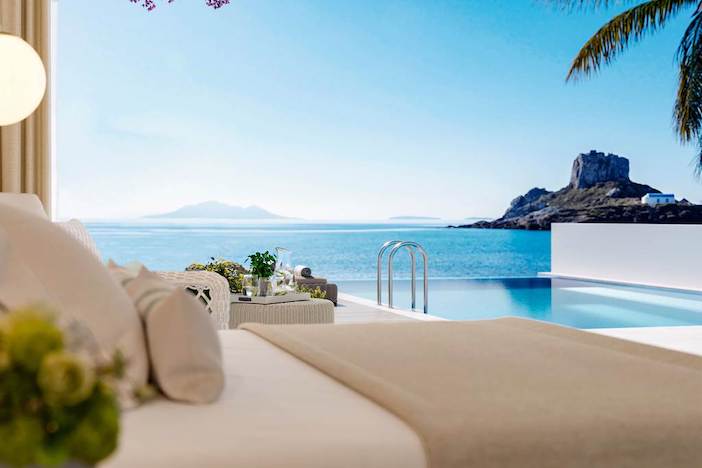 Outside, you'll wander along pathways, through fragrant gardens, including a botanic area, and you'll soon spot two archaeological sites – one within the gardens of the hotel (originally destined to be a children's pool until the builders uncovered the ruins), and the other adjacent to its beach – complete with movie-worthy fallen-down pillars and crumbling walls. Sun worshippers will soak up the five pools and private beach club, while a timetable of sports and activities will keep fitness fiends happy. Pedalos, kayaks and paddle boards are all available to guests at no extra cost, while motorised water sports are also available, if you want to pay a little extra. There's also bikes, tennis, fitness classes – including yoga, water aerobics and HIIT – basketball, table tennis and a comprehensive gym to keep you busy.
Families are the focus, with babysitting facilities, kids clubs and an al-fresco theatre with family-friendly shows each evening. Although, having said that, those wanting a grown-up holiday, will also find adults-only zones and a chic spa, with Anne Semonin treatments, where you can escape the little ones.
Attention to the fine details is second-to-none: from the sun-bed service of drinks, snacks and even sunglass-cleaning to the private transfers to and from the airport. Room service is included while bars are overseen by noted mixologists and serve innovative cocktails with all drinks using premium labels.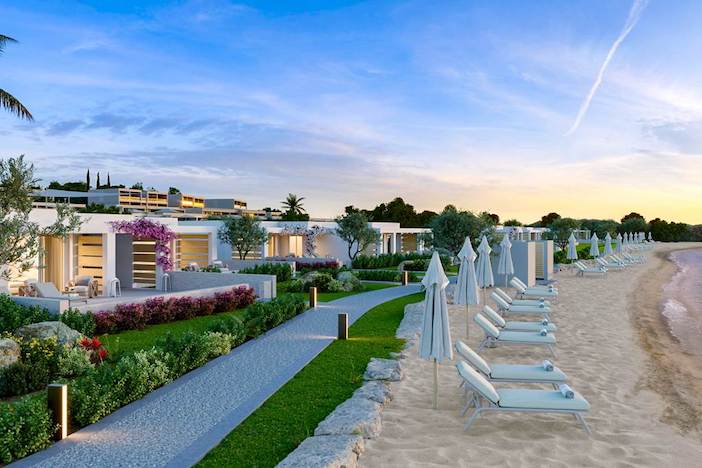 The dining, meanwhile, is a real highlight with the eight restaurants having menus conceived in collaboration with Michelin-starred chefs. With its beachfront setting, Kos harnesses the island's long gastronomic traditions with local dishes such as grilled mini meatball 'koftas' with feta and spearmint and traditional pasta 'Makarounes'. Fresco, meanwhile, focuses on Italian cuisine, with a Greek twist – start with the grilled calamari, which comes with tomato carpaccio, pine nuts and lemon confit dressing, followed by buratta ravioli with sage cream, prosciutto and parmesan. Utterly delicious.
At Anaya, Japanese chef Katsu, who worked with Nobu for many years, says his Asian menus are inspired by Greek seafood, with diners able to dip into Chinese, Indian and Thai cuisine – think: Tom Yum Kung Thai spicy soup with shrimps and miso-marinated salmon with eggplant and black sesame. Provence brings to life French flavours in a sophisticated dining room – from steamed mussels with Chardonnay wine and aromatic herbs to cod fish with pea puree, artichokes, lemon oil and garlic emulsion.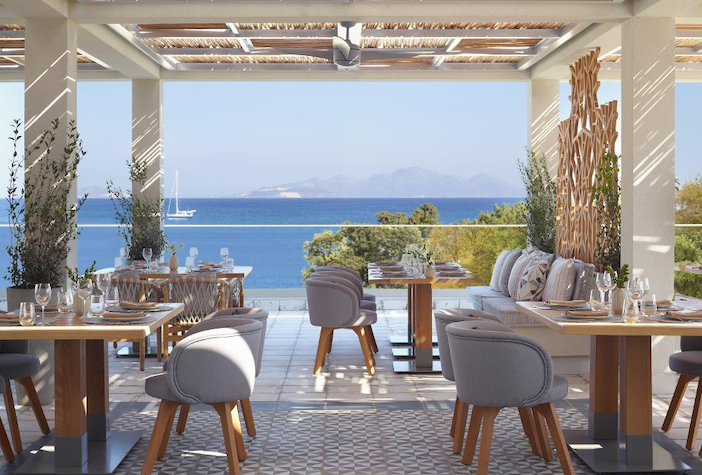 Oliva is inspired by Spanish tapas and gives a nod to Ikos' next hotel – the group's first outside of Greece – that is due to open in Andalusia next year. Seasons, on the other hand, offers a Mediterranean menu inspired by produce from local markets and sustainable producers while Flavours – a casual, relaxed restaurant open roung the clock – will be your favourite due the sheer amount of desserts on offer.
For a real treat, however, head to Ouzo, overseen by Michelin-starred chef Lefteris Lazarou, with dishes inspired by contemporary Greek cuisine. It's found at very tip of the resort and with its al-fresco design, is the ideal location to watch the sun set behind the islands in front of you, as you sip on a glass of  Malagouzia. It captures the very essence of a heart-warming holiday.
Rates at Ikos Aria start from €256 (£233 approx.*) per night based on two people sharing a double room. For more information, including packages, promotions, and an interactive resort map, visit ikos-aria.com. *Rate according to today's exchange rate.