Traditionally the preserve of spring break chaos and package holidays, and thereby a destination to be avoided at all costs, my heart sank somewhat when an invitation dropped through our letterbox to the wedding of one of Mrs L's Canadian cousins naming the destination: Cancun. Mayan Riviera? Is that supposed to be ironic? I had visions of an American Benidorm. A withering look off my "We don't really have to go, do we?" and my fate was sealed.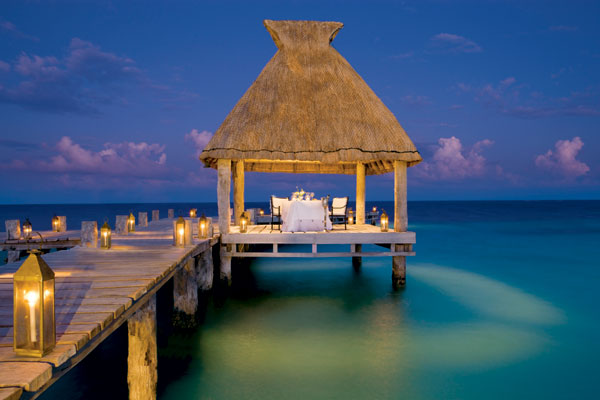 The more I looked into the opportunities, however, the more I began to realise that far from this being a part of the world it had never occurred to me to visit, even consciously avoid, this was fast becoming one of the more exciting trips I've had to look forward to. Never mind the wedding, we were going to turn this into a fortnight's road trip around the Yucatan Peninsula, taking in Mayan temples, limestone cenotes and need I remind myself that Mexican food tops my list of favourites? What's more, as we mapped a route, from tourist opulence to backwater high country we charted a course in conjunction with the Kiwi Collection, one of the leading hotel brokers in the world, and just browsing their website and tapping in destinations was as thrilling as being there. Any fear of running into liberated American teenagers or Costa del Cancun holiday-makers were swiftly allayed. This was shaping into something neither spring nor packaged but a two-week adventure staying in some of the finest hotels and haciendas the region had to offer.
After a flight that lasted an unexpected ten hours – for some reason I thought it was eight – our first glimpse of Cancun from the left side window was of a pleasantly alluring forest of greenery sweeping across a surprisingly flat landscape, dotted with what must have been the luxurious coastal resorts running down the Mayan Riviera. It looks oddly undeveloped, I thought. To the right, however, I could just make out the high rise hotels stretching the length of Cancun's spar.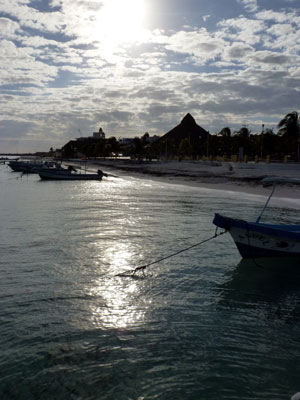 The small, surprisingly clean airport, while riddled with US brands fortunately lacked the customary meet and greet mob of unlicensed taxis which seemed rather to have been organised into ranked booths as we exited Customs. An engaging conversation with a very polite and helpful chap yielded a $30 transfer to the hotel and a map with advice on where to go during our stay. This was all most unexpected.
An uneventful drive to the 'resort' followed; short of saying that as we turned into the road leading to the hotels it began to become clear that this was akin to a Mexican Las Vegas. To our right, the entire strip was one gargantuan hotel after another designed, evidently, to herd in Americans on an industrial scale with malls, restaurants and nightclubs to herd them out again to our left. Passing the line of resorts and alighting the other passengers into their respective destinations – of varying degrees of quality – we finally turned into Live Aqua, admittedly just as substantial with shimmering brilliantine and blue glass façade and a vast ramp required to take our taxi thirty feet up to the main entrance.
It was, evidently, Aqua by name and aqua by nature as water features abounded among glass and marble minimalism. Following half a dozen handovers from car porters to doormen to bellhops and concierges, I ran out of dollars by the time we were met by Sandra, our host, checking us into the club lounge on the fifth floor, situated in a gangway across the middle of the building, giving it views to the sea on one side and the lagoon on the other. Aah, the water. I wondered where it had gone. Large format photos of misty lakesides and pebbles and rippling streams populated the walls. Must be some sort of theme going on here, I figured.
We were sat in the lounge and offered a complimentary drink – I couldn't think of what to ask for so with my 'When In Rome' mantra in my head I found myself saying "Tequila." Sandra's look was somewhere between surprised and impressed, "Shot?" she asked. "Is there any other way," I scoffed, in an effort to keep up the bravado. After half a day travelling, Mrs L opted for a far more sensible Diet Coke and I immediately regretted my decision. Sandra scuttled off, returned with our drinks and while I feigned Hemingwayesque fortitude eyed Mrs L's Coke with envy, Sandra proceeded to give us each a relaxing hand massage; altogether possibly the finest, most inviting check-in experience I've ever encountered. I think all hotels should adopt this policy for immediate winning-over of guests.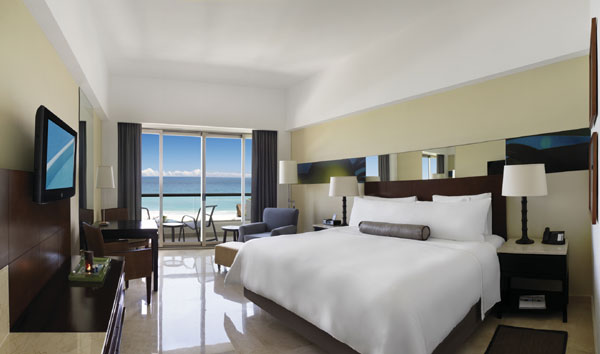 Delightfully appointed, exquisitely comfortable, bright and airy, wherever I stood in our room it boasted spectacular views of the crystalline sea beyond. From the balcony, looking down over the gardens, the bars and the pools, travel fatigue gave way to giddy excitement and we bolted downstairs to explore, lapping the hotel, assessing the various restaurant menus and amenities before settling into the poolside 'Azur' bar for a margarita.
Following another margarita – there may be a theme of its own developing here, readers – and idle chatter with a Kansas City couple about deep sea fishing and the UK's immigration policy, made all the more enlightening since Mr Kansas City hadn't been as far east as New York, we opted for supper in the Mexican of Aqua's three restaurants, Siete. In spite of the large, and largely vacant, venue and the painfully slow service we were delighted with ceviche verde, grouper tacos and a traditional Yucatan speciality, "Tikin-Xiic" (pronounced Shik); fish marinated in Xuipec (don't ask) sauce and served with avocado and plantain. It was delicious and thoroughly deserving of its immodest 'Legendario Pescado' listing in the menu. Before we fell asleep in our dessert of sweet polenta, we retired to bed…and were promptly awoken at 5am by an overzealous cleaner with a Hoover in the hall.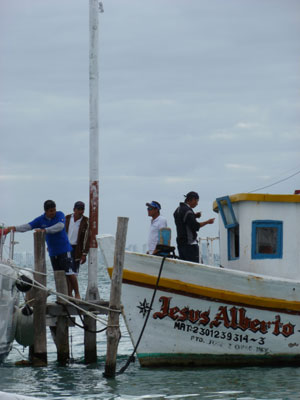 It was a wake up that was needed, however, for a day trip to the highly and variously recommended Isla Mujeres, a small island about a 20 minute ferry ride from Cancun. Speaking of which, having been advised to board a boat from the hotel zone, five minutes away and hassle-free, we considered that far too uncomplicated and instead ventured into the city centre by bus to a port an hour away and the other side of town where, our guide book (I won't say whose) proposed a cheaper, faster service. Even the bus driver reassured us of this until he pulled up in a less than salubrious part of town and directed us to an overrun minibus – come to think of it, it was more like a goods van – for the remainder of the journey. We were then wedged into this decrepit vehicle for six pesos apiece. Only what I offered our ticket inspector (the driver's friend in the front passenger seat) was a succession of notes given to me by an old pal who'd previously been to the country, in 1996, which caused a stir to say the least, being passed among the other passengers who turned them over in their hands with mix of incredulity and nostalgia. They were out of date and worthless. Still, it's credit to the Mexican's accommodating nature we were given free passage the half mile to the port.
More regret met us at Puerto Juarez where it transpired the definitely-no-cheaper-and-certainly-not-as-clean regular passenger ferry took us across the straight. It was, in fairness, surprisingly swift and it wasn't long before we were disembarking to the usual tune of hawkers and peddlers of, of all things, golf buggies. Dismissing this as ridiculous, it didn't take us long on foot to realise that these were the best way to get around; particularly since our original plan of beach time had been thwarted by perpetual cloud. Buggied-up, we spent a rather pleasant jaunt to the southern point of the island seeking, with ever-encroaching hunger and therefore proportionately declining interest in our surroundings, somewhere half decent to eat. Somewhat predictably we ended up ten yards from where we'd started, two hours later, at a beach palapa finally enjoying deliciously simple fish tacos and guacamole and idly observing the fishermen going about their business. It felt, and was, wonderfully authentic.
Back at the hotel – by cab, I might add – we were soon encumbered by the pressing matter of having to secure a hire car for the subsequent ten days. It helped that opposite the hotel five hire companies stood in a row and so, in a bout of shameless capitalism, we visited each in turn, playing them off against each other until the best, and doubtless dodgiest, deal was struck. And then to dinner.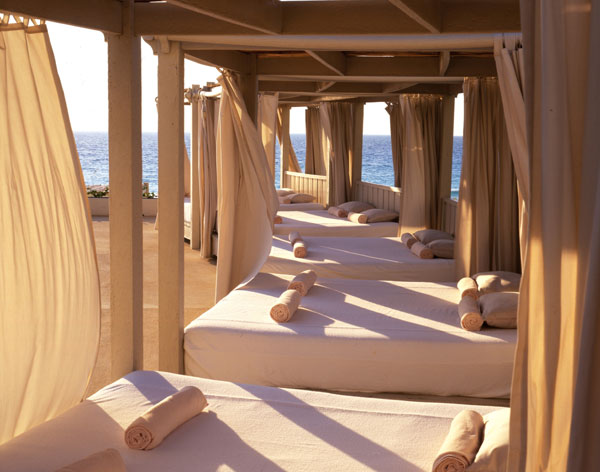 In contrast to Siete, 'mb' is a smaller, sultrier offering, with international cuisine. I think its décor and low-lighting was intended to be seductive but in our case proved more soporific. Again, in contrast to Siete, we had what was quite possibly the fastest meal I've ever had albeit not so much from the swiftness of service but from a pressing need to sleep. Jetlag had prevailed. We skipped starters, passed on a bottle of wine in favour of a glass each (a smooth Chilean Sauvignon) and ordered everything at once. Mrs L went Italian with a fine salmon risotto and I, for the third meal in three in Mexico so far, the grouper. This time with cous cous. Just to shake it up a bit, mind. Both were delicious but it was the desserts that were of note. Mrs L's passion fruit mousse was as light as air, tangy and sweet. I ordered the "Grape Napoleon with curried peach compote" – and, yes, it's as odd as it sounds. Grape Napoleon, being a proper noun, sounded like something I should have heard of or, at least, been impressed by. All that arrived, however, was two sheets of crisp puff pastry, a dollop of crème fraiche…and some grapes. Utterly uneventful in sound, sight and taste. On the side sat a strip of curried peaches. I tried it and it tasted of, well, curried peaches. But…when I assembled all of the component parts it became an intriguing, curious, delicious, moreish combination. I cleaned the plate.
At 5am the next morning we awoke again. Not by the hand of a dastardly cleaner, however, but evidently now on some weird mid-Atlantic clock. Still, nothing that a jog in the gym as the sun came up and a dip in that cobalt sea couldn't sort out and by the time we entered Siete again for breakfast, I was famished. Just as well because the buffet on offer was out of this world. Standard hot and cold offerings notwithstanding, there was an array of Mexican fare from grilled eggplant to cactus with chilli to refried beans, not to mention a curious assortment of preserves, including cranberry and avocado leaf and a sour apple and mango jam that sucked the moisture out of one's cheeks.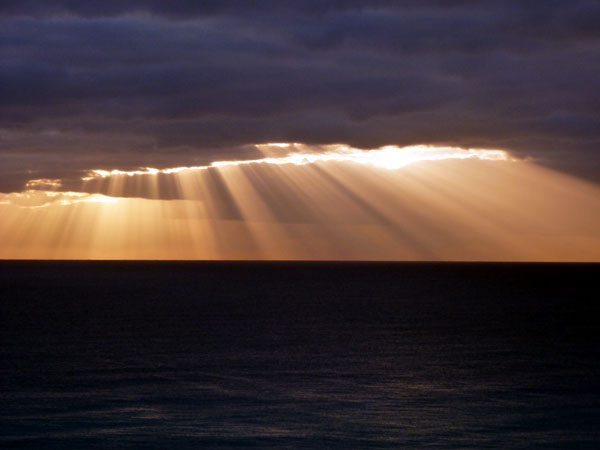 Those first two days at Live Aqua passed far too quickly – as we checked out we saw guests arriving and eyed them enviously for what looked like longer stays they might be having – but it was indulgent nevertheless. It occurred to me this was the only time I'd seen the main entrance with its huge glass atrium and industrial iron water feature since we arrived. There's a clever approach they've taken to making guests feel at home…that excessive ramp that takes you up two floors to check-in steers arrivals and departures out of sight, standard street exits are on lower floors and it means the constant passage of vehicles is diverted from incumbent guests. It's a nice touch.
Still, we had to press on and having checked out we crossed the road to collect the car, a red Chevy, and set off down the coast to Puerto Morelos, to the wedding and to abundant pleasure on the Mayan Riviera. Within minutes, however, we realised all was not right with our vehicle. The air-conditioning didn't work although, far more of a concern, it appeared that the needle indicating the fuel gauge seemed to be descending a tad too rapidly for my liking. We'd barely gone five miles. These seemed minor matters, however, when faced with the more immediate challenge of driving in Mexico. The undertaking and ad hoc indicating aside, the immediately noticeable quirk was that the highways seemed to feature 'retorno', or turning points, that allowed you to double back if you missed your exit…by turning into the fast lane. Imagine pulling away into a millisecond of a gap in 80kph traffic, from a standstill. It was fun, admittedly, tearing off Starsky and Hutch-style wheelspins, if hair-raising, to put it mildly.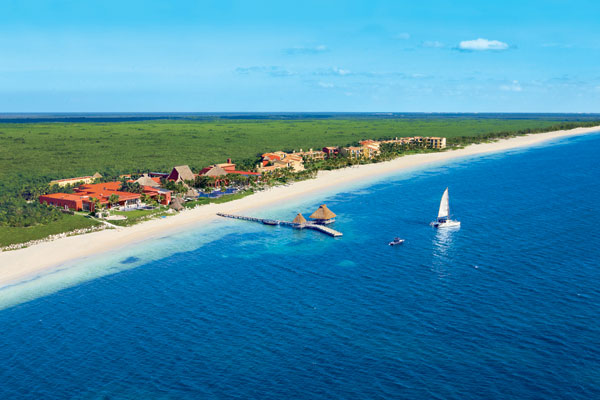 Unlike the Zona Hotelera in Cancun, the drive down the main coast road, far from backing onto a row of roadside hotels, as I had imagined, rather indicated exits to gated driveways that led you straight through swampy undergrowth to the resorts. What it shared with Cancun's hotel zone, I noticed, was that evidently tourists are kept very separate from the general populace, although for whose benefit is debatable, I'm sure.
Arriving at the Zoetry Paraiso, down a long, straight section across the marshland and mangroves, I could see why it ranks in listings of the top hotels in the world. It is a beachfront paradise emerging from semi-tropical scrub forest; iguanas roam the gardens, a menagerie of parrots and other birds flit between trees and resting posts, an inviting pool centres the cloistered walkways and gardens where thatched huts house hammocks that hang still in the sheltered air. The rooms here aren't rooms, per se, they're apartments and villas, set down stone-cobbled pathways along which guests are ferried in golf carts. Everywhere there is an abundance of flora from palms to ferms to exotic trees I'd not encountered before. These are, helpfully, labelled in an effort to encourage guests to take an interest. As we made our way to our villa, I noticed each is named after a town or city of cultural interest. We were in Uxmal, a former Mayan city and a destination later in our itinerary but, for now, for us, it was the presidential suite at the Zoetry Paraiso.
A living room and kitchen aside, it featured its own dipping pool looking onto the garden and the beach beyond, a substantial ensuite double bathroom with copper basins, the highlight of which for me was undoubtedly the sunken marble bath with a Romanesque lion's head for a water fount and antiquated bronze taps. It symobolised the décor of the suite. We were welcomed, too, with a bottle of Jose Cuervo reposado complete with salt pot and limes, a bucket of Brut on ice and an exotic fruit bowl. Ambient Mayan music played from the TV – to whit our concierge also taught us to say 'hello' in Mayan, "Bish abbay". Suffice to say, we had arrived.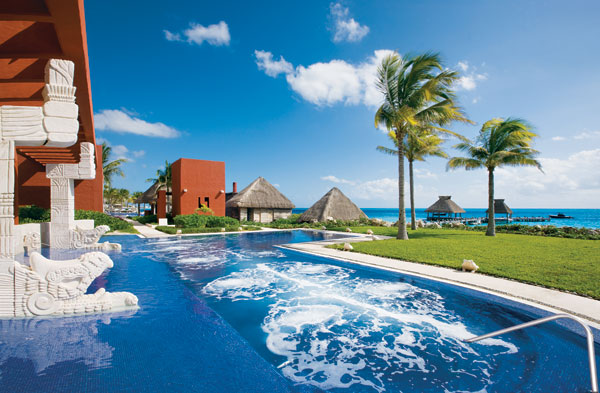 Everything about the Zoetry spells relaxation. There's no high-rise hotel to navigate through to get to the beach. You can literally step over your veranda, across the lawn and onto the beach itself. Water features, wooden pillars and earthen brickwork, Oriental stone carvings and multi-ethnic decor suggest less a frenetic Mexican resort and more a Buddhist retreat. In fact, wellness is their watchword and it's executed spectacularly. It's serene, beautiful and endlessly alluring.
That evening, after a lesson in rolling cigars from a Cohiba salesman – okay, they may specialise in wellness but they know you're on holiday – we considered dinner. Alas, Zoetry's signature restaurant was closed that night, but the informality of Kaax, their main eaterie, was just what we were after and certainly no less impressive. Not content with setting the hotel amid the foliage of the coastal mangrove, the walls are decorated with jungle imagery just to remind you that you're on holiday. A delicious carpaccio with a cheese crisp, potent stuffed jalapenos, and a beef fillet with a coffee cous cous for Mrs L proved a spectacularly inventive alternative to my fourth round of grouper. All enjoyed to the sound of the distant hush and sway of the sea as a mariachi band gave us a rendition of Roll Out the Barrel. "Now I know I'm in Mexico," Mrs L remarked.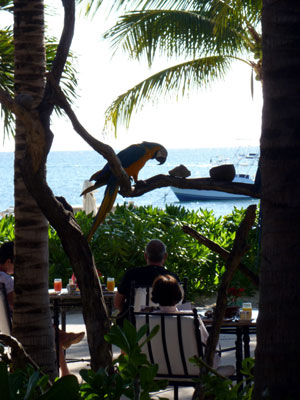 Following a pleasant breakfast of fresh fruit and pancakes – to the accompaniment of a harpist and excellent service – we made our way to the jetty for a morning's snorkelling. The reef along the Maya Riviera is, I'm told, the second largest in the world, after the Great Barrier Reef. As we chugged our way in our open, broad-hulled fishing boat out to where small white breakers broke the blue barely 200 yards from the shore, it certainly didn't feel that substantial. And, while the water was clear, our first encounter was little more than a sandy, reedy bottom. Told to stick close to Alfonso, our guide, and not to touch anything, its virtual barrenness suggests its delicate ecosystem is still recovering from the damaging Hurricane Irene a few years before. Still, we were soon among fan corals and other varieties (some almost touching the surface, it became so shallow) albeit in various hues of brown – I think I was expecting more colour. That was provided by the fish, with many species from hawkfish to parrotfish and even the odd barracuda making the $55 price tag for the trip worthwhile.
It was nigh on impossible to tear ourselves away from the comfort and serenity of the Zoetry. We considered cancelling the rest of the trip and staying but the wedding beckoned and we had committed to an immersive education on Mayan culture, a date with the ancients and a splash into the unknown, but if half of the Kiwi Collection's other properties were anything like as impressive as Live Aqua and Zoetry Paraiso, it wouldn't be that hard going, really…
Larry's Mayan adventure continues over the Easter weekend. Part 2 will be coming to an Arb near you on Sunday.