In the second part of his sojourn to Raymond Blanc's signature destination, Harry Chapman dons his apron and tackles Le Manoir's now famous cookery school, and faces a rather challenging schedule… 
The next day, with the sun blazing through the windows, the mood in the restaurant was a good deal more cheerful and I ate one of the best breakfasts I had ever had. Whether it was the humble seeds and nuts or the many varieties of berry peeping from small white bowls, everything was of the highest quality and most exquisite taste. I've always been a fan of breakfast. At "Le Manoir" I would happily have consumed it three times a day. The good news for the public is that you can dine there for this meal without being required to stay at the hotel.
It was now time for what was ostensibly the purpose of my visit – taking part in the "Sauces for Courses" cookery course. As well as running what has become quite a renowned cookery school for the training of professional chefs (each of whom takes two years to graduate) the school, opened in 1991, also runs courses for the general public, from the comprehensive "Four day residential" to the "Learn to cook in one day" to speciality courses such as "Bread-making", "Nutrition", "Garden to plate" amongst others, and of course, "Sauces for Courses". Blanc, who has very much created his own way of doing things and a philosophy behind this, is, like many such people, a great proselytizer and what better way to do this than to encourage people with their own hands to create what he preaches? (And really, with the critical mass of TV cookery shows and deification of celebrity chefs, is not food and cooking the middle class religion of our times?)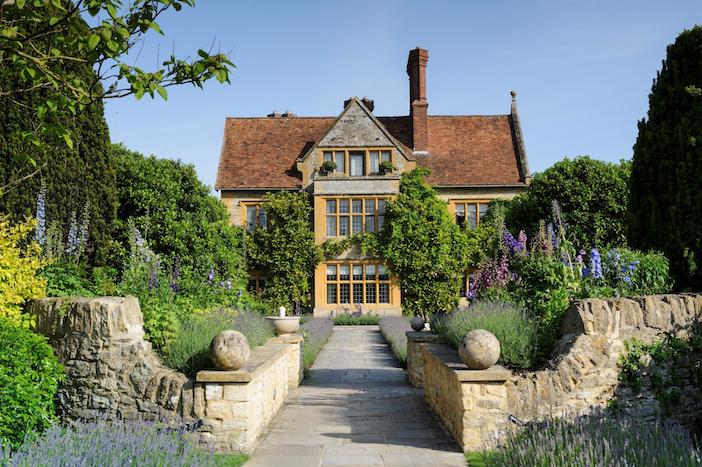 We met in a room in the main house. Like the diners I had observed the night before, the acolytes here were culled from the ranks of ordinary folk – a housewife, a retired publican, an airline pilot, a manufacturer of plastic windows. Most were in advanced middle age – a time for some when work eases, children have grown and one can again indulge ones' interests or add new ones. Our tutor was Mark Peregrine who, as Blanc's first apprentice at the original "Les Quat' Saisons" in Oxfordshire in 1979, has now returned to the fold to head the school after an esteemed career learning cooking and teaching it in France and the States and running his own patisserie in London. Bespectacled, with a soft face and floppy hair, Mark's genial and jokey manner belied a shrewd mind whose knowledge of science in relation to cooking was one of the great surprises and inspirations of the course and was always delivered with matter-of-fact modesty.
The school is situated to the left of the house in outbuildings adapted for use, and adjoining the kitchens. Each of us was presented with a spotless white chef's smock and long grey apron emblazoned with "The Raymond Blanc Cookery School". Looking if not feeling the part, we were now ready to begin.
The sauce, as I was to discover, is really the basis of French cooking, the thing that lends and increases flavour. And the stock is to the sauce what the sauce is to the bare ingredients – the foundation. Thus we were to start with stocks, graduate to sauces and finish with sauces for desserts. Looking at the schedule was alarming – from nine fifteen in the morning to the finish at four fifteen, in intensive fifteen minute intervals – were blocked out forays into the fantastic; gewürztraminer sauce, sabayon, piston. Having in the past made some humble (but by my thinking, triumphant) stabs at white sauce and gravy, and whose stock making was generally limited to crumbling a 'Knorr' cube into a basin of boiling water, was I truly expected to have mastered these veiled arts by the end of the day?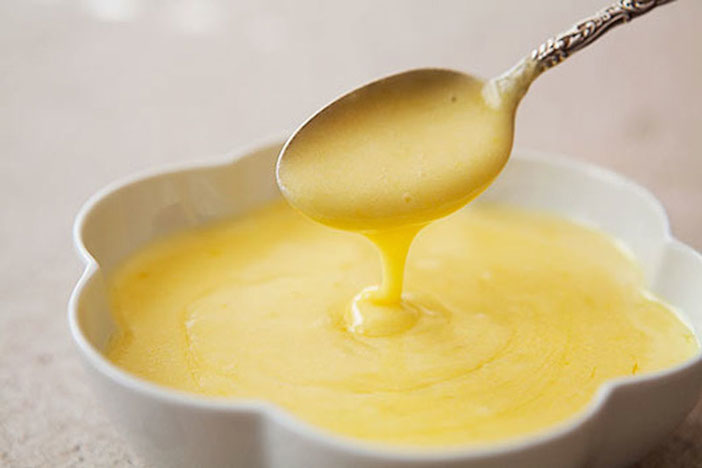 Probably not, but we were provided with the knowledge, all of which was written down in a handy guide, but more importantly we were told some of the essential facts to good cooking. For instance, common sense suggests that using the freshest ingredients is the best for both flavour and nutrition. Mark added that this goes for herbs too, and that's in spite of the great profusion of dried herbs available in the supermarket. (Of course with their large kitchen garden this is not a problem at "Le Manoir". Then again, most domestic kitchens have the capacity to house a couple of pots of fresh herbs and in the summer, even a planter on the window sill.) I was also surprised to discover how insistent Mark was on the resting time for roasted and fried meats before carving. I was vaguely aware of this but have never paid it a great deal of attention. In fact it is a matter of science. Pierced too early and the juices will flow out of a roast or steak, leaving it bland and dry. And one must factor in that a large piece of meat will continue to cook, albeit more slowly, when removed from the roasting pan. For a standard family turkey Mark advised it to be left on the side for a staggering fifty minutes, which comprised some of the cooking time, and insisted that it would still be hot when it came to carving.
Perhaps before anything though is the importance of the oils you cook with. "All oils have a smoking point – the point it starts to break down and go rancid." Observed Mark. When using the hot temperatures required for frying, it obviously makes sense to use an oil with a high smoking point. In this Mark recommended virgin olive oil as best. Interestingly extra virgin has a lower smoking point and this he reserves for dipping, salads etc. He was brutal about the qualities of vegetable oils and never advocates their use. He was equally down on the use of butter in frying or the butter/oil combination I had adopted in recent years. He was quick to point out that "cheap salted butter pops and spits because it has a lot of water in it". He only ever uses unsalted butter.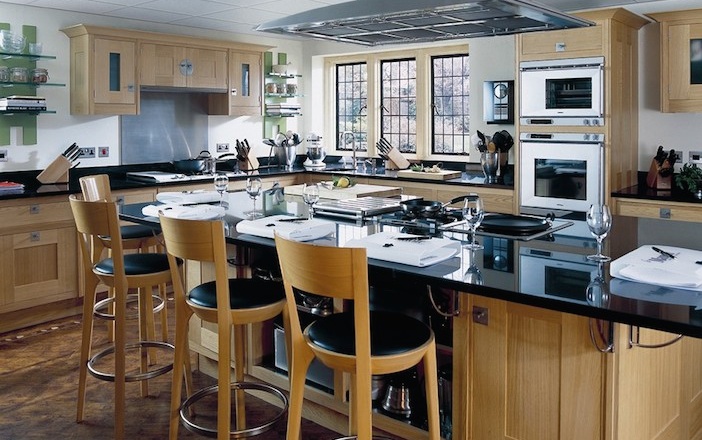 The kitchen the course was conducted in, rectangular in shape, with its light wood cabinetry and black granite worktops, resembled a large domestic kitchen more than it did a working restaurant one. This made sense. It was the sort of space that most of us would be used to and would be working in. For us greenhorns there was something unnerving about the blinding steel and the fiery pans of a proper working kitchen (a fact reinforced by our later tour of "Le Manoir" kitchens, although with the starched uniforms and smiling faces, these were far from the Gordon Ramsey horror of the imagination.)
The half dozen of us sat on one side of a broad kitchen island complete with working sink. In front of us were arranged the various tools we would be using – different knives, spoons, spatulas and so forth. Cleanliness was as rigorously imposed as if we were surgeons attending an operation and kitchen etiquette was carefully observed, particularly so with knives which were kept as sharp as scalpels (never leave a knife with the point facing towards you, always carry a knife with the point facing down and the blade facing back were but two basics.) Opposite us stood Mark Peregrine, avuncular and relaxed yet alert and gimlet sharp.
Thus armed and thus guided we were steered through the dense and intimidating looking schedule which included stewing (poached egg tomato fondue), stock making (brown, fish and vegetable), sauce making (gerwürztraminer, sabayon, pistou), soup making (pistou soup), pan frying (trout, herb purée gerwürztraminer sauce and poulet aux morilles), dessert sauces (crème anglaise, hot chocolate sauce, lemon butterscotch) and the climactic dessert entry beguilingly described as "Tasting" (floating islands, pain perdu). Along the way we learned that cooked tomatoes release lycopenes which are good for breast and prostate cancer, that most ovens give a totally inaccurate reading and that roughly 30% of dark chocolate is sugar so you don't need to add this in chocolate sauce making. We also learned that the dull sounding brown stock made from chicken wings, onions, garlic and mushrooms, is something of a mainstay ("If you can make a good brown sauce you're three quarters of the way to a good sauce,") but at "Le Manoir" they never season their stocks, reserving the humble salt and pepper for later down the line. And despite the on-going "fat debate", Mark was unequivocal, "fat equates to flavour" and flavour, if not everything here, was certainly a vital part of things. He best summed it up with the observation, "The thing with French cooking is that a lot of the process is long winded but you can always freeze the stock or sauce once it is made."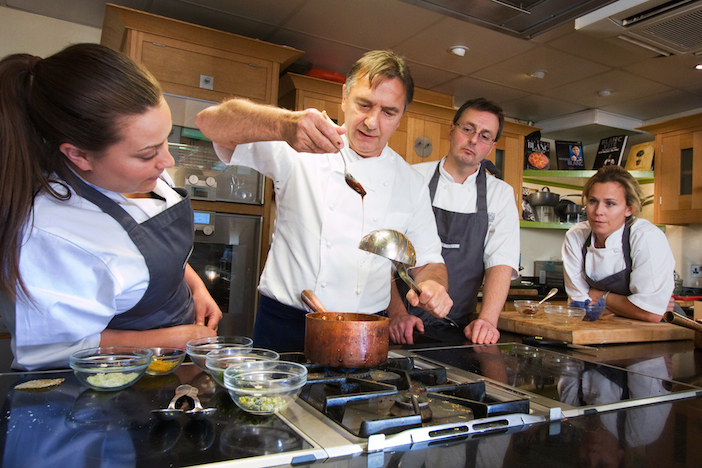 With Mark talking and demonstrating and us following instructions and cooking in between times things followed their course fluidly enough. Whilst I had a very real fear that I would gorge myself on each prepared dish, somehow this didn't happen and things thankfully didn't descend into a Romanesque gluttonfest.
In the afternoon we were let out and taken on a tour of the gardens. It was here that the uniqueness of Blanc's vision (a thing that in the not-distant past would have been the norm) hit home and the vital relationship between produce and cooking. The garden supplies 20% of produce in the summer, 10-12% in the remaining seasons and whilst this might sound modest, when one considers that 260 meals a day are made in the kitchens, then the figure begins to impress. The gardens are fully organic and a traditional rotation system is used to encourage nutrients and inhibit disease (brassicas, then roots, salads and herbs and finally legumes.) In line with Marks's espousal of quality and the need for freshness, everything is picked on the day and the gardeners keep the chefs informed as to what is ready for picking, or if a crop is coming to an end.
As well as the vegetable garden (and of course the "main" garden we had explored the day before) there are extensive polytunnels providing salad leaves from autumn to spring, the Asian Garden growing species such as ginger and lemongrass, a traditional herb garden, La Vallée de Champignons growing species as diverse as shitake, parasol and cauliflower fungus, and at the far end, the elegant Japanese Garden complete with thatched tea house – a place of rest and contemplation.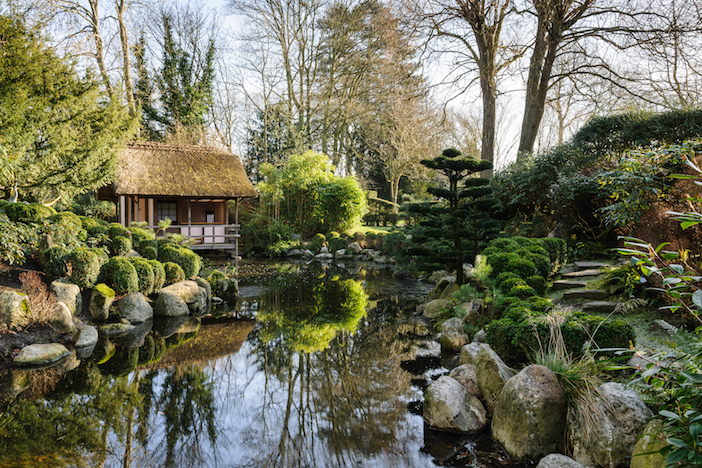 Then of course there are the medieval ponds created to provide the house with fresh fish in winter. The largest was used to irrigate the gardens in the early days of Blanc's stewardship but since 2008 a 75 metre bore-hole has supplied the additional watering. The many fish which dwell in the pond are now free from fear of ending up on the master's dinner table.
Reluctantly we wandered back in the glorious spring sunshine. So food for thought as well as digestion. What Blanc has done – is doing – is hardly new, but seems radical given the current rarity of such a holistic approach to, not only eating, but living. Of course he has given the whole thing his own twist, the Continental Blanc charm with its underlying passion and genuineness. I saw the same qualities in the people who worked for him, the same commitment but affability. They all seemed genuinely happy to be there. I detected no dissembling. Every man a king? At "Le Manoir" it almost seems possible.
For more information about the Raymond Blanc Cookery School, including courses available and a video tour, visit the website.
Belmond Le Manoir aux Quat'Saisons, Church Road, Great Milton, Oxford, OX44 7PD, UK. Tel: +44 (0)1844 278 881