Oh, woe. With the turn of the new year we all thought we'd be looking at a new lease of life, eh? Covid worries would abate, we'd all be allowed back out soon enough, and there might be some semblance of normality to cling on to.
Fat chance. In fact, it's worse. The virus's grip has tightened, with alarming escalation rates and all the associated horrors that involves, so on top of everything else we're going into what would normally be the gloomiest part of the year with yet another lockdown and more layers of malaise to contend with. Do we really want to add purgatory to all that? Surely going 'dry' or vegan or ramping up that exercise regime in the face of such adversity would just be icing the cake of calamity?
But it needn't be. All those virtuous plans to cut out meat, shed the pounds and detoxify the liver can still happen – and with a modicum of pleasure, to boot.
Take Veganuary for one. One of the strangest, more tenuous word compressions coined if ever there was. If you're doing it, and you're staring down the barrel of a fortnightly menu programme that offers nothing other than the gastronomic equivalent of flagellating oneself with eucalyptus branches, there is salvation in the form of Dirty Vegan. Yes, dirty vegan. It sounds enticing, doesn't it. Dirty Vegan. A bit naughty.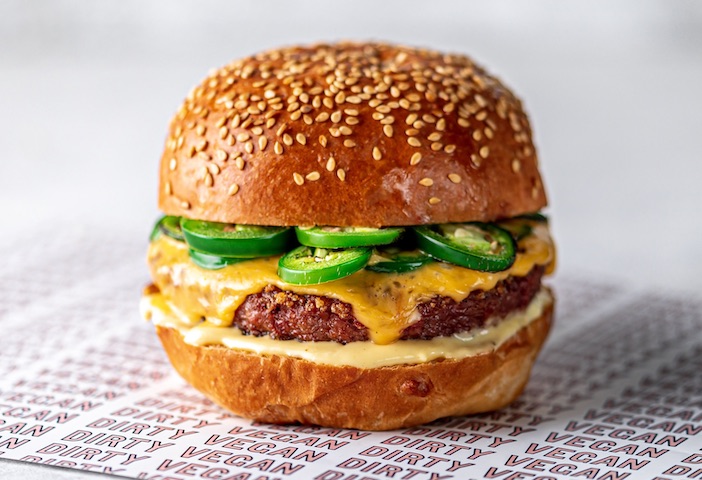 It's nothing to do with contaminating vegan principles, it's about getting your fingers sticky, tucking into the botanical equivalent of burgers, ribs, wings, that sort of thing. The sister to London's favourite New York comfort food brand, Dirty Bones, Dirty Vegan is about enjoying vegan food. And it's with lockdown in mind that they've partnered with some of the most forward-thinking plant-based and wellness food and drinks suppliers to create a rather unique plant-based meal kit.
For this Ultimate Vegan Comfort DIY Kit, Dirty Vegan wanted to create something really quite special. Championing the idea that plant-based lifestyles needn't be boring, these vegan kits ensure there's joy to be found in each bite. First, the burger. For this they've partnered with Beyond Meat, the leading Los Angeles-based producer of plant-based meat products, for a meat-free pattie that not only appeases conflicted carnivores but would challenge them to even notice the difference. Vida Bakery – London's dairy free, egg free and gluten free bakery – provides the buns, and the kit also includes everything you need to build your burger, with vegan American cheeses, relish, pickled jalapenos, jalapeno dressing, red onions, gherkins and Skinny Fries.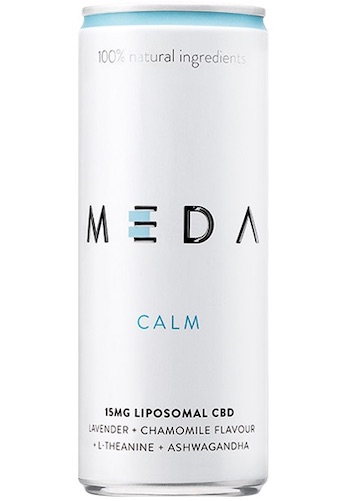 Drinks to accompany this epic meal kit include a bottle of Espresso Medatini (that's the naughty bit) and two cans of MEDA Functional CBD drinks. Sounds scientific, doesn't it? MEDA CBD Drinks are a leading range of functional wellness drinks containing nootropics, adaptogens and 15mg of broad-spectrum liposomal CBD. Why include these, you may ask? Well, consider that non-toxic CBD can alleviate anxiety, aid mood, sleep, reduce inflammation, and boost memory and motor control, and you can see exactly why they're the ideal drink for January. And especially now half of us are getting back to home schooling, it's the perfect stress tonic.
And that's not all. For sweets, Vida Bakery have included a pack of ready-to-bake Cookie Tho cookies, meaning diners can sit back and enjoy clean-conscience, vegan cookies hot out of the oven. Wash them down with your Espresso Medatini and you can see how the pains of the last week will just melt away.
It's the perfect lockdown Friday night in to look forward to – and keep your Veganuary resolutions alive. With its launch, Dirty Vegan hopes to cement the notion that clean-eating needn't be limiting; it's time to get dirty this Veganuary!
The Ultimate Vegan Comfort kit from Dirty Vegan serves 2 for just £42 and will be available for nationwide delivery from 4th January. Each box includes instructions and recipe cards. To order, visit www.getdirtyathome.com. 
The Best of the Rest…
Of course, a burger for two just constitutes one Friday night's pleasure in Veganuary, so if you're looking for other things to look forward to to get you through the month, here are recommendations from some of the UK's other leading restaurants…
The Italian one – Sicilian vegetarian feasting from Norma
The team at Sicilian hotspot, Norma, are delivering on Fridays their new vegan at-home feasting box, the perfect antidote for Veganuary at home. Led by Culinary Director Ben Tish, it is the taste of warmer climes we're longer for as the dark nights roll in, all suitable for vegans! The Sicilian feasting spread – feeding two and including a bottle of Puglian wine for only £75 – kicks off with house-made Foccacia and nocarella olives, Chickpea panelle & salsa verde, Warm roast beetroots & heritage carrots with cumin & grape must.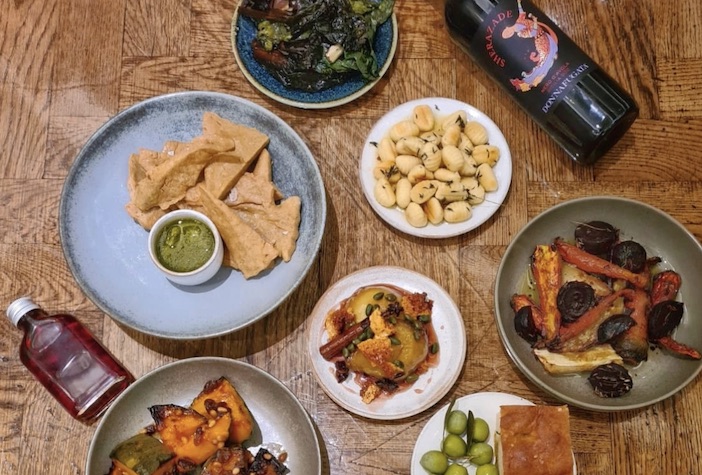 For Primi, it's a pasta kit of Winter tomato spaghetti, garlic and Sicilian oregano before, Sicilian-style braised aubergines with almond, capers & olives served with Cous-cous and saffron, Sweet & sour pumpkin with raisins & pine nuts. To finish off there's Spiced poached quince, pistachio & honeycomb.  Not forgetting something to pair it all with – kits include a bottle of Negroamrao, Il Pumo, San Marzano 2017, a rich spiced berry-fruit filled wine from Puglia.  Delivered on Fridays, orders taken until the proceeding Tuesday at 5pm. £75 (for two). Order at www.normalondon.com.
The Spanish one – Vegetarian Paella from Arros QD
If it's an authentic taste of Spain you're looking for this January, then look no further than paella specialist Arros QD. Created by multi-Michelin starred Quique Dacosta, Arros QD is best known for their traditional wood-fired paellas, a dish you can create in your own kitchen thanks to their At Home Paella Kits. Included in the Vegetarian Kit (£75) is a 40cm premium paella pan, Arros QD paella spoon, 1kg traditional bomba rice and 2.5L of vegetarian stock, enough to produce 3 paellas, each of which will feed two people. The kit comes complete with instructions to replicate the vegetarian paella served in Arros QD, or you can add your own toppings and ingredients for a personalised paella. Ideal lockdown cooking! £76 (feeds 2-3). Order at www.arrosqd.com.  
The Cornish one – The Vegetarian Box from Rick Stein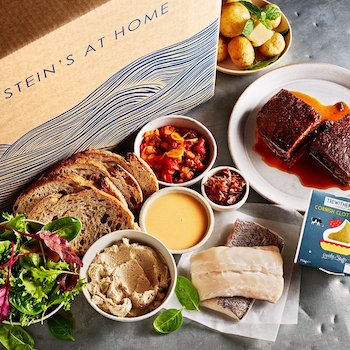 Best known for their fresh fish and seafood boxes, the Rick Stein team have added a new vegetarian box to their Stein's at Home collection this January. The box includes three vegetable-based dishes for two people (£40) and is prepared with the same care and attention as the fishy options. To start, there is a Pau bhaji, a finely chopped vegetable curry cooked to a mash, rich with butter, and served with soft rolls. For main course, tuck into a Cashew nut and chickpea curry, served with pilau rice, tomato and red onion salad and mango chutney. Finally ending things on a classic Cornish note, the Stein's Sticky toffee pudding, with Cornish clotted cream. It might be January but we all still need a bit of a treat! £40 (feeds two). Order at www.rickstein.com. 
The Mexican one – veggie corn truffle Quesadilla kit from MexGrocer
Spicy your thing? Then MexGrocer have you sorted with their Corn Truffle quesadilla corn truffle kit. Including the basics needed to make a truly exciting veggie spread! At only £14.50, this kit includes some of the finest traceable, authentic Mexican produce, from fairly paid farmers and suppliers. Komali Traditional Tortillas, and San Marcos Chipotle Barbecue Sauce as well as Corn Truffle from Huitlacoche – a Mexican delicacy used in preparing quesadillas and soups, also called the Mexican mushrooms! Oh and why not buy a bottle of El Yucateco Horchata –  vegan jalapeño salsa – which is found on the table at any authentic Mexican restaurant, it's delicious spicy jalapeño flavour is perfect for adding heat to your quesadillas! £14.50 (feeds a crowd). Order at www.mexgrocer.co.uk.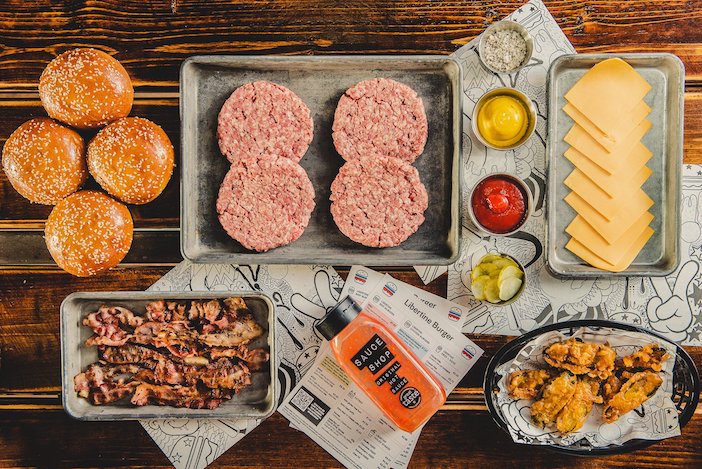 And if you're craving another burger – there's Libertine
Ahem, we're being a little indulgent on burgers here but we couldn't not mention Libertine, the UK's National Burger Award winner. Famed for their juicy, award winning burgers, Libertine have vegans covered with their #111. Priced at just £25 and feeding 4, these kits are high on flavour at a very pocket-friendly price! Kits include everything to make the champion vegan burgers at home: secret recipe house vegan patties, vegan American cheese, plant-based brioche buns, house pickles, and squeezy bottles of Ketchup and Frenchie's Mustard to finesse your burger making skills at home. £25 (feeds four). Order at https://libertine-burger.myshopify.com/.