There's no chance of a gorgeous hotel or restaurant for this year's Valentine's Day, so what's a romantic to do? Chocolates of the most luxurious kind maybe?
Conscious Chocolates have a lockdown love offering that can be home delivered and are free of just about everything (no dairy, no plastic packaging, no gluten, no refined sugars, no soya – and even suitable for vegans if you haven't had enough of Veganuary).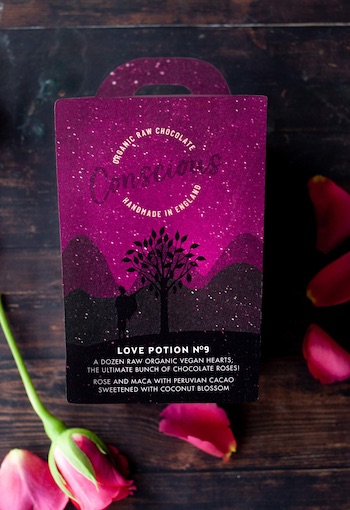 Their Love Potion No 9 box has a dozen raw organic chocolate hearts with such ingredients as coconut blossom sugar, cinnamon and essential oil of rose and maca. The rose oil gives them a hint of Turkish delight and the dark chocolate is super-rich and creamy.
Conscious are keen to point out their planet-friendly credentials – their kitchen is 100% renewable energy powered and you can even compost the packaging.
The chocolates themselves are hand made and come in the Love Potion Gift Box packed in pink tissue paper, tied with a pink ribbon and topped with a scattering of rose petals. So, total indulgence and guilt-free, too. They are, by the way, delicious.
The Love Potion Gift Box is £9.95 and the Conscious Hamper with16 large bars of vegan chocolate (including Love Potion no 9, Peppermint, Orange & Tangerine and Citrus Zest) is £37.95. For orders and more information, please visit www.consciouschocolate.com. Sign up to receive 15% off your first order.