As the big day nears, and we realise how much more we have to do, our attention inevitably turns to the feast itself, and the pain – ahem, joy – of cooking that bird, and everything that goes with it. We think we've got it sorted (we've done it countless times, after all), but there's always something, isn't there. One of the sides will get left in the oven to burn to a crisp, while another never makes it to the hob to be served near-raw, and there must be something we can do to those sprouts. Here, then, a few morsels of culinary advice from a selection of the Arb's favourites, who know a thing or two about serving up a cracking meal…
James Cochran, Chef Patron 12:51
"Brining should be a given when it comes to any poultry – that's what we do with our fried chicken to ensure succulence. So, roasting a notoriously dry bird like a turkey will ensure this goes down in food history rather than a Christmas dinner we'd rather forget. Plus, you'll never turn back on brining once you have a leftover xmas sandwich with brined turkey on Boxing Day. Insane!
"To brine, submerge a 10kg bird in 10 litres of water and 1kg of salt then add lots of aromatics like the peel of a few oranges, cinnamon sticks, peppercorns, juniper berries, bay leaves and leave in the fridge overnight. The proteins are broken down in the bird via osmosis and the salt tenderises the meat. The next day, make sure you drain and pat dry as much as possible to ensure a crispy bird and juicy cuts. So, remember, baptise the bird – you'll be a convert, I promise!" 
Kerth Gumbs, Executive Chef of Ormer Mayfair and BBC Two's Great British Menu 2020 Finalist
"As well as brining your turkey to avoid it being bland and dry, I also like to prepare a butter and spice mixture (it can be any spice you like) to rub over it before cooking. Keeping the butter cold allows me to roll it out with a rolling pin. Then, by running my fingers under the skin of the turkey breast, I create a gap that allows me to spread the butter mixture directly on to the flesh of the bird. This is a very good way to help the meat stay moist, tender and fragrant."
Paul Leonard, Head Chef at Forest Side in the Lake District
"Roast your veg with your turkey! Don't be afraid to do this – it's such a winning shortcut. I always put all my veg underneath the turkey so that all the delicious juices roast the veg while the bird is cooking.  Also add your classic aromatics like garlic, and some thyme, bay and rosemary."
Callum Graham, Head Chef of Bohemia at The Club Hotel & Spa, Jersey
"Getting your timings right is one of the hardest things for a lot of people when it comes to cooking on Christmas Day. I'd recommend writing a list of everything you need to do with times against each activity, from when the oven needs to go on and be pre-heated, right through to taking out the turkey and allocating resting time. It sounds simple, but it can be really helpful to have it all down on paper so nothing gets forgotten.
"Preparation is really key for Christmas Day and anything you can prepare ahead of time you should do. Alongside peeling and cutting your vegetables on Christmas Eve, you could also make your cauliflower cheese so that it's ready to just pop into the oven the next day. My top tip would be to make your Yorkshire pudding batter 24 hours before its needed, as that gives it ample time to rest and helps ensure you'll get a good rise."
Jorjon Colazo, Head Chef of Aquavit London
"To make sure you get really crisp potatoes, once you've par-boiled them, leave them to cool down slowly to room temperature before putting them in the oven. This helps the potatoes to dry out a little, and if there's less moisture when they go in the oven they will end up super crisp on the outside, and perfectly fluffy on the inside.
"Make your life easier on the big day by doing as much prep as you can. I always opt for cold starters at Christmas that I can make the day before, like a prawn cocktail, for example. That way, you can just take them out the fridge and put them on the table and you're ready to go, leaving you more time to focus on the important things. Also make sure to put plenty of drinks in the fridge in the run up to Christmas so they're nice and chilled. No one likes warm bubbles!"
Ben Tish, Culinary Director at The Stafford
"I always cook turkey on Christmas day – I'm quite old school about that. Mostly because the meat can be used in one of my favourite sandwiches of the year – the leftover Christmas lunch sandwich.
"This year I'll also keep to tradition in cooking a gammon on 23 December and use the cooking liquor to make a brine for the turkey. The liquor – full of porky flavour – makes the turkey meat moist and flavoursome. Gammon keeps well in the fridge – ideal for carving yourself a midnight slice – so even for a smaller group I'm sure it'll be gone in no time.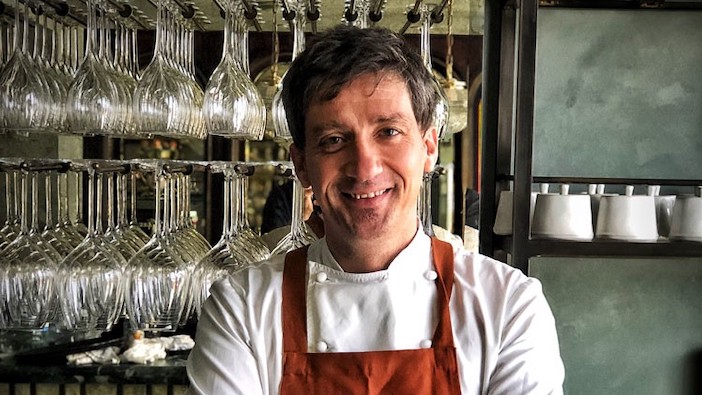 "A good way with sprouts for fewer people is to slice and sauté them – it's harder to do this to perfection when cooking a large amount for a crowd. So, slice sprouts and sauté in olive oil, getting them nicely caramelised and soft, and then finishing with dices smoky bacon and a squeeze of orange juice and a little sage.
"Cook the potatoes the day before in boiling salted water for 10 mins or until fully cooked and let them dry in the fridge. Once dry, put them in the freezer. Next day, roast them in hot fat and salt at 180 degrees for around 40 minutes for super crispy and fluffy potatoes in a flash."
Tom Aikens, Chef Patron at Muse
"Part of the problem with a big Christmas lunch is the space issue – it is very difficult to cook everything and get it all already at the same time! To battle this, you can roast your carrots and parsnips in frying pans on the stove instead of in the oven. Add little extras to your vegetables to give them a zing: chestnuts and bacon lardons to Brussel sprouts; lemon, thyme and tarragon to roast carrots; honey and thyme sprigs to roast parsnips.
"An easy way to make your bread sauce extra lux – whether you're cooking for 2 or 20 – is to use brioche crumbs rather than a normal white loaf crumbs to enrich it. And always finish it with a dash of double cream.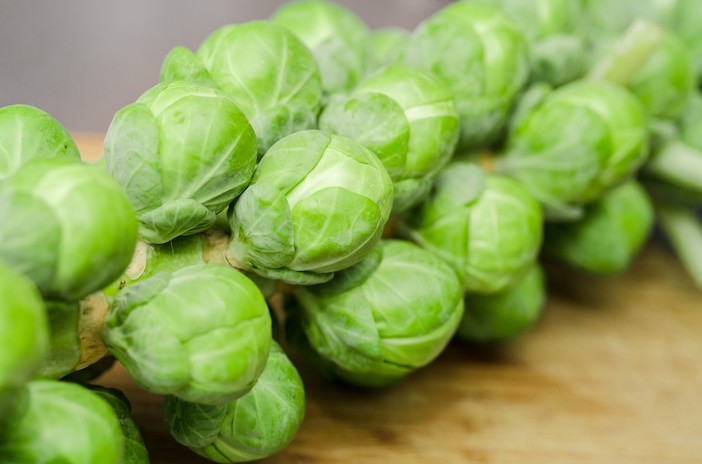 "Always roast your sprouts – the oven is on and ready anyway, and it brings out the best earthy flavour. Blanch them in boiling salted water for just 30 seconds, then roast whole in a very hot oven (210c) oven with goose or duck fat. Shake the tray every 5 mins and 5 mins before they look done, drizzle with honey to caramelize, and top with sliced chestnuts."
Tom Westerland, Head Chef at Crockers in Henley
"Christmas dinner wouldn't be Christmas dinner without yorkies – whether you're having beef, turkey or sit in the nut roast camp. Make your batter the night before – it yields a fluffer, bigger, better Yorkie. Just cling film it and leave it to rest in the fridge overnight. Top tip to get that picture perfect, classic Yorkshire pudding shape (and stop them going wonky) is to heat the oil/fat properly and pour the batter directly into the very middle of the tin.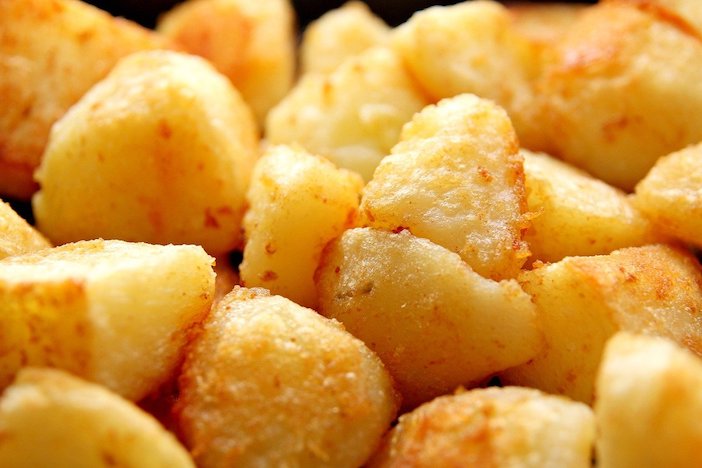 "This is my trick for our roasties. I call it the 7-minute shuffle. The first important factor is choosing the potato. You need a dirty potato like a Maris Piper or a King Edward. Dirty potatoes have a lower sugar content so they crisp up better without burning. We peel them and cut them into what I call "roast potato shape" – this is basically as many edges as possible. It's the trick to maximising your crispy edges! We then cover them with cold water and a good handful of salt. Bring them to the boil and then rapidly boil them for 7 minutes.
"Drain them off, ruffle them in the colander with some rock salt. (This is the 7-minute shuffle) We then preheat an oven tray with beef fat at 200 degrees c and plunge the potatoes into it. Roast them at a high heat until golden and crispy. Finish with some smoked rock salt (everything's better with some smoke)!"
Vivek Singh, Executive Chef of The Cinnamon Collection 
"I'm a firm believer in trying different things – it's always exciting when you accidentally discover something that tastes amazing. This year, why not try sprinkling spice onto your roasts? It will add a whole new dimension. You can also marinade meats in spice mixes overnight to bring new layers of flavour."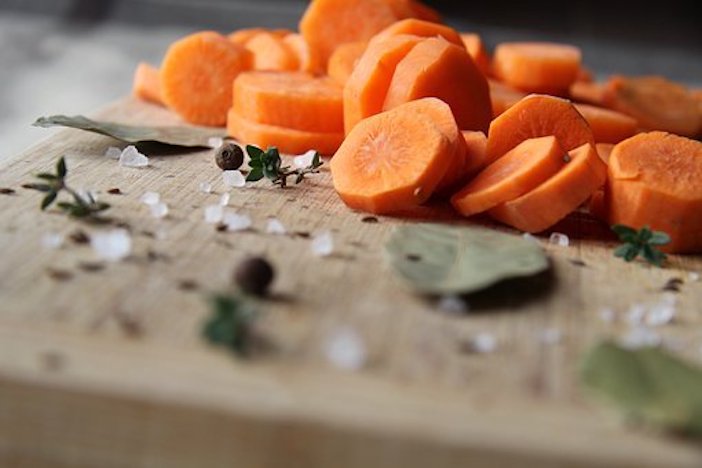 Francesco Mazzei, Chef Patron Sartoria, Fiume & Radici
"One of the highlights of Christmas dinner for me is always the carrots. I cook them with the turkey at the start, so they absorb lots of those gorgeous juices from the meat, then I add toasted caraway seeds, a good spoon of honey so they get lovely and caramelised, finishing with a big scattering of flat leaf parsley. Honestly, I know you may think they're just carrots, however they're some of the best carrots you'll eat, so delicious."
Jack Stein, Chef Director of The Rick Stein Group
"Buy some good quality fresh stock (either from a deli or butchers) and make the gravy the day before. Cook down some onions, garlic and thyme with a good glug of red wine. Allow this to reduce by around half and then add the stock, usually sold by the pouch. Let it simmer down for half an hour, then add a tablespoon of marmite and soy a sauce for an umami hit and a splash vinegar to taste. On the day, add all the pan juices from roasting your meat at the end and serve!"
Oli Martin – Head Chef at Hipping Hall in Lancashire
"If you sit in the Christmas pudding camp, this one's for you. I came across this recipe while working in Australia which used tinned pineapple and a teaspoon of curry powder and honestly I haven't looked back since!
"My secret Christmas tip is one for unbeatable mince pies that I came across a few years ago. Simply put an over ripe banana into your mince mix, and it makes them extra gooey and super sticky!"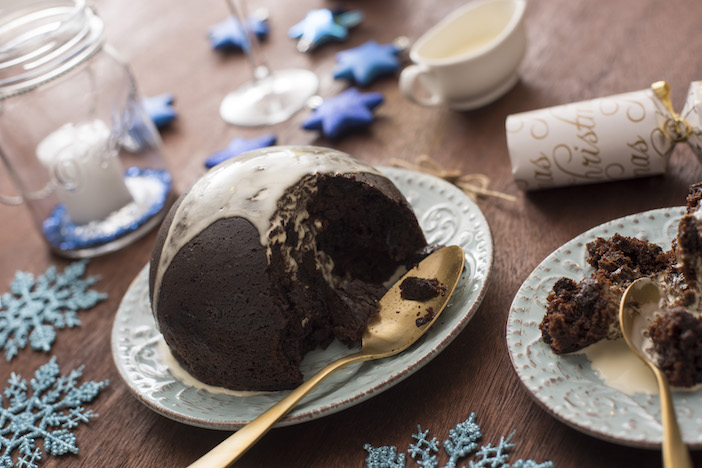 Charlie Stein, Drinks Director of The Rick Stein Group
"When it comes to wine, if you're on a budget then look out for Crémant de Bourgogne in the supermarket, it's made exactly the same way as Champagne, with the same flavour, but doesn't carry the premium price.
"There's so many different flavours on the festive table that there isn't one wine that works better than other, just make sure there's enough weight and body to so it's not overpowered but the various trimmings. For me Christmas is a celebration so I open the best wine I can afford and get stuck in. Wines that work, Bordeaux, Rhone, White Burgundy, Languedoc red, and Italian reds. If you have a decanter, decant for extra theatre.
"Boxing day is left-over meats and turkey sandwiches and a hangover, in this case you have to reach for some aromatic Pinot Gris or some honeyed South African Chenin Blanc. If you have gammon, jacket potatoes, and left-over goose like we do, then something light, red and crunchy will, Pinot Noir or Beaujolais will do the job perfectly."
To all our readers, we wish you a very happy Christmas that's as good as you can make it, and here's raising a virtual glass to everyone for this festive season!