'Everything but the squeal' is what used to be said about how much of a pig could be eaten and on that basis if nothing else I reckon that pigs deserve our utmost respect. Food trends – and food scandals – may come and go but their contribution to the cook's repertoire has been extensive and unwavering for hundreds of years. Just think for a minute about how much we get from pigs. You might not fancy eating it all, but that's very much not the point.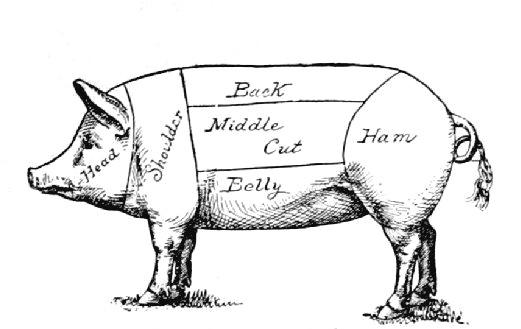 There are cuts to be roasted, salted or smoked; the blood is used in black pudding; the ears are a crispy delicacy; pork scratchings have made their way back onto pub menus; and Pierre Koffmann rarely makes it out of any interview without being asked about his famous way with trotters. That's a list that could go on and on for a good while more – it is indeed possible to go the whole hog. At a time when we're all being encouraged to befriend our local butcher and reconnect with the diversity of quality meats that are available, surely the humble pig is a great place to start.
Pigs cheeks are wonderfully delicious and meaty cuts. They used to be cured into Bath Chaps but I think it is braising that makes the most of their supreme tenderness. After a couple of hours in a slow oven the cheeks will be so meltingly soft they'll barely need cutting. In this recipe I cook them with fennel seeds, calvados, lots of other good stuff and then serve the cheeks with caramelised English apples alongside. Darn tasty it is too.
(Just a quick word about sourcing before we get into the recipe. I am the biggest advocate around for supporting local independent shops – and am very matey with my butcher – but please don't roll your eyes at me for telling you that Waitrose stock free- range pigs cheeks. I think some support is also due to them for their admirable endeavours in helping broaden out our collective appetite to cook and eat these more unusual cuts.)
Braised pigs' cheeks with caramelised apple – serves 2
6 pigs cheeks
3tbsps plain flour, seasoned with salt and pepper
2tbsps olive oil
1 red onion – sliced into semi-circles
3 cloves garlic – peeled and flattened with the back of a spoon
1.5 sticks celery – very finely chopped
70g cubed pancetta
2tsps fennel seeds
1tbsp runny honey
50ml calvados
250ml white wine
250ml chicken stock
2 bay leaves
a sprig of thyme
50ml single cream
Preheat the oven to 140C.
Get the olive oil good and hot in a shallow casserole dish. Roll the pigs cheeks in the seasoned flour and then sear them all over in the oil. Transfer to a plate with a slotted spoon.
Now stir around in the casserole the onion, fennel seeds, garlic, celery and pancetta with a good sprinkling of salt. Keep it all going until the pancetta is browned and the vegetables have softened up. Stir in the honey – scraping off any bits that have stuck to the bottom of the pan – and return the pigs cheeks to the dish.
Take the casserole off the heat. With a lit match at the ready, pour in the calvados and immediately set it alight. The calvados will flame quite excitably but don't panic, it will burn itself out.
Once it has, get the heat back on and add the white wine and stock. Let it bubble for a couple of minutes with the bay and thyme added too. Grind some black pepper over. Put the lid on and then into the oven it goes for 2-2.5 hours.
Use a slotted spoon to transfer the pig cheeks and the vegetables into a serving dish. Cover and keep them warm. Let the cooking liquid bubble away on the stove for 7-10 minutes – it needs to reduce quite a bit. Turn the heat off and let it all calm down before stirring in the cream. Check for seasoning.
Pour the sauce over the cheeks etc and keep it all warm while you do the apples.
For the caramelised apples: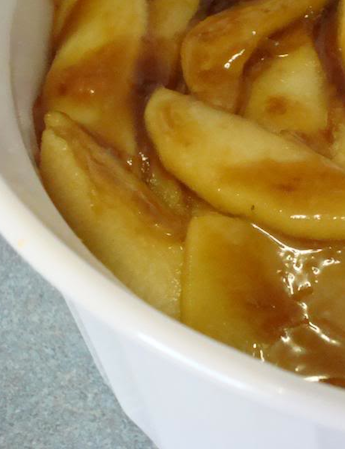 1 big or 2 small English eating apples (cox would be good)
20g butter
1tsp brown sugar
1 star anise
1. Quarter and core the apple(s) them. Cut into slices approximately 1cm wide.
2. Melt the butter in a small frying pan and stir in the sugar. Then put in the apple slices and the star anise. Cook for 5 mins or so until tender and browned. Stir it around and turn the apples over halfway through the cooking time.
Arrange slices of apple on your diners' plates and serve with a mash that's 50/50 potato to celeriac. Cavalo nero would go nicely too.