On the basis that Valentine's Day actually isn't a load of old whatsit – and that it's really rather nice for there to be a day dedicated to romance and soultmateyness – I offer up to the Gods of Lurve these few sweet morsels: Jammy Hearts, Rose and Amaretto Truffles, and Rosebud Ice.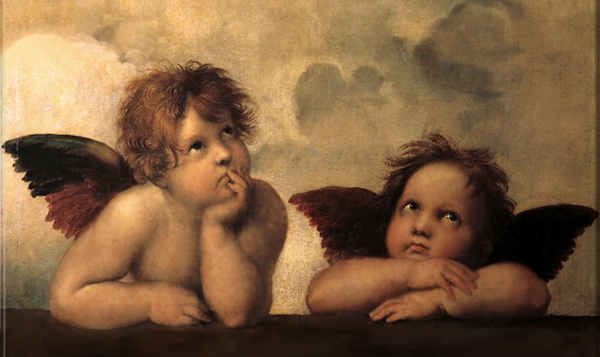 Jammy Hearts
Laughter is supposed to be the greatest aphrodisiac of all. If that's true then you're onto a sure thing with these heart-shaped jammy dodgers. They'll get you a smile at the very least.
For 12:
200g plain flour and a little more for the rolling out
100g icing sugar
150g unsalted butter – very cold and cut into cubes
1 egg yolk
really good raspberry jam – about a quarter of a jar
50g dark chocolate
2 heart-shaped biscuit cutters – 6cm and 3.5cm point-to-point
Sieve together the flour and icing sugar and then rub the butter in with your fingertips until it becomes like breadcrumbs. Add the egg yolk – you should then be able to bring it all together into a smooth dough. Wrap it up in clingfilm and put into the fridge for half an hour so that it is rollable. Put the oven on at 170C.
Dust some flour over your worktop and the rolling pin. Roll out the biscuit dough to about 2-3mm thick and cut out 24 hearts with the larger cutter. Put them onto a baking tray (or two) and then use the smaller cutter to take the centres out of 12 of them. Bake in the oven for approx 10 minutes until they're just starting to turn golden brown. Cool on a wire rack.
Now assemble the dodgers. Spoon a teaspoon of jam into the centre of each whole heart, spread it out a bit and gently press an open heart on top. Give them a little squeeze together.
Melt the chocolate by breaking it into pieces in a bowl that is set over simmering water. When it's fully melted, dip a fork in and freestyle dribbles of chocolate all over the hearts. Allow them to set for a couple of hours.
They make a sweet (in both senses) gift when wrapped together in cellophane and tied with ribbon.
Rose and Amaretto Truffles
Chocolate is like patisserie in that what the pros turn out is always going to be superior to anything the home cook can expect to achieve, even at his or her most optimistic. But this is Valentines and buying a box of chocs probably isn't the most imaginative of gifts. Making them is a totally different matter, though. Chocolates are then transformed from cliche into something that has taken the time, effort and thought that your love rightly deserves.
These truffles are actually frighteningly easy. Please note the Valentinesey touches of rose for romance and almond for an aphrodisiac.
Makes 10:
100g top-notch chocolate, about 45-50% cocoa solids
50ml whipping cream
15g unsalted butter, cubed and at room temperature
1.5tbsp amaretto
1tsp essence of rosewater
20g cocoa powder
30g flaked almonds
Chop the chocolate very finely and put into a glass bowl. Bring the cream to the boil and pour it over the chocolate. Really stir the cream into the chocolate until smooth. If some pieces are too large and refuse to melt, microwave it for 3 second intervals until the lumps disappear.
Whisk the cream and chocolate until glossy and thick. Add in the butter and whisk a little more. Finally, whisk in the rosewater and amaretto. Leave it all to set at room temperature for 3 hours.
Get yourself set for truffle rolling: the cocoa powder goes onto a large plate, and the flaked almonds onto another. Crush the almonds with your fingers so that they break into small pieces. Put a piece of baking paper onto a plate or baking tray.
Now dust your hands with cocoa powder, tea-spoon out some truffle, and roll it between your palms into a small walnut size. Then roll it around in the almonds and as you finish each truffle sit it on the baking paper. You will need to keep re- cocoaing your hands. Put the truffles into the fridge for several hours to set and they'll keep like that for a couple of days.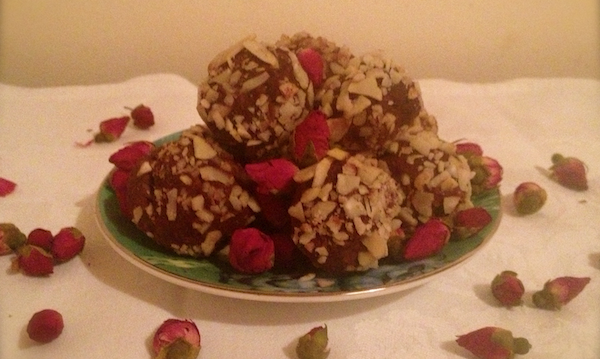 You could get a box to put the truffles in, or just pile them up on a pretty plate or in an old glass serving dish. Throw over some (edible, even though you won't be eating them) dried rosebuds or petals for extra Valentines points.
Rosebud Ice
What could be more romantic than serving your Valentine's Day drinks with roses set into ice? Especially if you've got some dried rosebuds left over from adorning the truffles.
For any cooking or decorating purposes you have to be wary of the chemicals that are often used on roses. Please be sure about what you are buying. Chinese tea emporiums or herbalists are a very good bet for worry-free dried rosebuds. Online you could try Sous Chef (www.souschef.co.uk) or Teapod (www.teapodtea.co.uk). The heads of fresh roses can work well in ice too – again, so long as they're untreated.
Put a single rosebud into each cell of an ice-cube tray. Fill to just one-third full with water and freeze for a couple of hours. The flower will want to float so doing this traps it in the centre of the ice-cube. Fill up with more water and freeze again.
Tony Conigliaro – mixology supremo of 69 Colebrooke Row fame – uses rose a fair bit in his brilliant book Drinks. I'll be taking flavour inspiration from him for my Valentine's tipple: a vodka martini on rosebud rocks with a grapefruit twist, please.
You might be interested to know that rose tea is thought to soothe the nerves and the emotional state of mind. Just another way those dried rosebuds might come in handy on Valentine's Day.