Last week I went for dinner at a friend's house. It was going to be more like supper than a dinner party but in the post-Leveson era it's quite hard to say that without feeling the need for inverted commas. Or a cloak of auburn curls to swish. Let's just say that this was a pretty informal do. I wanted to take along a dessert that had to be tasty – of course – but also something easily transportable. Capable of withstanding the shoving elbows of rush-hour tubes and still be just glamourous enough to raise an 'ooh' at 10pm. Step forward the versatile scrumptiousness of the sweet tart.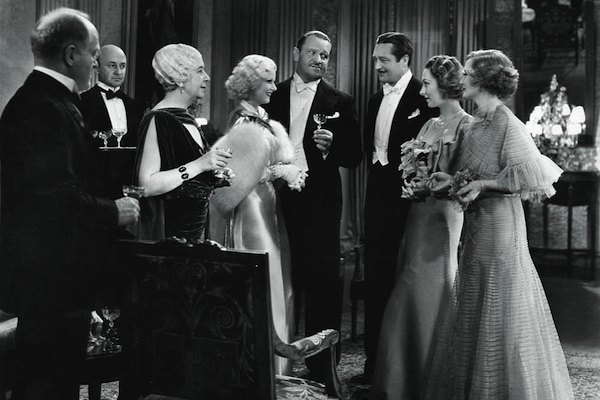 There are so many versions of a sweet tart. That's partly what is so great about it. Lemon and almond are a classic and nicely understated combo but on their own they can lean too much towards afternoon tea and not be quite enough 'bring out the digestifs'. It's this recipe's orange zest pastry, rosewater, and lightness from the whipped egg whites that give the tart just the right amount of after-dinner sophistication.
Lemon and Almond Tart – serves 6
Note that the pastry case can be done ahead of time.
To bake your pastry case blind:
220g plain flour
25g ground almonds
50g icing sugar
pinch of salt
grated zest of an orange
150g butter – cold and cut into 2cm squares
1 egg yolk
1tbsp essence of rosewater
1. Sift into a large bowl the flour, icing sugar, ground almonds and salt. Add in the orange zest. Now use your fingertips to rub the butter cubes in until the whole thing becomes like crumbs.
2. Make a little well and into that goes the egg yolk and the rosewater. Bring it all together and knead just long enough for it to become a smooth dough. Form into a flat round shape, cover in clingfilm and chill for an hour.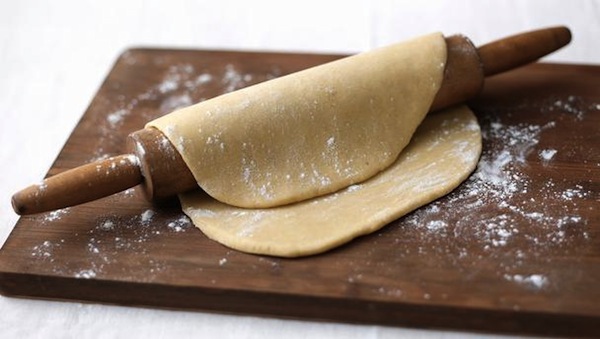 3. Roll the pastry out onto a floured-surface to about 3-4mm thick and obviously big enough to cover the tart tin. By easing one end of it over your rolling pin you should be able to lift the whole piece up and lay it over the tin. Press into the sides but don't get rid of all the pastry that's overhanging – pastry tends to shrink so too- hasty trimming can be a problem. Prick the base all over with a fork. Chill again for 20 minutes. Preheat the oven to 180C and put a baking sheet into the oven to get hot too.
4. Cover the pastry case with a large piece of baking paper and fill it with baking beans or rice. You need to spread them out so that the whole base is being weighted down. Sit the tart tin on the hot baking sheet and bake for 15 minutes; then carefully remove the beans/paper and continue to bake the case for another 5 minutes. Leave it to cool down while preparing the filling. Some trimming of the pastry edges can be done now, but you'll really sort this out properly at the very end.
Making the tart:
4 egg yolks
juice of 2 lemons and the grated zest of 1
2tbsp essence of rosewater
100g soft unsalted butter
100g caster sugar
25g plain flour
75g ground almonds
2 egg whites
2tbsp flaked almonds
1tbsp icing sugar
Preheat the oven to 180C.
1. Whisk the egg yolks with the lemon juice, zest and the rosewater.
2. In a separate bowl, beat together the butter and sugar until it becomes smooth and light. This goes into the eggs etc and it all needs to be beaten again. Sift the flour and ground almonds and mix those in too.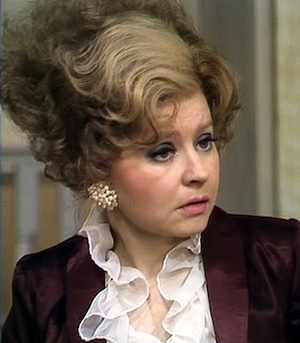 3. In a clean bowl whisk the egg whites until they're light and stiff. Not quite meringue-level stiff but still as determinedly set as Prunella Scale's hairdo in Fawlty Towers. Gently fold the whites into everything else but try to retain as much of their lightness as you can.
4. Pour all of this into the pastry case and level off the top. It needs to bake for about 35 minutes until set and a lovely golden colour. About 7 minutes before the end of the cooking time, scatter the flaked almonds over.
5. Allow the tart to cool in its tin – don't try to remove the ring for an hour or so. When you do want to, stand the tart on something sturdy and about the same width as the hole inside the tart-ring – the ring will drop from the sides. Lift the tart off its make-shift stand.
6. Now to trim those pastry edges. For an after-dinner tart when too much pastry doesn't feel quite right I like to trim it so that it sits barely a few millimetres above the top of the filling. Use a small sharp knife and as much dexterity as you have to create an even, smooth edge. I end up using the side of the blade to almost shave the pastry smooth and level.
Finish with a dusting of icing sugar raining down from a small sieve.
Serve with cream or ice-cream.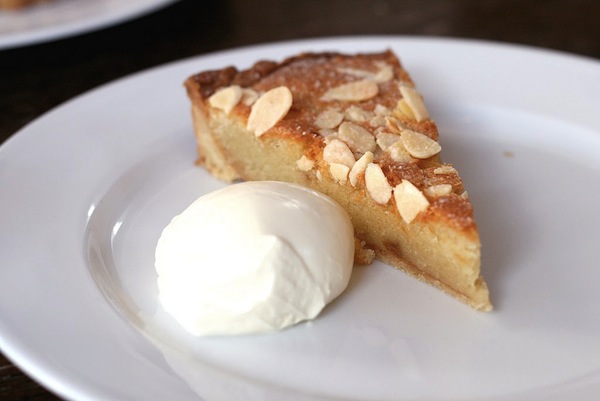 My tart and I made it in one piece across London. Although there was point there at Oxford Circus when we seemed to have become the pins in a game of commuter bowling. And in the end our evening turned out to be a full-on dinner-party after all, not "supper". My simple tart may have got the dress-code slightly wrong but with all the classic appeal of a well-cut suit it sailed through with aplomb.