The street in Gamla Stan – Stockholm's old town – is narrow and icy and the deep snow has made it very difficult to walk. We hold on to each other, then slip and slide until we find a wall to steady ourselves on. Lilla Nygatan is written above our heads – we're on the right street – now we just need to make it to number 21 without slipping and breaking something. The night is so crisp, so silent – everything looks perfect and clean. Out of nowhere comes a voice: authoritative and sharp through the snow. It informs, rather than enquires. "Noah May." I'm startled, I look around and there, through the darkness, I make out a figure in a bowler hat staring straight at me. Even as I rationally suppose that he might be employed by the restaurant, I cannot help but bristle at the sight of a dark eyed stranger calling to me by name through the snowy night. I eventually nod and the doorman motions forward, opening a door and sending us inside.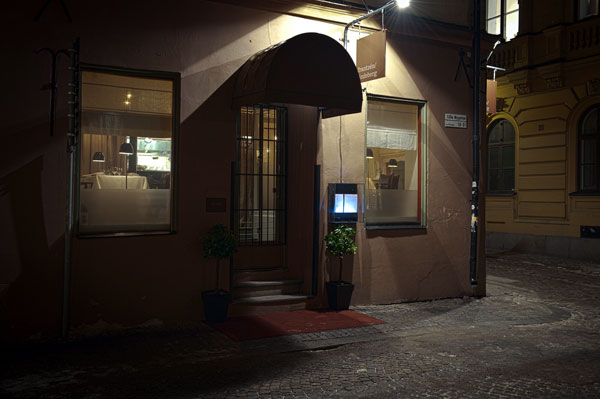 The interior is warm, bright and tiny. We bring the snow and the bitter wind with us; in one motion, fourteen faces look up from the restaurant's six tables and watch us take off our coats, hats and scarves. As an entrance, it feels very intense, but looking back this is entirely appropriate. Dinner at Frantzén/Lindeberg is an experience that requires something from you. In passing through that door, you become an active participant in a singular arrangement that is marked by its nervy intensity.
At this point, I feel I should possibly start describing 'New Nordic Cuisine' and its place and impact on the international restaurant scene. Perhaps there should be a back story and a few references to Noma or the new waves of gastronomy that exist in this part of the world. I think I'll stop there and merely say that Frantzén/Lindeberg has its own story which it articulates in clear, sonorous tones. The cuisine draws on nature in a way I have not been privy to before and stays with you indefinitely.
The owners, Björn Frantzén and Daniel Lindeberg, opened their restaurant in 2008 and within two years they had been awarded two Michelin stars. Last year, they won 'One to Watch' at the San Pellegrino World's 50 Best Restaurants awards, so it seems likely that things are only going one way for this understated duo. Both Frantzén and Lindeberg have done time in extraordinary kitchens: the former in England and France at Le Manoir aux Quat' Saisons and L'Arpège and the latter on home turf at Oaxen Krog. The skills learnt in these esteemed restaurants must have led them in some ways towards their little dining room on Lilla Nygatan, but from that starting point, they have embraced a creative vision that is theirs and theirs alone.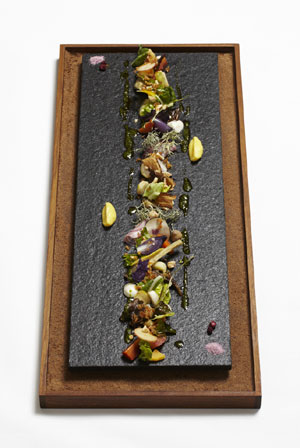 This is the smallest, calmest two Michelin-starred restaurant I've ever encountered – by a long way. I'm informed that the team designed the restaurant themselves – that's the kind of team we're talking about, there's something very 'can-do (it our way)' at play on Lilla Nygatan. The psychology behind the design and decoration is that there is essentially nothing to distract you from the sensory experience that the food, wine and service will provide. I can now understand how this is very important. Niklas Löfren, the restaurant's sommelier, looks after us on the evening of our visit. There are three members of floor staff and they work every night the restaurant is open to ensure a sense of consistency and professionalism. There are three things on our table as we sit down: a napkin, wine glass and a Perspex box in which bread dough sits proving, waiting for our later delectation. Niklas asks three questions at the start, he enquires as to whether we have any dietary requirements, whether we need to see a menu, and whether we can drink; we answer 'no', 'no', 'yes' and a saga begins.
An appetiser of oven-baked Jerusalem artichoke with roasted hazelnuts, year-old preserved mushrooms and chicken skin whets the appetite and it's the first indication of how passionately and precisely the team in the kitchen assess the relationship between intensity and balance. Swedish langoustines from Ingemar Johansson are brought to table in a wooden box that's covered in a piece of thick, off-white muslin. Once unveiled, their proportions and liveliness are so impressive that the reality of what's about to happen suddenly seems almost tragic. Niklas explains that we'll only be eating the saddle – the area with the thickest, sweetest meat – and promises the langoustine will be back shortly in the form of a tartare – Sarah and I catch each other's eye in furtive, guilty recognition of collusion.
Raw food is a big part of modern Nordic cuisine. Presenting food in its raw form relies on unwavering confidence in the purity and power of the product itself – there is nothing for the meat or fish to hide behind. Here seasonality is, of course, imperative. The main reason there is no formal menu is that everything changes daily. A dish of 'twelve day-old halibut' might sound like a stinking, cruel joke to be played out on overfed food perverts, but in reality it is revelatory. The restaurant sources fish from a single fisherman who employs a centuries-old technique to kill his fish in a way that minimises stress and therefore spoilage of the meat in death. The halibut is then left on ice for an extended period, left to 'hang' if you will. The meat has savoury qualities that might usually come through cooking: deep, rounded and somewhat nutty.
Our langoustines return on little granite boards; the pre-historic monsters have been reduced somewhat and all that remains is their muscular backs, expertly sliced into a firm and upstanding tartare. Atop the tartare lies Frantzen/Lindeberg's own take on the Italian lardo – little slivers of salted back fat from an old Swedish sow – Clarissa.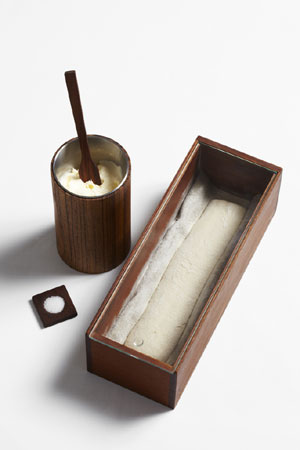 Niklas describes her in clear terms and talks happily of the robust relationship the restaurant has with its supplier – other restaurants should take note. The mineral sweetness of the cold water langoustine set against the buttery, animal richness of the fat makes for disconcertingly fine eating. The dish asks questions about the nature of clarity and corruption and how clean flavours can be 'ripened' by impure ones.
The flavours, textures and aesthetics of the next course remain fresh in my mind and are likely to stay thus – it is perhaps the clearest manifestation of the intensity and vigour that Bjorn Frantzén's cooking can convey. Blood cake of mountain deer, duck hearts and bleak roe come together to create a haunting trinity. Each component has its own beguiling texture: the dark, dense meatiness of heart, the blood cake, fatty and ferrous and the deep, bodily salt water tang of roe. The uncanny power of this dish doesn't begin or end with the texture; this is a complex plate of food if ever there were, it encourages engagement. There's blood, eggs and heart – what could be more basic – more vital? We drink old, yellowing white Burgundy, rich in flavour and powerful with it, and sit in silence.
I have a confession to make, I've been through my iPhone to look at the notes I made from the meal and see that at this point I've written 'butter so good I want to cry'; I think I may have gotten a little carried away, but the butter really is something else. There are two types. One comes to table as clotted cream and is then beaten by Niklas until the butter milk falls out leaving sweet and salty lumps of fresh butter to spread on the now piping hot bread that adorned our table at the start. There's also a second plate of butter, a darker offering, whipped up with caramelised milk fat to create a more savoury rendering of salted caramels – both are quite exquisite.
Scallops from Trondheim arrive in theatrical shells with shaved black truffles in bouillon. This is a playful dish that delights in stages -building to a crescendo of truffled shellfish broth that engulfs the senses, the flavours fragrant and enduring. There's a monkfish dish which is good, but doesn't in truth stand out and a startling, bitter sorbet of beetroot, hibiscus and cranberry that leads us toward the meal's second glorious peak – hung pigeon. We've already enjoyed the beast's heart, now they present us with its purple blood-stained breast, glowing confit legs and a sauce enriched with its fragrant offal. Liquorice lifts the earthy meat flavours, as do the silky rose petals and bitter tar that only comes with the best Barolos. Pudding arrives in three forms, the most interesting being an intriguing combination of beer, yeast and the yolk of the first-laid egg from a young hen.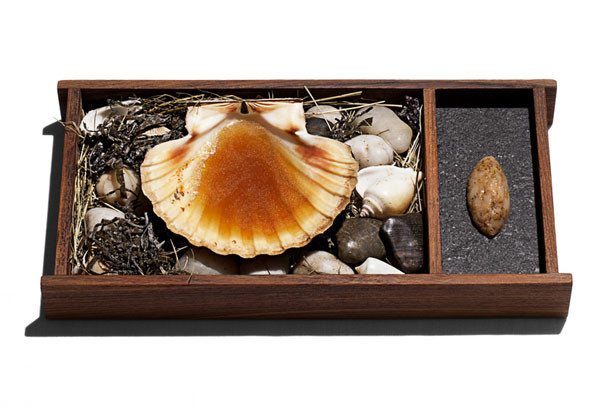 The restaurant encourages patrons to choose the wine pairing that follows each course. For those not keen to take this route there is a short but lovely list, although I would certainly recommend Niklas' wine pairings. The interplay between what is in glass and on plate is as much part of the experience as the lighting, seasoning or the doorman's welcome. Our journey starts with Champagne from the Aube and moves toward Fino sherry, white Burgundies and Loire whites through to the northern Rhone and finishing in Piedmont. As with many Scandinavian restaurants, low-sulphur, or 'natural' wines are favoured here, but thankfully, unlike some restaurants, Niklas champions 'traditional' wines too and so weaves expertly between wild, sinuous, deep yellow wines and the elegant, high-tones charms of Barolos and classic White Burgundies.
Frantzén/Lindeberg delights and intrigues by virtue of its individuality and specificity. There is a level of detail that at points seems like madness, but which is executed with such skill and warmth that it cannot help but charm. It's that palpable sense that in this restaurant, something thrilling is going on around you, within you. The food is informed and pays attention to the work of others, but at heart it exists alone – autonomous and free. This is food that gets to you. You tell a friend about it later and you realise you're talking quickly and sweating. Whether Bjorn and Daniel's journey is set to continue, evolve and endure, or peak and recede, is yet to be seen, but for now I can think of nowhere I'd like to be more than at the beginning; staring with a bowler-hatted stranger in a snowy street, ready to taste it all.
Restaurant Frantzén/Lindeberg, Lilla Nygatan 21 11128 Stockholm, Sweden. Tel: +46 (0)820 85 80. Website.