Putney. Even the word has something Betjemanesque about it, redolent of upper-middle-class good taste, prim and primped Edwardian houses, populated by lines of the well-off thankful for their success and breeding. One of south-west London's wealthier and some would say smugger suburbs, it has numerous charms – green spaces by the acre, the river, some charming little cafes and pubs. But what it lacks – or at least has lacked – is a really top-notch neighbourhood restaurant. There have been occasional attempts to open one, not least ace restaurateur Rebecca Mascarenhas and the late, lamented Cantinetta, but it has seemed to defeat its well-heeled clientele, who apparently would rather head to Barnes or deeper into town.
Until now, that is. Situated on the site of Gregg Wallace's near-farcically awful – and distinctly unlamented – Wallace & Co, Mascarenhas, dusting off an abortive attempt to enter into a venture with Theo Randall on the site of Cantinetta, has recruited chef Chris Beverley and opened the sort of top-notch place that isn't just a godsend for anyone who lives in SW15, but is actually worth heading to from other parts of town, so that anyone can appreciate top-notch Italian cuisine executed with pizzazz, flair and not a little charm.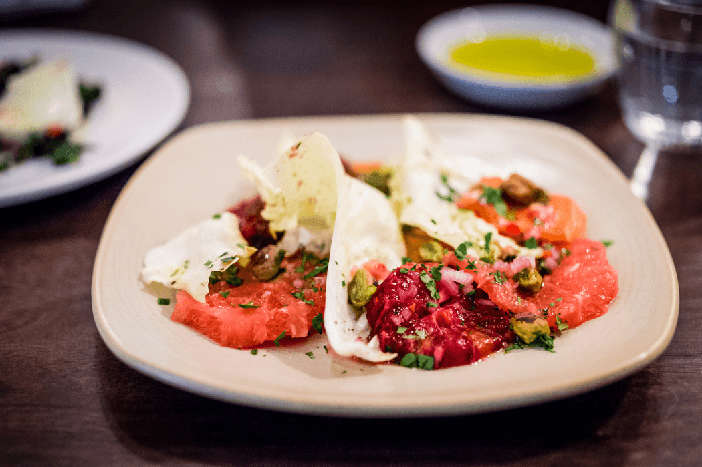 The Putney Belle and I had already popped in during its very early days, when the term 'soft opening' was being bandied around. It was clearly functioning at a high standard even back then, but a visit mid-evening one Friday might almost have been to a different place. The air of slight 'oh gosh, help' had utterly disappeared, replaced by calm professionalism and friendly confidence from the excellent staff, all of whom had that uncanny knack of being able to predict exactly what we'd want and when we'd want it. N'duja crocchettes and pepperonata crostini with ricotta? Coming right up. Superlative linguini alla vongole for me as a starter, followed by beautiful onglet with aubergine and salsa? Absolutely. The Putney Belle wants pasta – and beautifully served and presented papardelle with beef ragu at that – as a main course. Can she? Of course she can. Nothing is too much trouble, and it's all priced in the sensible regions too – pasta is around £8 or £9 as a starter and £14 or so as a main, and none of the secondi top £17. Compared to Mascarenhas' Kitchen W8 – a great night out, but an undeniably pricey one – this is positively giveaway stuff. The only thing that remains consistent is how enjoyable it all is.
However, what elevates this from being a good place to unmissably brilliant is the wine list. In the hands of the excellent Zeren Wilson, it's well-chosen, all Italian (with a short place at the end for 'Italian-inspired' New World bins) and constantly changing. The ever-affable Wilson is all too happy to talk about his choices, including an attempt to re-educate people in the ways of Lambrusco, but those looking for more conventional options are spoilt for choice, whether it's a fine glass of Friulano to accompany a nibble to begin, a gutsier Schiopottino, or even a Moscato to wash down the (shared) dessert. And none of this is at bank-breaking places, especially not in comparison to many of the inferior establishments roundabouts.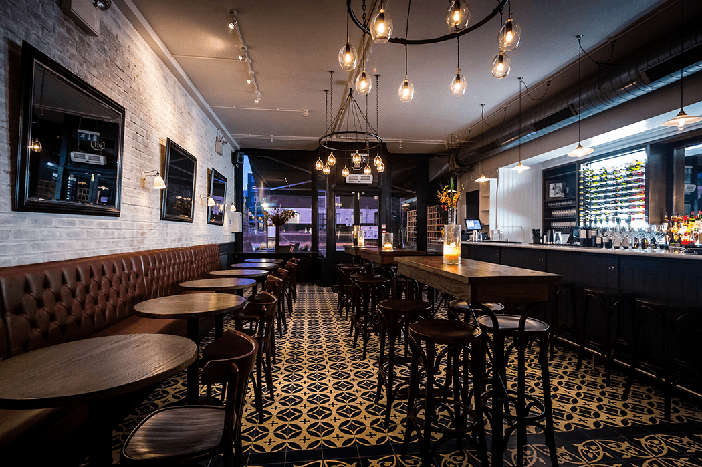 As we left, replete and happy, it occurred to both the Putney Belle and to me that justice of a sort had been done. The worst sort of boring, overpriced and soulless establishment – step forward, Wallace, and receive a harsh sentence of another ten years judging MasterChef – has been replaced by somewhere buzzy, lively and friendly, and our presence there on a regular basis is going to be obligatory. We'll see you at the bar, and raise a glass of something excellent, selected by the great Wilson, in honour of Putney's best restaurant.
Bibo, 146 Upper Richmond Road, London SW15. Tel: 020 8780 0592. Website.