To describe Chiltern Firehouse as white-hot would be an understatement. In the few months since it opened inside what used to be one of London's oldest fire stations in Marylebone, the reception has been nothing short of rapturous to the point where mere mortals now have to kill one of their well-heeled neighbours or have Nuno Mendes on speed dial in order to secure a table, and even then they won't be seated until 9pm.
Having opened the Michelin-starred Viajante at the Town Hall Hotel in Bethnal Green in 2010, which focused on elaborate tasting menus, earlier this year, softly spoken, Portuguese-born Mendes announced he was upping sticks to the Chiltern Firehouse, having been lured west by hip hotelier André Balazs to work on his first project outside the US. While you might not have heard of Balazs, you'll be familiar with his haunts – celebrity favourite Château Marmont in Hollywood and The Mercer in New York to name but two.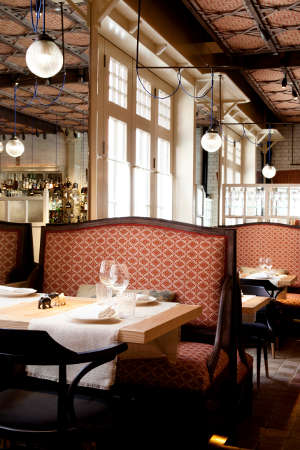 And it seems Balazs has brought that all-important sprinkling of stardust across the pond, with his shiny new opening drawing A-listers in their droves, from Jennifer Lawrence and Bradley Cooper to our own Kate Moss and Guy Ritchie. This is where the beautiful come to feed, in a space that offers the intoxicating combination of a sense of seeing and being seen amid a veil of privacy. Diners are far too discreet to be approaching the stars and asking for a selfie. An air of hushed reverence prevails, with terrestrial beings chowing down alongside Hollywood glamazons without the need for a velvet rope.
Set within a red brick, late 19th century Grade II listed building in a quiet corner of Marylebone, even entry to the restaurant is noteworthy. Our first encounter is with a doorman dressed in a grey top hat and tailcoat, who greets us with a broad smile and genuine warmth. We then pass a gated garden filled with tea lights flickering like fireflies, which will make for a magical setting as the mercury rises. Once inside, we're ushered to the buzzing bar by a statuesque waitress wearing a turquoise Emilia Wickstead jumpsuit. While waiting to be served, I clock a beaming, bespectacled Alain Ducasse waiting to be seated. The heat is well and truly on for Nuno – there can be few things more challenging for a chef than the prospect of cooking for one of his multi Michelin-starred elders.
Given chapter and verse on the bar's vermouth focus, I'm counter intuitively lured into trying the Kinky Matador, a cheeky twist on a Negroni that uses Tequila in place of gin and throws in a shot of fino Sherry, grapefruit bitters and a twist of lime for good measure. With such punchy flavours, I'm expecting to be floored, but the blend is as graceful as a matador weaving figures of eight with a scarlet cape in the afternoon sun, the salty tang of the Sherry coming through definitively on the finish taking me blissfully back to Andalusia.
While there are many more beautiful dining rooms in London – Berners Tavern and The Wolseley spring to mind, there are few that offer such a palpable buzz as Chiltern Firehouse. Packed to the rafters and with an upbeat, Latin-centric soundtrack, dining here gives you the feeling of being at the centre of the vortex. There's an urgency about the place, as if everyone appreciates how lucky they are to be here. While some tables, like the large one above the entrance, are a voyeur's delight, booths and partitions offer privacy for those seeking it. With a quirky red and beige fabric ceiling recalling a vintage Bakerloo line tube carriage, the focal point of the restaurant is a huge open kitchen equipped with a grand charcoal oven, shiny fixtures and fittings and copper pots and pans. Beavering away in the thick of it is the heavily bearded Nuno, his protégé, Dale Osborne, of Dinner by Heston Blumenthal fame, and their team of worker bees dressed in chocolate brown aprons.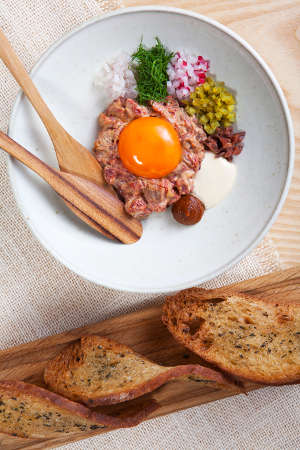 With their American accent, dishes are on-trend and show off Mendes' deep understanding of US cuisine picked up during a 16-year stint working in the country. And while this is no Viajante, with the focus firmly on à la carte rather than tasting menus, from the get go it's clear we're in capable hands, with many of the dishes displaying the signature beauty, intricacy and attention to detail that helped put Viajante on the map. Monkfish, for example, is cooked in a sealed pan with hot charcoal and fresh pine in an inspired marriage of earth and sea.
Kicking things off with a duo of bar snacks, while much has been made of the crab sliders, with their fluffy brioche buns and unctuous crab meat filling, the fried chicken served with a smoky bacon ranch dip had the edge for me, the crunchy coating light on its feet and the meat moist and tender. It's easy to get fried chicken wrong, but Nuno's offering gives east London institution Rita's a run for its money. Having worked up an appetite, starters pitted land against sea, my DIY steak tartare competing with my companion's tentacled tail of smoky grilled octopus. With a sunshine yellow yolk balancing on the meat medallion, around the side of my tartare lay an army of ingredients: shallots, radishes, gherkins, herbs and pine nuts, allowing me to pimp my patty. For a final flourish, I'm handed a tiny bottle of homemade hot sauce, which brings the ensemble to life with its sticky, smoky heat that smacks of the Deep South.
With the lauded beef short rib with hazelnut and bone marrow woefully absent from the menu on my visit, I opted instead for the chargrilled Ibérico pork with roasted garlic and collard greens, which turned out to be one of the most charming dishes I've eaten all year. Butter-soft, its salty pink flesh was cooked to perfection with a whisper of smoke offering an additional layer of complexity and the crunch of the greens all-important texture. And that's where Mendes' skill comes in. He always thinks of the bigger picture, and the full taste experience that must take texture into account. His dishes are like stories, where the beginning and end are as important as the meat in the middle. Accompanying the pristine pork, a side of arresting orange, Bourbon-laced sweet potato whipped to within an inch of its life was boozy and beautiful.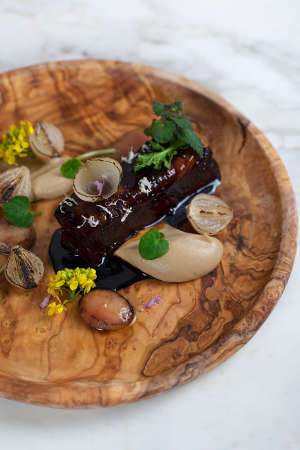 Wine comes courtesy of ebullient Frenchman Romain Audrerie, formerly of Sir Terence Conran's Lutyens on Fleet Street, who swirls around the room with magnificent swagger. Among his liquid delights that night were a lip-puckering, lime-laced Austrian Riesling and a dainty half bottle of Roagna Barbaresco Pajé 2005 that delighted with its delicate perfumed nose of crushed herbs and dried flowers, making it a perfect pairing for the pork. To match with my decadent poached pear and caramel ice cream dessert, Audrerie pushed the boat out with a glass of liquid gold in the form of Château Climens Sauternes 2006 that offered exotic notes of mandarin, marmalade, honey, quince and orange blossom.
With starters hovering around the £10 mark, mains coming in at £25 a pop and wine averaging £10 a glass, a night at the Firehouse doesn't come cheap, but you wouldn't expect it to. This is a special occasion venue worth dressing up for. It needs to be enjoyed to the hilt or not at all. While Mendes already seems preoccupied with the reopening of Viajante 2.0 in a secret east London location later this year, he should be proud of what he's achieved in record time at Chiltern Firehouse: creating a restaurant where style and substance elegantly collide, keeping both the foodies and the fashionistas happy.
Chiltern Firehouse, 1 Chiltern Street, London W1U 7PA. Tel: +44 (0)20 7073 7676. Website.