The rain hammers down in cruel sheets as I wander the cold, hard streets looking for the elusive dive bar. I'm using Googlemaps, but the technology seems to be playing wicked games. I have an unusual encounter with a bouncer, I innocently ask him if he knows the way to 'Death by Burrito', but he scowls and tells me to 'go f*ck myself' and turns back to his kebab. I suspect he thinks I'm tripping out. Around me people seem to be tripping out. Men wear what look to be their middle-aged mothers' trousers and sport improbable moustaches. There are tears in people eyes. These are angry, confused streets. I back away from the surly bouncer and continue following the smartphone.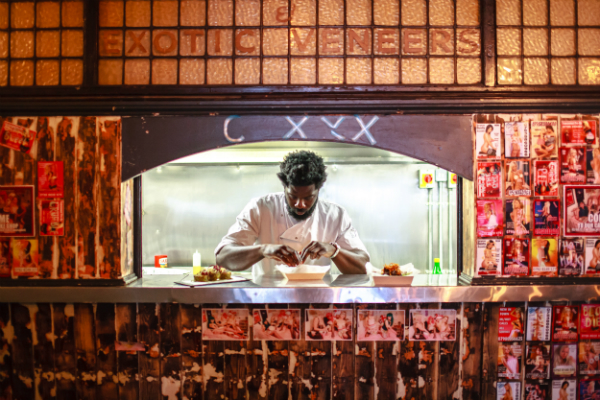 Eventually I come across the dive bar. Catch. It is dark inside, red lights frame the bar which is lined with rows and rows of tequila. A belligerent drunk stands at the bar shouting 'F*ck' to no one in particular. I fearfully make my way to the other side of the bar and tell one of the waiters I have a table booked for 8pm, I give them my name. He looks blankly into the middle distance. I point at the screen, specifically at my name. He looks at the general direction of the screen, but seems unable to focus on the particulars of what I am saying. I think he may be tripping out. Eventually I manage to communicate that I'm here for food. He nods and I think he says "cool".
The funny thing about 'Death by Burrito' @ Catch is that they're kind of going for all of the above. They want gritty, they love grimy. They want me to get lost and confused and abused. It's all part of the process…man. 'Death by Burrito' is brought to us by The Rebel Dining Society; an East London foodie collective who have taken over the kitchens at Catch to impressive affect. The restaurant/bar is thin and low lit, tables fill the back walls of the bar, people sit, huddled over eating from paper trays. Our table isn't ready, so we stand in the corner by the bar. I ask for a recommendation for a drink, I end up with a mixture of rye whiskey, sweet vermouth and Brooklyn beer, which is rough-edged, but surprisingly gluggable. We wait and wait and drink more, getting steadily drunk on this bizarre assembly.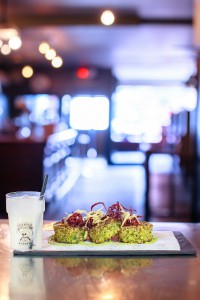 By the time we sit down at our table I realise I'm hungry as hell; booze-accentuated emptiness becomes very apparent. We survey the menu which is concise to the point of pastiche and seems to be printed on the back of a large beermat. We order just about everything available. And then we wait…and wait. More cocktails arrive – delicious, frozen, tequila-laced slush that leaves us fuzzy and a little lost. Finally the food arrives – plates and plates, mountains of Mexicana! We start with fish tacos, a delicate scallop ceviche and home-made nachos. The tacos are a highlight, perfectly cooked white fish in gossamer batter, wrapped in corn, with a piquant sauce. The main events are the 'Death by Burritos' and come with excellent fillings, fillings that make a mockery of the flaccid rubbish you get in most 'mexican wraps'. Slow-braised pork cheeks, duck breast and spiced, shredded beef all feature here. What ensues could only be described as an act of demolition. We set about the wraps, the tacos, the 'deconstructed guacamoles' and assorted tortillas, like recently-freed, hitherto-starved beasts. It's an enormous amount of food and for the first half of the meal I am quite certain we're never going to finish. Very quickly though, the tide turns and we're finishing up – lamenting the fact that we've rushed our food. We sit in some kind of a trance, wired on sugar, protein and chilli.
The bar is full now and music is blaring. The belligerent drunk has left the premises, but it seems ten junior drunks have grown in his place. People look lost and dangerous. These are very good burritos…but this is a night time place and these are night time people. We slide out of our seats and slip through the door and out into the cool, dark East London night…
DBB @ Catch, 22 Kingsland Road, E2 8DA www.deathbyburrito.com