Master Patissier, Eric Lanlard, otherwise known as 'Cake Boy' (the name of his South West London shop), has called the capital home since 1989, when working alongside Albert and Michel Roux who recruited him to become their head pastry chef at Le Gavroche. Leaving the restaurant in 1995 to begin his own business, Lanlard has since written 5 cookery books, starred in several television shows, including Channel 4's Baking Mad, all dedicated to the skill and technique of traditional French patisserie, and won the coveted Continental Patissier of the Year at the British Baking Awards, twice. Lanlard's latest venture is designing a series of themed afternoon teas for the luxury Jumeirah Carlton Tower Hotel in Knightsbridge for their Chinoiserie dining space.
Working with the Jumeirah pastry chefs, Lanlard has put his name to an exquisitely prepared selection of sandwiches, cakes and pastries that you can only typically find in Paris. Priced at £50 per person including a glass of Champagne, afternoon tea is the ultimate way to treat yourself or to celebrate a special occasion and Chinoiserie is a relaxing cocoon just a stone's throw from the designer boutiques of Sloane Street and Harvey Nichols. The staff are charmingly attentive and the arrival of the three-tiered cake stand certainly impresses, even if it does seem almost sacrilegious to obliterate the craftsmanship on display.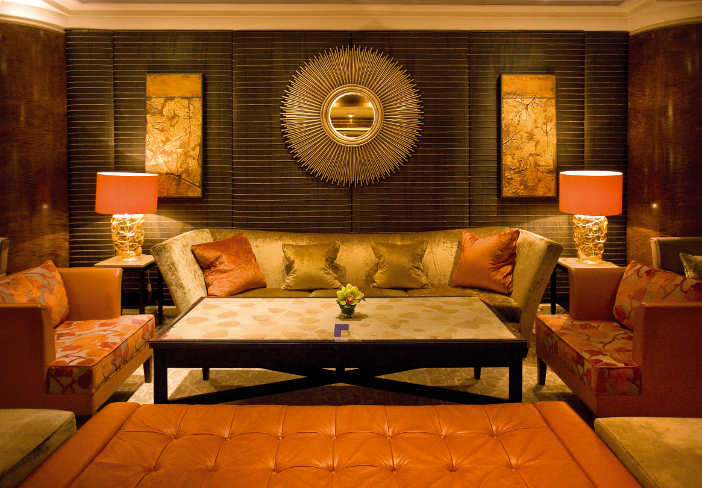 I sampled the horticultural-inspired 'Botanical Bites' tea which coincided with Chelsea Flower Show and commenced with generously proportioned sandwiches on exotic breads; duck egg mayonnaise on spinach bread, a punchy tomato bread filled with plum tomato, Laverstroke Park mozzarella and micro basil pesto, packed with Mediterranean flavours, and a beetroot bread roulade with smoked salmon and lemon and chive cream cheese, topped with caviar – each the perfect accompaniment to a chilled glass of Brut.
Despite his trade, Lanlard does not possess a sweet tooth and, perhaps thanks to his French heritage, prefers cheese. Fortunately, I am the opposite and couldn't wait to dive my teaspoon into the shot-pot of heady pistachio parfait concealing a textured hazelnut praline base or tackle the upside down balsamic and black pepper strawberry tart. It's skill like this that makes the dear old scone look rather humble. Not only is the precision of each item unsurpassed, the flavours are intoxicatingly bold and well-matched alongside the robust varieties of tea available.
The afternoon tea has just been updated for the summer season and, entitled 'A Consommer Sans Moderation' (translated as 'To Consume Without Moderation') recreates French classics like crepes, croissants and tartes, all with a modern twist. Savoury dishes include a crepe parmentier with smoked salmon and chive creme fraiche and a tomato tarte tatin with tapenade. Indulgently sweet dishes feature a deconstructed tarte au citron meringuee, tarte aux fraises Napoleon and a Mirliton de Rouen enrubanne. Quite frankly, whatever the theme, Eric Lanlard is the rock star of the afternoon tea.
Afternoon tea is served daily from 3pm – 6pm at Chinoiserie, Jumeirah Carlton Tower, London. For more information and to make a booking telephone 020 7858 7181 or visit the website.