The latest opening from the Hawksmoor geniuses has been billed as something of a break from their established formula of enormous, male-oriented steakhouses and cocktail bars. Early word has been of a quiet neighbourhood restaurant, a more modest and humble undertaking than the big, brash and bold places that have made the company's name. Well, up to a point, Lord Copper. Situated in Clerkenwell's food-focused St John Street – St John is a close neighbour – on the site of what used to be North Road, Foxlow is certainly smaller, with a menu that's about half the size of the Hawksmoor establishments, and also somewhat kinder on the wallet. But modest? Hardly. It's rather like when one of your favourite bands announces their intention of releasing a low-key acoustic album, rather than the epic behemoths that made their reputation, and then you happily realise that the first track still features a 40-piece orchestra.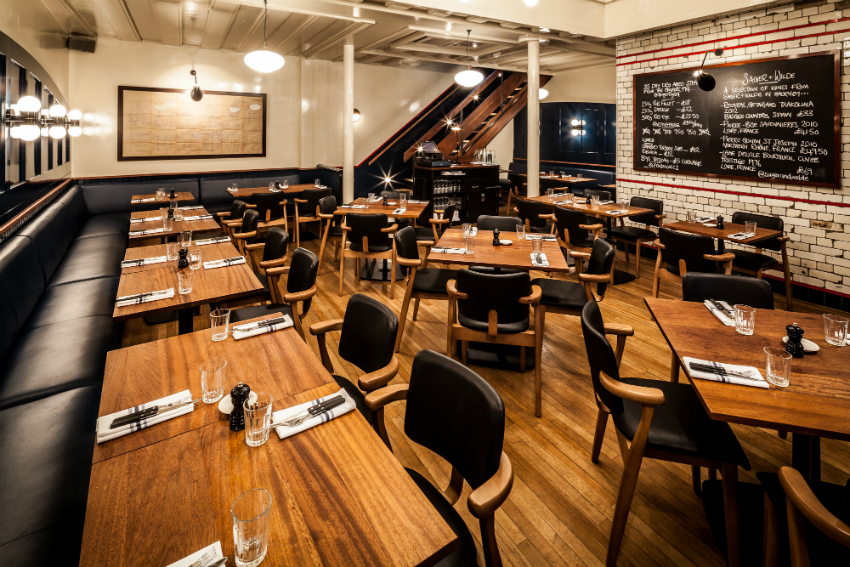 The setting is low-key, stylish and friendly. There's a bar that's clearly already attracting a good deal of attention from people who're happy to come by for one of the exquisite cocktails (I can recommend the St John's cocktail, a sparkling little concoction of gin, prune eau de vie, honey and lemon), or alternatively there are a couple of dozen tables scattered around the comfortable room. Apparently there's a total capacity of fifty, meaning that booking in for the prime slots in the evening is going to be tricky for a while yet. Have patience, and all good things will come to you.
And good things came in abundance when we sat down. The menu is obviously still nirvana for carnivores, but the addition of a salad bar shows that care and attention has been paid to the needs of those who prefer more delicate fare. As for myself, however, I remain an unrepentant meat aficionado, and there were several excellent things here that made me feel near giddy with rapture. A starter of Iberico pork ribs was cooked perfectly, the meat gently oozing from the bones, and the flavouring was light enough for it not to seem overwhelming. When it came to the main courses, while some tempting items lurked on the menu, it seemed rude not to go for the special of the bone-in steak. 'We've only got one left', sighed our solicitous waiter, 'and it's only 850g, which means that there's about 700g of meat on it. Will that be enough for the two of you to share?'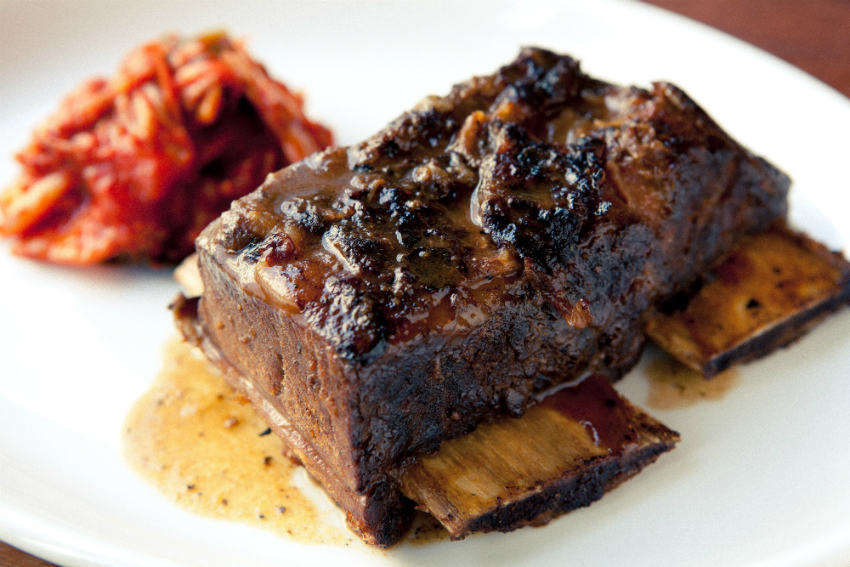 Heaven knows how hearty the appetites of some of the Clerkenwell locals are, but this proved more than adequate for my guest and I, and we were in seventh heaven at the beautifully cooked and delectable cow before us. We had a couple of sides – the skin-on fries with bacon salt were delicious, the sausage-stuffed onion remained more of a curio – and washed the whole thing down with an excellent bottle of Burgundy from the comprehensive and far from expensive wine list.
Eventually, our appetites sated by a banoffee split shared at the end, we emerged, replete, into the night. My friend leant towards me with the air of one who has learnt an agreeable secret and is anxious to share it with the world. 'That', he pronounced, 'was really bloody good.'
I couldn't agree more. And, if the rumours are correct and there are to be more Foxlows on more streets throughout the country, then we will all be the beneficiaries of this smart, sophisticated and fun place.
Foxlow, 69-73 St John Street, London EC1. Website.