I wasn't doing very much one day, as is my wont, when an email from one of the charming press officers of my acquaintance – let's call her S – thudded into my inbox with a shriek. It was brief and to the point. 'Would you like to head over to Shoreditch for lunch? Merchants Tavern? My treat.' Well, why the devil not, thought I, and dragged myself away from the leafy confines of south-west London into the altogether edgier climes of the East, where men wear Captain Haddock beards and women sing about feminist ideology in angry bands.
I'd heard excellent things about Merchants Tavern, a collaboration between Head Chef Neil Borthwick and Angela 'can do no wrong' Hartnett. (I bet she doesn't need to sing in an angry band.) So it was with a sigh of contentment that I arrived – slightly late, to be fashionable and fit in with my peers – greeted S in the continental style, and eased myself into one of the absurdly comfortable green leather banquettes, ready for a stimulating session of highbrow chat and some serious eating. The whole feel of the main dining room is that of somewhere that nothing bad could ever happen to you, and the happy smiles plastered on the faces of the staff seemed to suggest that they were delighted to be there. Which is always nice.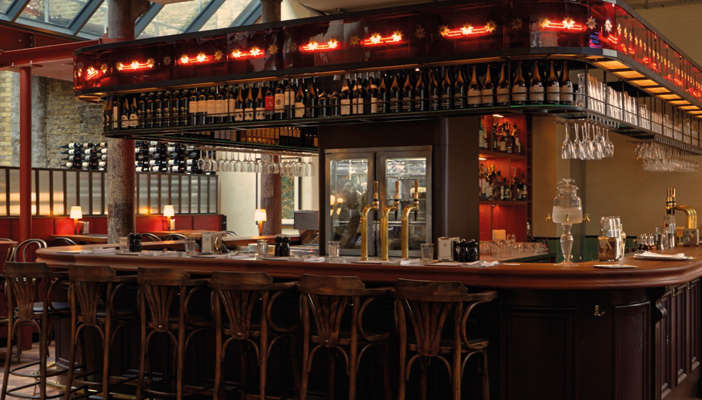 S made suggestions that we should order off the new set lunch menu, which – although undoubtedly good value at 2 courses for £18 and 3 for £22 – seemed something of a missed opportunity when the a la carte showed a seductive spot of thigh. There was a pork belly dish that looked about as nice as anything that I had ordered recently, and so I thought that I should indeed order it. It was, of course delicious, but, to my faint chagrin, it wasn't exactly an enormous portion, and needed a side of (delectable) pommes purée in order to make up a satisfactory dish. It wasn't the cheapest thing in the world at nearly £20 on its own, and one started to understand why the Shoreditch trendies were all so thin; they've all spent their trust funds in restaurants like this and hadn't even had much to eat as a consequence. I ordered a glass of wine; predictably, the standard house measure is 125ml. Clearly, the average person neither comes here to eat to excess, or drink too much; when the cheapest bottle of wine starts at £24, it's not surprising that few people here seemed to be imbibing heavily, or even very much at all. The sommelier looked idler than he would perhaps have liked.
I had three courses in total, of the sort of high-class European fare that Hartnett and Borthwick are both synonymous with. Chocolate was at one point involved, in the context of a rather fine dessert. Everything I ate, in fact, was excellent, but I still left feeling oddly unsated, as if perhaps I'd had a tasting menu that had forgotten a couple of courses. Merchants Tavern would like to be one of the city's top restaurants, and quality-wise, it isn't far off its ambitions. But, Neil and Angela, think about making the plates a bit bigger next time, why don't you?
Merchants Tavern, 36 Charlotte Road, London EC2A 3PG. Tel: 020 7060 5335. Website.