The charismatic city of Bath has long been embracing all things vintage, from boutiques like Scarlet Vintage and Vintage to Vogue to the bi-monthly Vintage & Antiques fair held at Green Park Station. So it was met with a great cheer when Bea's Vintage Tea Rooms opened, located just a stone's throw from the Royal Assembly (think Pride & Prejudice balls) and the Fashion Museum, the perfect place to explore changing styles and see the famous Dress of the Year collection.
With wartime idols like Vera Lynn sounding from the wireless, a mix-and-match collection of chintzy vintage china and a décor wonderfully reminiscent of visiting grandma, Bea's is a welcome haven offering a revitalising brew in between sightseeing and shopping. "We celebrate our 2nd birthday in May this year," Bea told me. What inspired her to open a tea room harking back to a bygone era? "I have always been drawn to the style of the 1940s and early 1950s. I started collecting back in the '70s and many of the bits in the tea rooms are from my home."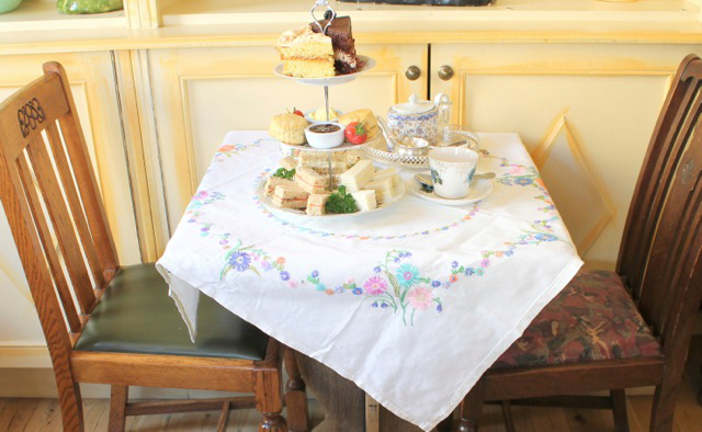 Offering an extensive all-day menu with traditional breakfast dishes such as West Country porridge and boiled eggs and soldiers, to comforting lunch dishes including bubble & squeak, the real highlight has to be the three-tiered Afternoon Tea stand featuring a selection of finger sandwiches, buttermilk scones, clotted cream & jam and two generous slices of cake, a ration conscious £29.95 for two. I defy anyone to pop in and resist the chilled glass cabinet filled with tempting old-fashioned cakes – from coffee and walnut to lemon drizzle – I didn't! Seated at a beautifully laid table by the window overlooking the stunning Georgian flag-stoned side-street, we were promptly served with a pot of Earl Grey by a waitress wearing a floral print headscarf and suitably red lipstick – if this was my idea of heaven then she was my angel.
The arrival of the cake stand had us ooo-ing and ahh-ing and it was almost difficult to see my chap over the impressive Victoria sponge & divinely rich-looking chocolate cake placed between us. The sandwiches; cucumber, egg & cress, and smoked salmon, were on the fluffiest bread imaginable and were obviously freshly prepared. But the cakes have to be some of the best I've ever tasted and the scones, featuring buttermilk from Bea's local farm, made me want the recipe which she has apparently been working on for years, "I love good home cooked food and many items on the menu are either my mum's or my grandmother's. We are gaining quite a reputation for our Afternoon Teas because of their simplicity and freshness. I absolutely love it when people come to Bea's and enjoy the whole experience. It makes all the hard work worthwhile!"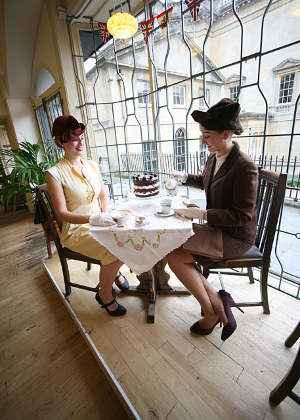 The charming service certainly accounts for the authentic '40s 'keep the home fires burning' spirit, but what makes visitors return is the fact that Bea's isn't simply a novelty aimed at tourists; the food is hand crafted and delicious, using fantastic ingredients. There is even a party room available for special celebrations, with the option to book vintage hair and make-up tutorials. The success of the business is the result of excellent word-of-mouth and local patronage, and it's not surprising that this gem has also caught the attention of the national press, keen to report on an idyllic corner of the South West celebrating the nostalgia of the 1940s & 50s. Even on a rainy afternoon, it's impossible to leave Bea's without a smile on your face and the promise to return in order to sample a different cake!
Bea's Vintage Tea Rooms, 6-8 Saville Row, Bath, BA1 2QP. For more information & menu visit the website.