Despite only being just a few hundred yards from Brighton beach, The Gingerman has a distinctly neighbourhood feel, with diners comprising mainly of locals and only a select number of in-the-know tourists. If you're in town and in search of a relaxed dining experience with an interesting menu boasting punchy flavours and combinations only a confident chef would dream of, then this is the restaurant for you.
Established in 1998 by Ben and Pamela McKellar, the husband and wife proprietor owners went on to open another three catchily named gastropubs in Brighton and Hove; The Ginger Pig, The Ginger Dog and The Ginger Fox. The flagship restaurant was also relocated to the basement dining room of Drakes boutique hotel in 2004, where it went on to became the highest ranking restaurant in Brighton by the Good Food Guide. However, in 2008 the McKellars decided to sell the restaurant back to Drakes in order to focus on their other establishments, with their Head Chef Andy McKenzie remaining behind at The Restaurant at Drakes – now the highest scoring Brighton restaurant in the Good Food Guide.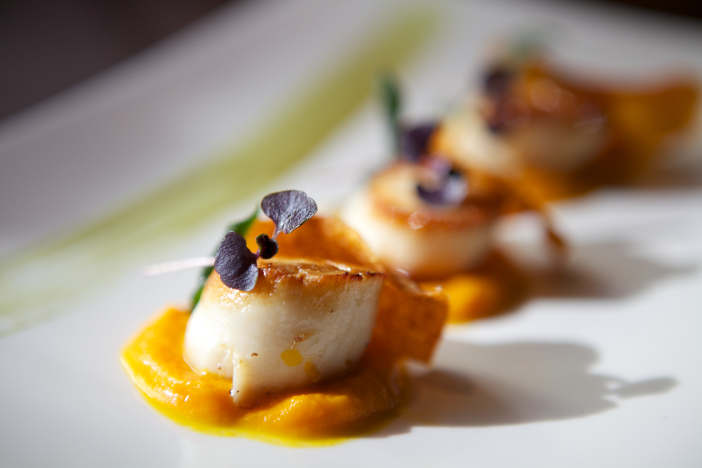 How times change, but The Gingerman doesn't need to look over its shoulder, especially since returning to the original premises on Norfolk Square – an unassuming building that is now an intimate venue for honest and sophisticated fare. Running four restaurants in the space of a few miles doesn't allow for bad word-of-mouth and therefore life must be more exhausting than this seemingly chilled-out dining space with its bright and breezy front of house team would suggest. Chef McKellar still finds time to write his own blog, a good way of interacting with loyal diners and sharing recipes and it's a wonder he hasn't popped up on TV yet. Brighton born and bred, McKellar did culinary 'time' in France (as every good chef should) upon leaving catering college, and found himself working for the former John Burton Race establishment in Berkshire, L'Ortolan, on his return.
Mckellar's philosophy is simple; to create uncomplicated yet flavoursome dishes using the finest ingredients, and the modern European menu of The Gingerman reads enticingly from a starter of tandoori quail with burnt aubergine, peanut pakora and yoghurt & passion fruit to a main of tender beef fillet, beef tongue, macaroni, cheddar, spring onion & mustard. From the tasty bacon croquette amuse bouche to the final mouthful of beef before putting your knife and fork together, replete, you will find each element perfectly cooked and flavours you would probably never have had the nerve to put together yourself. An impressively tall soufflé (banana in this case) is always a good way to end a fine meal, but if you can't make up your mind opt for an assiette for two. At a very reasonable £37 for three courses, plus an excellent set lunch menu and well chosen wine list, The Gingerman is now at the top of my list of Brighton eateries.
For an after dinner drink with a difference we discovered Bohemia in Brighton's Lanes, a grand café by day and sultry lounge bar by night, located in a three-storey townhouse filled with quirky artworks. Mixologists are on hand to create memorable summer cocktails, to be enjoyed at leisure on the discreet Verve Cliquot roof terrace or Lanes terrace. I opted for the refreshing Brighton Spritz featuring the classic Aperol and Prosecco mix and cleverly introducing grapefruit juice and Solerno blood orange liqueur, made exclusively on the Italian island of Sicily. My guest was equally taken with hers; a muddle of gin, mint and lemon called Elderside – thirst-quenching stuff. With liqueur bottles on shelves suspended above the bar from wires that gently sway, you could be forgiven for thinking you'd drunk too much.
For more information, menus or reservations for The Gingerman visit the website.