For over half a century, Valentino has created some of the world's most elegant and classic gowns for some of the world's most iconic women and Hollywood A-listers. From Audrey Hepburn, Elizabeth Taylor, Grace Kelly, 60s supermodel Veruschka and Sophia Loren, to Gywneth Paltrow, Anne Hathaway and Daphne Guinness – Valentino is undoubtedly one of fashion's greatest haute couturiers.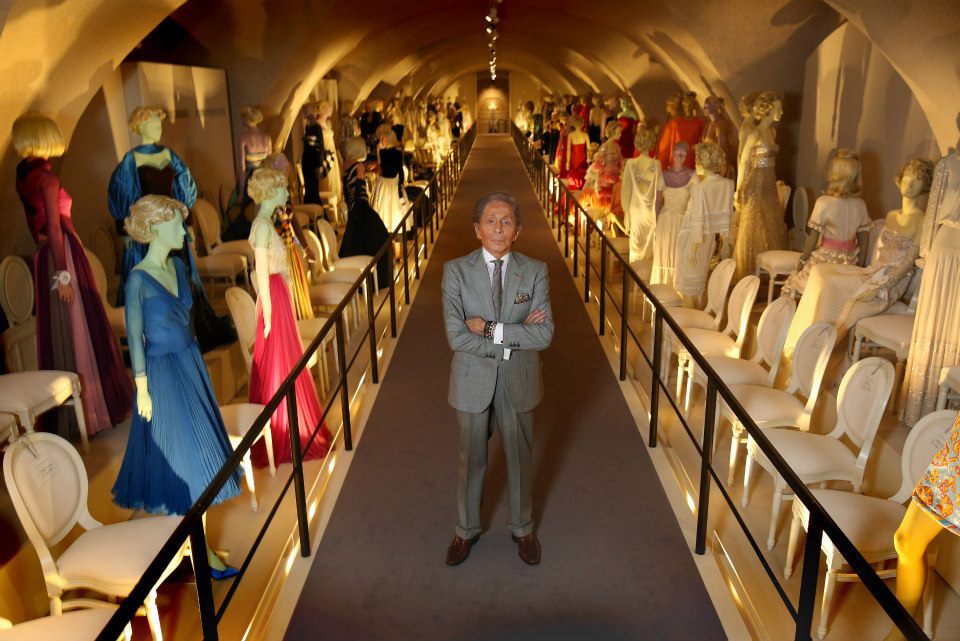 Now, in a new static exhibition entitled Valentino: Master Of Couture, which has just opened at London's Somerset House, his work is celebrated in an intimate showcase of his 50-year archive with 130 handcrafted pieces on display. Co-curated by design duo Patrick Kinmonth and Antonio Monfreda – long time Valentino collaborators – the exhibition invites visitors to see some of his most iconic designs up close, while also appreciating the hours required to create such intricate hand-embroidered and sewn dresses, gowns, trouser suits and capes. The eclectic mix of pieces also affords a unique opportunity to see the couture designs commissioned by private clients which have only even been seen inside the Valentino atelier.
As you enter the exhibition space your eyes are immediately drawn to a photo-real projection of a pink rose blooming on to a giant five-metre three-dimensional white rose – the fashion icon's enduring insignia. The wow factor continues as you are led upstairs to a stunning array of garments on display, all visually presented in the style of a couture catwalk show (which is probably the closest most of us will ever get to seeing an actual Valentino presentation).
As you walk through a tunnel, mannequins stand and sit on either side of rows of seating, each styled in an outfit which takes you from one Valentino era to the next. Each of the mannequins also wears a numbered circle on their wrist which corresponds to text about the piece and the year it was produced in an accompanying exhibition programme.
From Jackie O's wedding dress (from the 1968 White Collection), and the pearl-encrusted wedding dress worn by Princess Marie-Chantal of Greece in 1995 (which took 16 people sewing solidly for six weeks to tessellate the lace together) – to Julia Roberts 2001 Oscars gown and Jennifer Aniston's red rose dress for the Along Came Polly film premiere in 2004, the exhibition is a captivating journey through the beauty, opulence and most recognisable couture craftmanship of Valentino Garavani.
The exhibition also includes original couture show invites, photos from the designer's private archive in Wideville, France and sketches by Valentino himself, as well as fashion films showing the couture techniques used to create his garments. The showstopper in the exhibition though (in my opinion), is the Pink Organza Cape with pagine technique detailing from AW 2007/8, which was just breathtaking to see – complete with two video screens underneath showing how it was delicately and painstakingly assembled.
Once you've visited Valentino's world, you can then visit his shop, as visitors are led into an array of limited-edition animal print totes, embellished sunglasses from his eyewear collection, his perfume 'Valentina' and a book of the exhibition, "Valentino: Master of Couture, A Private View" (published by Rizzoli) – all available to purchase for your very own slice of La Dolce Vita. The shop also includes display images of iconic Valentino fashion campaigns lensed by photographers including the late Guy Bourdin.
'Valentino: Master of Couture' is open now at Embankment Galleries, Somerset House and runs through until March 2013. For more information, head to somersethouse.org.uk.