Where other than Cliveden does the great Nancy Astor greet you in the hallway? The extremely lifelike portrait by John Singer Sargent still dazzles with the delicacy of her complexion, and the glossy dark hair piled upon her head is reminiscent of the alluring Gibson Girl. Sargent was commissioned to paint Nancy's portrait a few years after her marriage to Waldorf Astor, the son of American tycoon William Waldorf Astor, and it was displayed at the Royal Academy before being returned to its current home beside Cliveden's sixteenth century fireplace. It just wouldn't look right anywhere else.
Sargent's portrait captures Nancy, aged 30, at the height of her beauty, the ultimate hostess with the mostess, and despite being famous for saying, "I married beneath me, all women do," there is no doubt that she led a charmed life. The young Astors were gifted Cliveden in Berkshire as a wedding present by William Astor, who became a recluse on his wife's death and decided to move to Hever Castle. The couple quickly established it as one of the great society venues of the early 20th century, with regular weekend visitors including Charlie Chaplin, George Bernard Shaw and Nancy's favourite sparring partner, Winston Churchill. It's easy, whilst exploring the opulent rooms as a hotel guest, to re-imagine the political movers and shakers of the day in deep (and often witty) debate whilst enjoying sublime food and wine in the decadent years before WWI.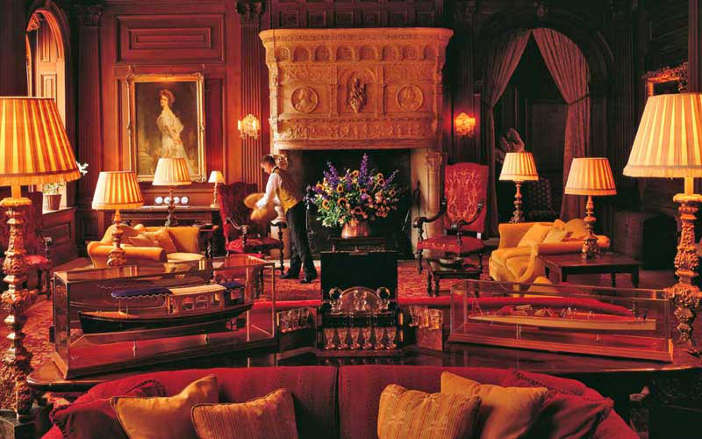 Rebuilt several times in its history, the present Cliveden, meaning 'valley among the cliffs', was designed by Charles Barry in 1851; a three-story Victorian mansion inspired by English Palladian and Roman styles. The interiors and grounds underwent extensive changes by William Waldorf Astor on purchasing it in 1893 for $1.2 million, and it's this overall look and feel that you will find today. A hotel since 1984, we were lucky enough to stay in one of the four poster suites belonging to the East Wing which have recently undergone a multi-million pound renovation. Formerly the Astors' private apartments, each of the East Wing's nine bedrooms and suites, with spectacular views over the estate, have been re-designed by Mario Nicolaou and adorned with art, antiques, and sumptuous silk furnishings. From glorious wood- panelling to bathrooms lined with the finest Italian marble, it's wonderful to see Cliveden given the attention she deserves.
The management, who also run Chewton Glen, lease the property from the National Trust, but there is a fine balancing act in ensuring guests, paying a considerable price for sheer luxury, continue to see the property as an exclusive and thoroughly relaxing experience. No easy feat when the 376 acres of grounds are shared with National Trust visitors and several of the main rooms are open to house tours 2 days a week during the summer season – offering members of the public a fascinating glimpse into Nancy Astor's former domain and where the greatest political scandal of the 1960s, The Profumo Affair, began.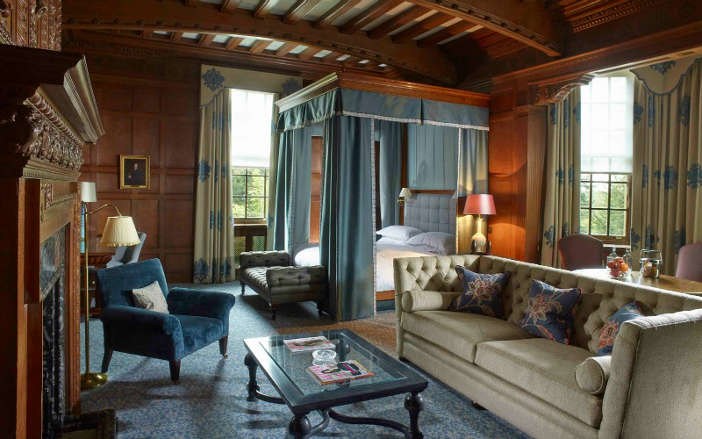 Having a dip in the swimming pool made infamous by Christine Keeler is a must; belonging to the Pavillion Spa and, still out-of-bounds to the general public, it's intended to become the focal point of a state-of-the-art spa redevelopment – modernisation that will allow Cliveden to hold its title as the ultimate weekend getaway for the discerning traveller – albeit one (as in our case) only willing to drive 45 minutes from central London. A sumptuous new dining room, overlooking the striking landscaped gardens, Parterre and Thames, is also a fantastic improvement; the domain of recently appointed Head Chef Andre Garret (formerly Galvin at Windows) who is determined to give Berkshire another iconic dining destination aside from The Fat Duck, The Waterside Inn and Tom Kerridge's Hand and Flowers. Berkshire is spoiled for choice.
Restaurant Andre Garrett offers three menus; a great value three course set lunch, a la carte and an eight course tasting menu, each offering mouth-watering dishes inspired by culinary classics that wouldn't have been out of place at one of the Astor's legendary dinner parties. I opted for a la carte and the starter of raviolo of native lobster, basil infused bisque, coppa and melon, followed by fillet of Lake District Longhorn beef, slow-roasted Roscoff onion, snail persillade and Lincolnshire Poacher mash. For dessert caramelised banana souffle with peanut butter ice cream just about sent me into seventh heaven and is a good example of Garrett's accessible approach to fine dining, perfectly in keeping with Cliveden's majestic beauty.
After a leisurely Sunday breakfast we rambled around the impressive grounds which feature a magnificent collection of sculpture, perfectly clipped topiary, a maze and the famous Japanese-inspired water garden. In the warmer months, guests can even charter the hotel's antique flotilla, the 1911 'Suzy Ann' or 1930s 'Belmont', the perfect way to enjoy a romantic breakfast, afternoon tea, or champagne picnic on the river. Few country house hotels boast the history and grandeur of Cliveden and there has never been a better time to spend a weekend here.