The Queensberry in Bath is enshrined in a set of four beautiful terraced houses originally built in 1771 by the 8th Marquess of Queensberry, father to the better known John Sholto Douglas, the 9th Marquess, who lent his name to the famous boxing rules and who was rather infamously instrumental in the downfall of a certain Oscar Wilde.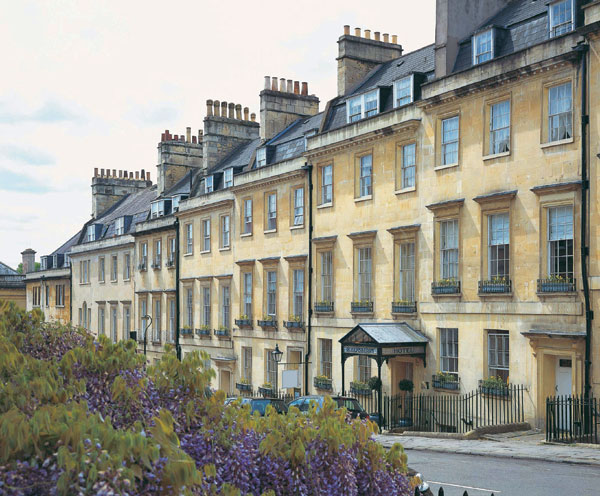 All 29 rooms are individually furnished and spread throughout the adjoining townhouses in a delightful warren of corridors and staircases; our room on the second floor was spacious and tastefully decorated in muted tones, sporting a large marble-clad bathroom, a walk-in wardrobe and many original architectural features in addition to the mandatory modern additions of a flat screen TV and iPod dock.
Perfectly located on a steep Russell Street, a stone's throw from the beautiful Circus and The Royal Crescent, the hotel is a mere five minute stroll from the popular shopping strip of Milsom Street and the Roman heart of the city. The hotel offers free parking permits for all guests, which is handy if one is planning to explore the surrounding countryside during one's stay, though a car within Bath itself is unnecessary as the city is best explored on foot.
While restaurants in Bath are plentiful, guests at The Queensberry should be very happy with the hotel's own eatery, The Olive Tree, which is undoubtedly one of the best refined dining experiences in the city. Head Chef Nick Brodie's menu is tantalising to read and even more pleasing to taste, each dish heavy on flavour, delicately presented and demonstrating a superb understanding of modern British cuisine and local ingredient sourcing from the rich wealth of produce in the South West region.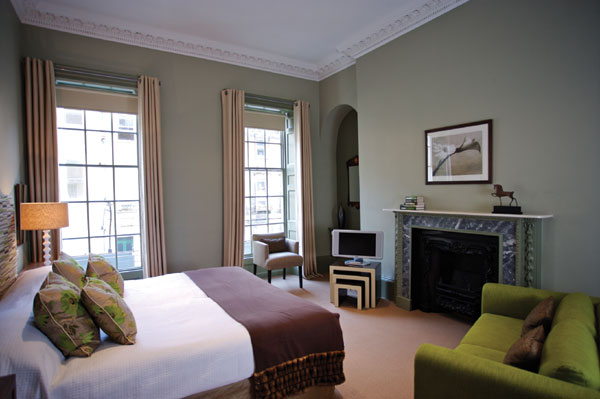 From a starter of wild game 'mosaic' of pheasant, venison and duck foie gras, to a main of duck breast, confit spring roll, duck liver, sprouts, fondant potato and an unctuous jus, to the perfect chocolate fondant which took ten minutes to prepare but which the maitre d' described as "worth every minute you wait" (he was right), this restaurant certainly punches well above its weight. They're not shy with portion sizes either. My only gripe is their odd choice of background music (Travis); the subtle lighting and sophisticated décor would better suit a soothing jazz soundtrack.
The bar was very quiet on the Sunday night we visited, so we popped around the corner for a glass of wine at Hall & Wodehouse instead on nearby Old King Street, one of the few venues in the area to have any signs of life at 10pm on a rainy Sunday evening.
Back in our comfortable and spacious room overlooking the street, we listened to some restful tunes on the iPod dock before drifting off to a deep slumber in the giant bed. A stack of interesting coffee table books and magazines are on hand in case you forget to bring some bedtime reading.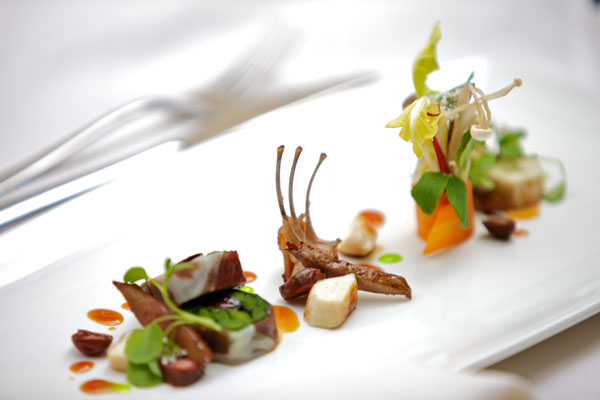 Breakfast is served in the lower ground-floor dining room of the Olive Tree restaurant, or one can opt for a continental nibble in the room. My gruyere cheese omelette was plump and oozing with the good stuff, the perfect way to start a busy day of shopping at the world renowned Bath Christmas markets – a detour to the German hotdog stand is a must.
The Queensberry is the creation of Laurence and Helen Beere, combining a long history of high-end hotel experience from Claridges to The Savoy. Attention to detail and friendly, helpful staff are big selling points at this hotel, and one feels looked after at every point of the stay. With some rooms priced from just £95 per night, this is one of those rare hotels that is friendly on the wallet without lacking any of the refinement, service or quality of a hotel three times the price.
Her Ladyship and I checked out at midday and were allowed to leave our car and bags with them until later in the afternoon, meaning the transfer to our next location was effortless and hassle free. I'm sure the 8th Marquess would have been proud to have his namesake adorning such a marvellous hotel. I dare say that Mr Wilde would've been rather happy there too.
View Hotel Info, Rates & Availability
Other places of interest in Bath:
For Carnivores: The best steaks in the city can be found at Hudson Steakhouse on London Street. Request a table in the first floor dining room which is cosy and buzzing with the vibe of happy eaters and the action from the open kitchen. For more information, visit the website.
For Smokers: The best place to acquire a cigar or some pipe tobacco in Bath is at Frederick Tranter on Church Street, a tiny tobacconist a stone's throw from Bath Abbey. Not really big enough to swing a kitten in, they nonetheless have a decent range of Havanas, from Cohibas to Montecristos. They also sell a nice range of men's grooming products from Taylor's of Old Bond Street, and a pleasing selection of pipes. For more information visit the website.
For Spice Lovers: Bath boasts a few award-winning Indian restaurants, but our favourite is the Eastern Eye on Quiet Street, just off Milsom Street. A grand first floor dining room boasts three domes and colourfully painted murals on the walls. An excellent range of interesting dishes are on offer in addition to the mandatory high-street favourites, and exhibit a delicate approach to spicing. They also provide a takeaway service if you happen to be staying in one of the many holiday apartments in the city. For more information, visit the website.