There are times in life when one finds oneself in the oddest of situations, unable to entirely process the experience and not knowing if it is a good thing or not. This was how my mind whirled as I lay on a massage table inside the Ayurveda centre at Kumarakom Lake Resort, an award-winning luxury hotel located on Vembanad lake on the backwaters of Kerala. There I was, covered in oil, while two petite, shy women vigorously massaged me at the same time. Like synchronised swimmers, they acted in tandem, slipping and sliding their hands up my arms, down my legs, across my belly – it's the stuff FHM dreams of. But the experience was – while slightly odd, especially when I was later covered head to toe in a dark, sticky mud – also deliciously relaxing, much like the rest of the experience at Kumarakom.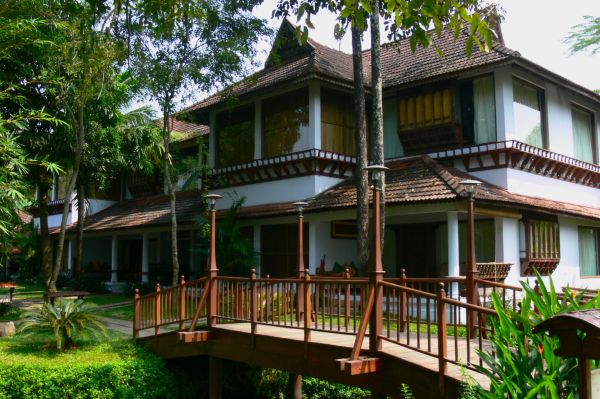 The resort stretches across a wide expanse along the lake, and features individual villas sprinkled over grounds featuring delightfully romantic bridges, tea-light lit cobbled walkways, dozens of swaying palms and a long, languid waterway that flows amongst some cottages, creating a poolside effect outside the doorways. Everything about it is luxurious, from the dark wood pillared and marble entryway, to the friendly, efficient staff and the shared long infinity pool stretching along the lakeside.
Our stay at Kumarakom was a highlight of a trip through Kerala. We had been booked into a Heritage Lake View villa with a private pool. The villa had been reconstructed from a former Keralan house, a fact which means each guest house at Kumarakom is unique. Ours featured a heavy, dark wood roof with delicate carvings, cool marble floors, an intricate bright orange, red and green mural behind the bed and a huge outdoor bathroom that led to our triangular private pool with Jacuzzi jets. Rose petals and flowers were dotted around for our arrival – it was all terribly romantic. From our deck, we could watch the sun set over the lake with a drink, or opt to walk behind our villa to the pathway leading to the nearby infinity pool and lounge chairs.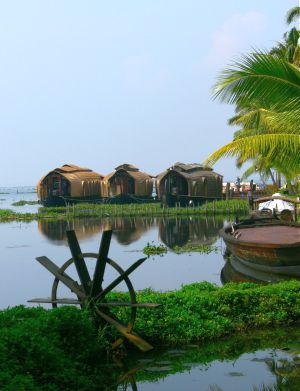 After spending an afternoon by the pool, we headed out around the lake on a large motorboat with many other guests to watch the sun sink over the horizon. A traditional band entertained when we weren't immersed in the perfect views. That night, we dined at the Vembanad seafood bar and restaurant, one of two on offer for guests. The other – Ettukettu – provides a buffet style or a la carte option, and local dance and music for diners.
The Vembanad, meanwhile, is built facing the lake and specialises in freshly caught seafood; many of which were swimming in an expansive tank at the entrance. I opted for a strong cocktail to get started and the crab for dinner, while my other half chose king prawns. The crab was tasty – although, I remembered soon after it arrived why I never order crab in a restaurant, given how difficult it is to extract the meat in a polite or easy fashion. The king prawns were tender and perfectly seasoned. While the service was slightly slow, we enjoyed our meal and it was obvious everything was cooked to order.
The next morning – with slightly sore heads from too many cocktails – we emerged from our villa just in time for our early morning massages. My partner and I had both decided to partake in that aforementioned spot of ayurvedic treatment (a style of natural medicine practised throughout Kerala) to further our feelings of being blissed out, and during my slippery session I could only imagine what his reaction at being similarly massaged by two men would be. As I exited the quiet chamber, I found him looking dazed, sipping on medicinal water – a type of drink made from boiling special herbs that are meant to help detox you. Surprisingly, he seemed fully at one with the experience and we both headed out into the bright sunshine on lighter feet.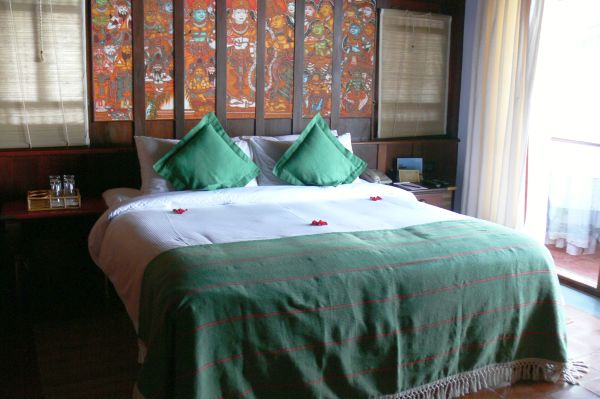 In the heat of the sticky morning, we made our way to Ettukettu restaurant and took in the breakfast buffet – a surprisingly good one, with a huge range of both Indian and Western options, and with many of the dishes being cooked at stations, fresh to order. Afterwards, we stole away to our villa for a final hour of paddling around our private pool.
Kumarakom is a gem of a hotel, and I wasn't surprised to learn it was awarded the honour of India's Leading Resort in 2012's World Travel Awards. And while being rubbed down by two ladies (or men) may not be your thing, there is no doubt you will find yourself departing from the resort thoroughly relaxed and very glad to have put the time in to visit its sublime setting.