Joe and I stumble off the Eurostar into a dazzling spring morning. We each hurriedly don a pair of Ray-Bans and wander into this perfect Paris day. The time is around 10.30am, but rather than coffee, I brought a bottle of champagne: Möet – Vintage 1966 – which we've dispatched, so we're in rather high spirits. Gare du Nord never looked more French and exciting. As I said, the day is bright and clear; the light cascades through the glass roof, providing this morning with the most palpable sense of possibility – perhaps it's the light, perhaps the champagne, but we head out blithely into the throng. All around is activity, Paris is up and about. There are hordes of people milling around on Rue du Dunkirk; I notice couples outside Brasserie Nord already tucking into fruits de mer and glasses of bubbles – we are not alone in our mid-morning quaffing!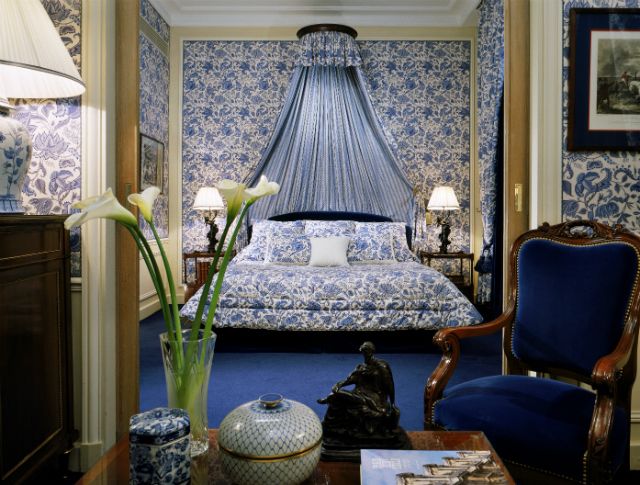 The taxi arrives at the San Régis in good time and we clamber out to survey our dwellings. Situated on the elegant Rue Jean Goujon, in the 8th, in the shadow of the Grand Palais, the San Régis is one of Paris' most extraordinary small hotels. You'd have to know where to look; this is not one of Paris' ostentatious palace hotels, but rather a discreet choice for the discerning international traveller with superlative tastes and a desire to go quietly about his or her business.
The building was constructed in the mid-19th century as a private residence, but it was in 1923 when the hotel's history came to life at the hands of André Terrail, then owner of perhaps Paris' most famous restaurant, La Tour d'Argent. Mr. Terrail's vision was to handcraft an intimate hotel that would cater for the beau monde of fashion, culture and business. The hotel flourished in the first half of the 20th century, managing to gain an unmatched reputation for discretion, and became a firm favourite of iconic figures such as Gene Kelly and Lauren Bacall. The fashion crowd, camped up the road on and around Avenue Montaigne, have always been keen too – Richard Avendon produced some particularly fine photos of the hotel for Harper's Bazaar in the 1950s.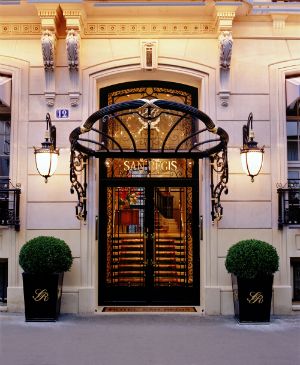 It could be said that the hotel's renaissance came in the 80s when it was bought by hotelier Elie Georges, a perfectionist who wanted to re-create the glamour of the early part of the 20th century. Georges kept all of the beautiful original furniture and period detail, but enlisted the help of interior designer Pierre Yves Rochon to develop the hotel's natural charm.
To arrive at The San Régis, sun-dazed and fortified by vintage champagne, is a joy in itself, but to then stroll the hotel's corridors and peer into a few of its (uninhabited) rooms is a fascinating endeavour. Mr. Georges' vision was to restore the hotel keeping in mind the idea of it as a grand private residence, so rather than creating forty-odd identikit rooms, he instructed Rochon to make each room unique. Our room, a Deluxe twin, is capacious and comfortable, with high ceilings and a tangible sense of grandeur. The walls in every room are adorned with silk panelling and ours bears attractive blue and gold livery. As we navigate the halls we are amazed by the range of interiors on offer in the rooms: there are deep reds that draw you in, high-toned blues and vibrant yellows. My favourite is the Burgundy-coloured suite with views out toward the Eiffel Tower.
The restaurant at the San Régis is small and discreet; it feels like something of the insider's choice. Chef Christophe Lericolais has recently reworked the menu, which offers travellers superb quality of ingredients and a welcome lightness of touch. The cuisine is French in tone, but clearly displays some Asian influence. We sit down in the sun-filled winter garden and enjoy huge sautéed prawns, seared tuna and a fricassee of chicken oysters, all washed down with deliciously grassy Sancerre.
After a short meeting with Sabrina Blanc Miele, the hotel's engaging Marketing and PR Manager, I find out that the average stay at Hotel San Régis is four nights. This comes as no great surprise to me, as this is one of the most comfortable and calm hotels I have ever visited. Guests almost always return, and generally request 'their' room when they do. It is a place that is recommended by word of mouth and which very quickly becomes a luxuriant second home.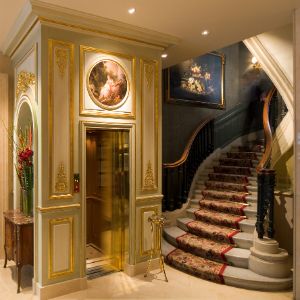 From Hotel San Régis it is a mere stroll to the Eiffel Tower, that most extraordinary of monuments; a place where man's will and forthright industry is to be viewed at its most arresting. If you've never been to the Eiffel Tower, and plan to, I would suggest doing what we did and booking a table at Le Jules Verne… you'll never regret your decision. For a start, it is the only way to ascend the tower without an extremely long wait. The queues up the tower for visitors are unimaginably long and snake around and around its great structure. If you book at Alain Ducasse's restaurant which sits 125 metres above the cityscape, just above the first viewing station, you have access to your own private lift. You'll sidestep the queues and enjoy a lunch which you'll remember for the rest of your days. The lift climbs up the side of the tower at speed and deposits you at the entrance to the restaurant before you've had any time to take in the view. This is acceptable though, for the next three hours, you'll have a view without parallel.
Ducasse is perhaps France's most successful culinary master, a chef who has managed to achieve the highest accolade of three Michelin stars and then take his brand global with major restaurants littered across three continents. Le Jules Verne currently holds one Michelin star, and whilst not the most gastronomically exacting of all Ducasse's restaurants, as a package this must be one of the most beguiling. We're lucky – the Sunday we've decided to make our visit marks the warmest, clearest day of the year in Paris, so from our window seat we can view the city in a way that defies description. Paris can be seen from here in all its truly inimitable splendour. The Hausmann-designed buildings line seemingly endless boulevards and Sacre Coeur shines brilliantly in the distance. We're right in the corner of the restaurant and one of the tower's huge rusting, iron girders snakes its way up and past us. There is something rather humbling about sitting here, the tower feels historic and truly monumental as it encases us; there's a palpable sense of its history and of the millions who have stared up in wonder at its majesty.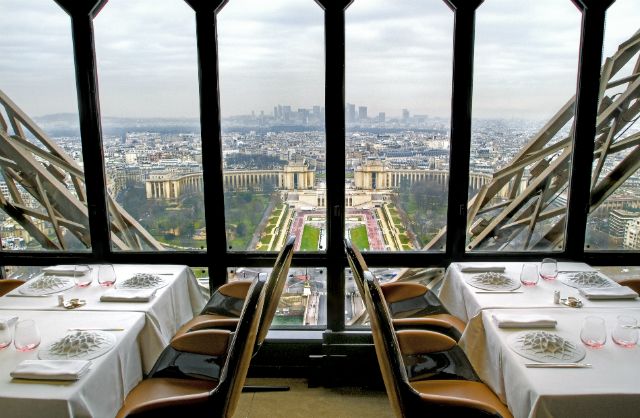 The menu is presented clearly on clean white card. There is a three course à la carte offering, or a six or nine course tasting menu. We're still reeling from an excellent feast at Le Bistro Paul Bert the night before, so opt for the à la carte. The tone of cuisine is traditional, but tradition that shows sensitivity to the new waves that are rippling through French gastronomy. With an unctuous, powerful Condrieu keeping us something like refreshed, we try to focus our attentions away from the extraordinary view and toward the menu. There are, as you might expect from a flagship Ducasse restaurant, excellent breads and superb butter to get us started. I choose roasted langoustines with crunchy raw vegetables and vinaigrette. The langoustine is of magnificent quality and cooked with utmost care, it almost melts, slowly on the tongue, so tender and delicate is its essence. My guest tucks into a Ducasse-branded 'cookpot', a clever piece of marketing if ever there was. The pot is a mid-sized cocotte filled with spring vegetables and musky, wild morels. This a grand departure from my precise, technique-led dish. The flavours are big, rugged and perhaps a little clumsy, with the flavour of the mushrooms being a little dominant.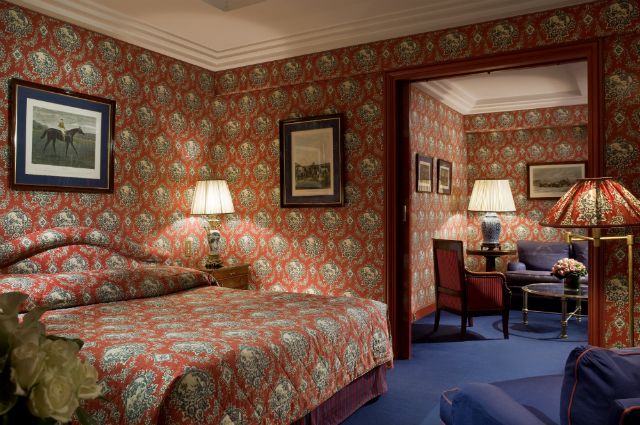 I choose the ris de veau, that most luxuriant of offaly pleasures. It's a simple preparation: the sweetbreads have been poached, rolled lightly in flour and sautéed. They're served with asparagus and a piquant sauce. It's an almost perfect dish, the balance between creamy, ethereal sweetbread and verdant crunchy of new season asparagus is compelling – particularly when coupled with the aforementioned Viognier.
To finish there is only one way to go, I feel. Rum Baba with armagnac and chantilly cream. The armagnac comes to the table and is poured generously over the light, golden sponge – a Ducasse classic! The sun is no longer so high in the sky, it is beginning to drop behind the Hausmann buildings and cast long shadows across the city. We sit there calmly watching it fall. We sit there until we're the last table left.
Hotel San Regis, 12 Rue Jean Goujon 75008 Paris, France. Tel: +33 (0)1 44 95 16 16.
Le Jules Verne, Eiffel Tower, 2nd floor, Avenue Gustave Eiffel, 75007 Paris, France. Tel: +33 (0)1 45 55 61 44. Website.
Getting there: Noah travelled from London St Pancras to Paris Gare du Nord by Eurostar. For more information and booking, visit the website.