Our plane glides through heavy snow, drawing slowly closer to Luleå, Sweden's second northern-most city. Luleå is a sprawling archipelago of islands that reach out into the freezing waters of the Baltic like wizened, arthritic fingers. December is bitter round these parts; the plane is buffeted by wind and ice, and down below there is nothing but snow and trees, expanses of white and black that spread out as far as we can see. There is no obvious way of ascertaining that which is land and that which is frozen water – these two fundamentally different masses are rendered identical by nature's cold hand. It's immediately clear that magic surrounds a place of such extreme weather conditions, an other-worldliness that haunts you as it beguiles you.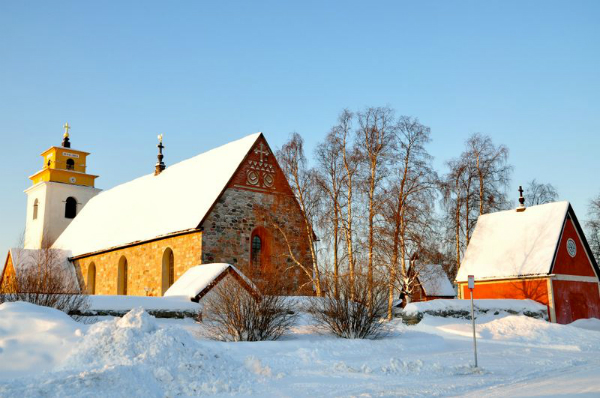 We're set to make a considerable journey in these near-Arctic parts and we've been well warned, so Sarah and I clamber off the plane looking for all the world like the Michelin couple, wrapped in layer upon layer. We've been told that temperatures could drop as low as -25°C during our trip, so we're actually a little disappointed when Graeme Richardson, an amiable Australian and tourism ambassador for Swedish Lapland and our guide for this weekend of adventure, bounds up and tells us that at around -10°C, the weather's positively Mediterranean – he's not even wearing a hat. We make our introductions and then waddle out of the airport into the Swedish afternoon. The bitter wind hits our soft English faces as soon as we're out of the terminal building, but Graeme is tough. Six years here have hardened him; his old world of boats and beaches on the Queensland coast is only a faint memory it would seem.
Luleå is an extraordinary place, an ancient settlement that dates back to 1621 when the Royal Charter was granted to King Gustavus Adolphus of Sweden. The original site of the city is where the old-town or Gammelstad exists today as an extraordinary UNESCO world heritage site. The modern city is home to around 50,000 inhabitants and is a vital northern centre of industry, education and trade, with a strong focus on tech industry and research. Facebook have recently opened their first non-US data centre here – Luleå has the nation's lowest priced electricity, would you believe it. For my money Luleå's finest export isn't cheap power though, it is bleak roe, the special, shining orange take on caviar, which this area of the Baltic is known for producing in the cool autumn months. More delicate than classic caviar, this rare, unique product makes for the perfect first course. I was lucky enough to attend a dinner in London organised by Mathias Dahlgren, perhaps Sweden's greatest chef, and he arrived with a mound of bleak roe the size of a football. I proceeded to enjoy one of the most lingeringly wonderful first courses I've ever experienced.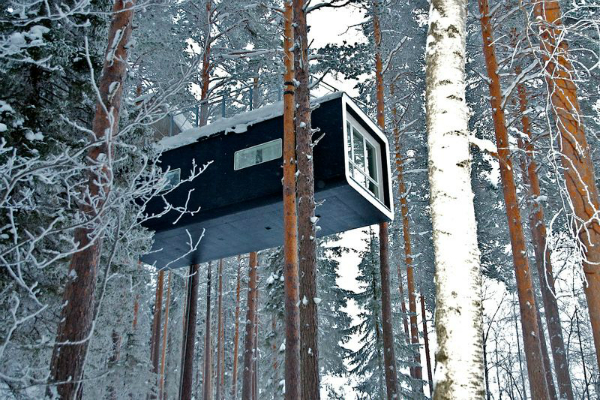 After a short tour of Luleå and the Gammelstad, we're on the road out of town and north – our first stop Harads and the Treehotel. This is unlike any hotel you will ever visit; it must been seen, felt and properly absorbed to be understood. We arrive weary, but expectant after our long drive in the late afternoon darkness. Our host drops us at the entrance to Britta's Pensionat, which serves as a gateway to the wonders of the Treehotel. Never in my life have I received such a warming and restorative welcome than here. Britta and Kent, owners of The Treehotel and the Pensionat are born hosts, it would seem; as soon as you enter the warmth of their home/business, you know that leaving will be painful. The tone is deeply nostalgic; the couple bought the Pensionat or guesthouse eight or nine years ago, but you'd never know this unless you asked. There is a sense that they must have always been here. The rooms have been designed to reflect the aesthetics of a Swedish guesthouse from the 1950s or 60s. Vintage clothing, furniture and art fill the rooms. All is warm and aglow on our arrival; stories are exchanged at a solid farmhouse table along with cups of hot tea and crunchy gingerbread – there is a palpable sense of festivity in the air. Eventually Britta produces our keys and tells us to go find our lodgings. We look at the curious expression on her face, realising that she really means it – we are to head off into the forest and the darkness beyond, alone, to find our bed.
We leave the timber clad-lodging and stumble out into the snow-filled night. It is as cold and alien as you could imagine, the forest sprawls out before us. There is a dimly-defined yellow light in the distance, a lamppost of sorts. We begin to trudge through powder, the lightest, freshest snow. We help each other along, filled with excitement and mirth – to travelling urbanites like us, this is a vivid trip into Narnia and the mystery and magic that lies therein. Everything is silent.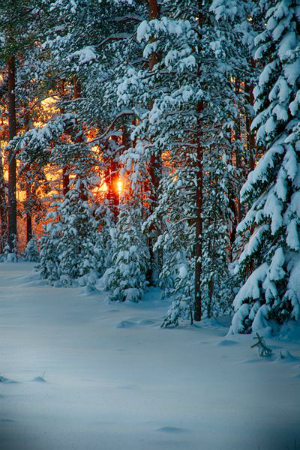 Britta's Pensionat might hark back to an earlier, simpler time, but the lodgings of The Treehotel could not be more modern in design and execution. Britta and Kent were approached by a group of architect friends who came together and decided that there was great potential to build individually designed rooms in the forests that surround the Penstionat. So far, five different architects have designed five unique self-contained hotel lodgings – the results of their vision and hard work are nothing short of spectacular. The lodgings exist in arboreal splendour above the snowy earth. Suspended amongst the trees, they make for arresting viewing.
We eventually arrive at our lodging – The Cabin – the most romantic of the five. Others include: The Blue Cone (inexplicably bright red in colour), The Mirror Cube, The Bird's Nest and The UFO. Our cabin is a large black structure, high up in the canopy of the trees, covered in snow and looking majestic. Inside, all is calm and crisp; the room is utilitarian and elegant. The Treehotel doesn't trade in overbearing luxury, the rooms have no hot water supply; they have been carefully designed to be part of the forest, part of the landscape. What's truly sublime is the view, from our bed we have a vista that stretches through the forest and out over the Lule River.
Before long, we're back in the snowbound forest, heading toward Britta and Kent; we've been instructed to return for 'Ice Dining'. We hear the sound of snowmobiles and then catch glimpses of reindeer pelts and sleds. They instruct us to lie down low on the sled, to wrap ourselves in the warm, slightly oily skins and hold on tight. We're off. Off through the snow, through ditches and over bridges, down low on the back of Kent's snowmobile. We soar across a frozen mass of white, never quite sure if we're on solid ground or water. The snow hammers down, but we're oblivious to all things but the speed of the sled. We're windswept and wild as we cross a huge frozen lake, getting faster and faster, racing in the wintry air. Eventually we arrive at our destination, a tepee that Kent has built on the plane of ice. A fire roars on the frozen water, a barbeque is erected. We sit on animal skins and drink glög to warm our souls. The food is rugged and salty: cured reindeer with blood and butter, it's hot and restorative. We sit late into the night drinking Calvados and sharing stories.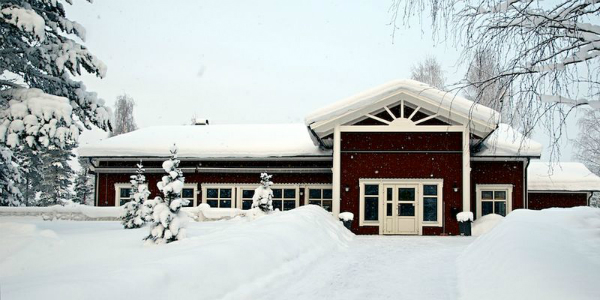 From Harads and The Treehotel it's quite a drive to Sörbyn, the setting for Sörbyn Turism & Konferens and home of Richard Karlsson's wonderful cuisine. Sörbyn is a place of rare simplicity and calm. We arrive mid-afternoon in the tiny, remote village. Night has fallen already and Christmas candles shine in windows lending a warming glow to the deserted streets. The hotel itself is simple and homely; there are rooms that lead off a single corridor, which is reminiscent of a smart university hall of residence. Across from our accommodation lies Karlsson's restaurant, where guests can enjoy some of the finest food in Swedish Lapland, served as a set three or five course menu. Karlsson is a big man; bearded and muscular with intense, soulful eyes. He's something of a rare breed: a gourmet chef by night and a husky 'musher' by day, running wild with a pack of nineteen Siberian huskies – providing tours for visitors or simply heading off into the Arctic by himself. Sometimes these experiences last for up to four days – Karlsson is known to run some of the most challenging and pure husky trips available. Sadly, we are not in Sörbyn long enough to enjoy a tour with Richard; we do, however have the opportunity to sample his singular cooking style. After a particularly invigorating sauna in an old wooden hut by the lake, we retire to our room to prepare ourselves for dinner.
Karlsson has worked in various cities in Sweden and further afield, but decided to return to Swedish Lapland, partly to enjoy the rare beauty of the landscape and engage with it through his dog sledding adventures and partly to re-engage with the extraordinary ingredients which this region of Sweden supports. Swedish Lapland is home to a fascinatingly diverse collection of bounties of land and sea.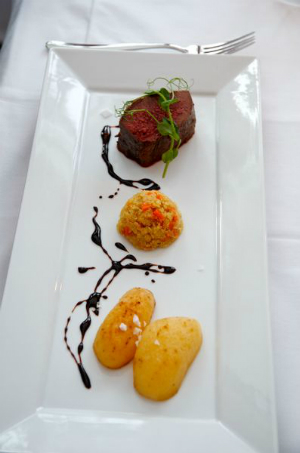 Our meal begins with a tartare of scallops and oysters served in a Martini-style glass and garnished with an intense saffron-scented sorbet. Fresh and mineral with a marked suggestion of the sea, it's a confident and precisely seasoned dish which opens our eager palates. Karlsson, rather charmingly, comes out between courses to pour specially selected wines and discuss the dishes we've just eaten. All members of staff are calm yet engaging; it seems like an extremely democratic set up. This sense is confirmed later when I discover that the lady who served our dishes is actually one of the owners of the hotel and restaurant – the set up seems to speak clearly of Sweden's egalitarian attitudes.
Flamed arctic char is a local delicacy. Here it comes garnished with another: the aforementioned Bleak roe – a little joyful mound of orange. The natural oils in the fish and roe give the dish a quality of texture which lingers, only to be refreshed by excellent Sauvignon Blanc poured by Richard's steady hand. Reindeer fillet provides our protein quotient and the central element of the meal. The fillet has been roasted carefully and served rare. There are the ferrous, earthy notes that you might expect from venison, but with added intensity and oily quality. We drink a high-toned, reticent South African Bordeaux-blend, which is a fine partner for the meat. Finally a flourish of a pudding, Valrhona chocolate fondant – the finest fondant I've ever tasted.
Afterwards, late into the frosty, snow-quieted northern night we leave the restaurant, perfectly sated and stroll, wine-warmed and happy, down toward the lake, returning to the sauna hut we visited earlier. There is a lonely bench flanking the hut. All is motionless and pristine. The falling snow has re-filled the hollow that this naked journalist's body made hours earlier after jumping from the sauna's burning heat. We sit on the bench for an age, silent, totally overcome by the gentle, dreamlike quality of Sweden's northern expanses. In the end, we have to return to the room, our car, our plane, our country – thankfully memory allows me to return here whenever I need refreshing.
Treehotel, Edeforsvägen 2A 960 24 Harads, Sweden. Tel: +46 928 104 03. Website.
Sörbyn Turism & Konferens, Sörbyn 220, 96197 Gunnarsbyn, Sweden. Tel: +46 924 220 36. Website.
For more information about visiting Sweden, visit the national tourism website.