A dejected-looking burnt orange-hued figure subtly lords over a courtyard at Goodenough College, the location of the Bloomsbury Art Fair. It is, in fact, a bronze sculpture of the Minotaur. The disarming piece has a way of provoking mixed reactions from passers-by: long pitiful gazes, giggles, awe and acts of vanity. The latter surface when a pair of enthused art fans position themselves around the mythological creature striking poses for a 'photo opp.'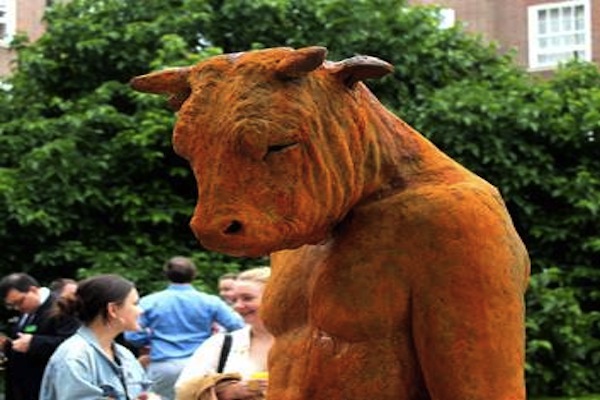 The creator of the Standing Minotaur, Bristol-based artist Beth Carter, has admitted that her sculpted creature is complex; it represents the duality of vulnerability and power. There is an arresting beauty in this potent pairing that poetically encapsulates the spirit of the Bloomsbury Art Fair, a four-day exposition of contemporary mixed media art, whose proceeds go to charities that support people who have suffered life-altering catastrophic injuries. The newest of the fair's three charitable recipients is Walking With the Wounded, an organisation that supports wounded servicemen and women.
In a similar vein, the entire career of featured artist Sophie Morgan seems to be a celebration of catharsis and its concomitant empowerment. Paralysed in a car accident at the age of 18, Morgan went on to become a BBC presenter, Stella McCartney model, TED conference speaker, portrait artist, and inventor of the Mannequal (a visionary designer wheelchair made to accommodate a window display mannequin).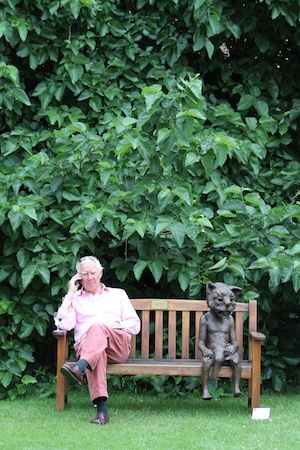 In that same realm of visionary, aesthetic inventions, a centrepiece of the art fair is Patrick Tresset's Paul, the one-armed, one-eyed robotic portraitist. Attendees are invited to commission their own on-the-spot portraits by the non-human artist. Bound to provoke its share of kudos for sheer innovation and shudders for soulless automisation, the machine is an irresistible draw for Luddites and digital dorks alike.
Indeed, The Bloomsbury Art Fair has a bit of something for everyone; art discussions, graffiti demos, more traditional water-colour landscapes and environmental photography, and of course marquee art names with undying street cred like Banksy and Damien Hirst.
If you're lucky, whilst perusing the art fair's creative wares – some of which are priced quite decently – you may even chance upon a man who goes by the name of 'The Oyster Meister.' He'll be the friendly lad lugging around bowls of oysters, sporting an ominous metal glove a-la Hannibal Lecter, and of course wielding his "trusty knife" (to quote the man himself).
Like the Minotaur, the Meister has amassed his share of fair fans who watch in awe and admiration as he takes oyster shucking to the level of art form. At the Bloomsbury Art Fair, you have to be open to discovering art, quite simply, everywhere!
The Bloomsbury Art Fair runs through to Sunday 8th of July at London House, Mecklenburgh Square, London WC1. For more information, including a timetable of events this weekend, visit www.bloomsbury-art-fair.com