Heading to the Colisseum for the first night of Don Giovanni, I saw a man synonymous with the blackest of black arts. A charmer, of course, and charismatic with it, but a figure so mired in treachery and deceit that one's blood runs cold to see this shameless exhibitionist let loose upon the world.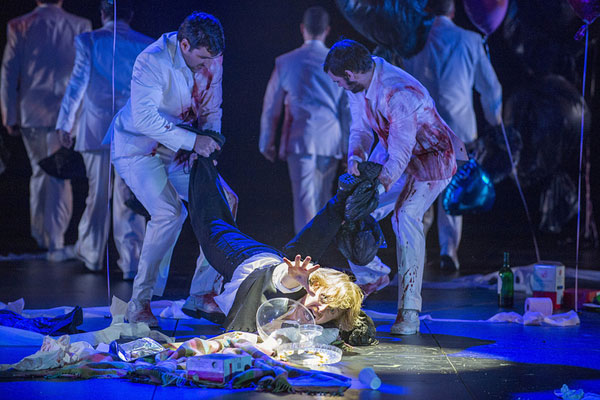 But enough about Lord Mandelson. I've always disliked the idea that a production of something, whether it be a play, opera or symphony, 'should' be a certain way. The exciting appeal of watching a new staging or production or anything is that there can be scope for innovation and freshness within it, and that a fine director or conductor can make their mark in a unique and thrilling way. Then of course there are the examples of equally talented artists putting 'their stamp' on a work and it not only coming across as misjudgement of the material, but show-off arrogance.
The day after watching the ENO's revival of their 2010 staging of Don Giovanni, directed by Rufus Norris, I remain unsure as to whether it's a brilliant re-evaluation of the opera as the blackest of black comedies or a silly travesty of the original. It's probably my favourite opera, partly because I believe the score to be the finest ever composed but also because I've always adored the way that it alternates – sometimes in the same scene – between comedy and tragedy, achieving a kind of Shakespearean breadth of emotional states.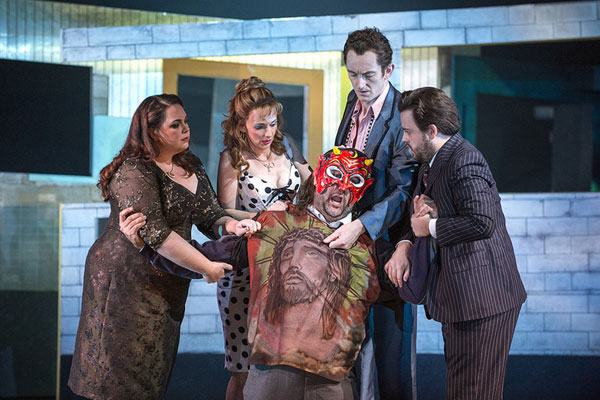 What's so unusual about Norris' staging is that the tragic aspects of the opera are all but ignored in favour of increasingly farcical adventures, although these have been toned down considerably since the first staging. These are first hinted at when Iain Paterson's superbly sung but somewhat low-key – a lecher rather than a libertine – Don Giovanni first appears in the overture, accompanied by Darren Jeffery's bucolic Leporello, a dead ringer for David Threlfall in Shameless. They reach their peak in pure knockabout comedy in the second act when John Molloy's Masetto, declaring the Don to be 'the bastard among bastards' ends up having a large fork rammed into his posterior, shouting, operatically, 'My arse!' Here, as elsewhere, Jeremy Sams' translation of the libretto makes up for in humour what it lacks in sophistication. The overall effect is vaguely disconcerting, a bit like watching a mash up of Macbeth and Carry On Screaming, complete with Gilbert and Sullivan-esque banter. There are some cherishable rhymes, however – 'floozy' and 'jacuzzi' is one I never expected to hear in a Mozart staging, possibly any more than I thought I'd be treated to Don Giovanni singing, of Leporello, 'Why must he purloin my very best sirloin'? Well, indeed.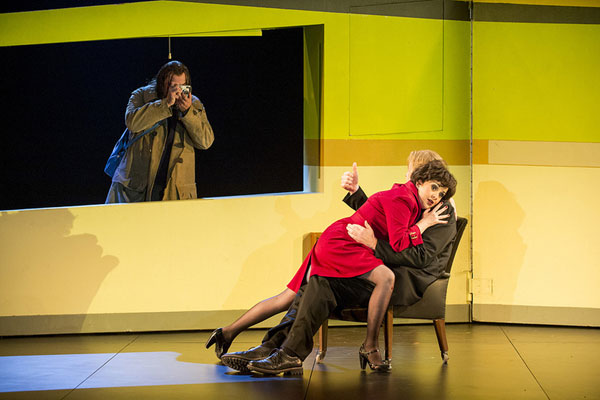 Musically it's immensely better this time around, thanks to Edward Gardner's typically confident and brisk conducting, with the best music, as ever, reserved for the finale in which the Don descends to hell, although here, as elsewhere, Norris adopts some curious directorial decisions, with a painful absence of the literal fire that consumes him at the end. (The set design, by Ian MacNeil is, presumably intentionally, garish and vaguely Pop Art.) I enjoyed this production immensely, far more than some more po-faced and accomplished ones I've seen, but I honestly couldn't say that this was intentional or not. One's thing for certain, the famous 'catalogue' scene will never quite make me think of a spreadsheet ever again.
Don Giovanni runs until Saturday 17th November. For more information and tickets, visit the ENO website.