Last year, the weather was kind for Holland Park Opera's summer season. This year, not so much. I spotted one of the cellists in the City of London Sinfonia wearing a fur hat. Very sensible. If you're going this month I recommend winter clothing for the big tent.
It's worth every layer, though, for the playing of the City of London Sinfonia who were magnificent in one of Puccini's earliest and less familiar operas, Manon Lescaut. It was his first big success even though it doesn't have the great soaring arias of his later works and it struggles with both plot and character – I heard one member of the audience complaining in the interval that she just didn't care about any of the characters, they were all so awful. It is admittedly an even work but it gives a real insight into the basis of Puccini's genius – all the signs are there in the music.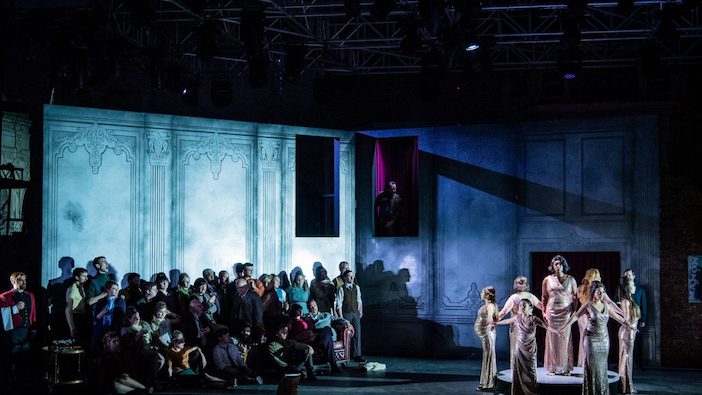 It is a tale set firmly in 18thcentury France. A young girl, Manon, effectively pimped by her brother to become the mistress of an older, powerful man, Geronte, falls in love and runs away with a young student, Des Grieux. When he cannot afford to keep her in suitably luxurious style, she returns to her older lover but on falling for Des Grieux all over again, she is arrested as a prostitute and deported to Louisiana. Des Grieux follows her but cannot save her.
Director Karolina Sofulak has updated the action to the 1960s. This interpretation has its moments, with the chorus dancing the twist and playing a somewhat unlikely game of Twister and it brings some great costumes to the party, particularly the gold lame and white stoles – at times Diana Ross, at others, more Shirley Bassey (top marks for these to designer George Johnson-Leigh).
But, fun as it is, it does leave the plot dangling. The deportation is dropped altogether and instead Manon seems to have become part of a group of sex slaves – all in gold lame, too, in spite of one being heavily pregnant and another clearly a child. This casts a particularly dark shadow over the production and the villain, Geronte, powerfully sung by Stephen Richardson.
The other villain of the piece is Manon's brother, Lescaut, played almost too engagingly by Paul Carey Jones. As Des Grieux, Peter Auty, took a while to get into his stride but warmed up vocally – though there was little in the way of on-stage chemistry between the two lovers. Indeed, in the final act when the words are of touching and kissing, the two drift further and further away until they are on opposite sides of the stage. Perhaps Sofulak is suggesting that it was not a real love at all, just two people locked into their own idea of a romance? Their relationship certainly feels like a precarious, unconvincing business all the way through. And speaking of precarious, the uncertain steps of the two lovers over the backs of leather chesterfields left the audience waiting for disaster…
As Manon, though, there can be no quibbles about Elizabeth Llewellyn. She casts a glamour over the stage and her voice has rich depths and soaring top notes. The passion of Llewellyn's singing and the playing of the City of London Sinfonia under conductor Peter Robinson are alone reason enough to give this uneven early opera of Puccini's a try.
Manon Lescautis at Opera Holland Park until 26 June. For further information and tickets, please visit www.operahollandpark.com.