A Midsummer Night's Dream', one of Shakespeare's best loved comedies, is back not once, not twice, but in three separate productions in London this summer. And nowhere could feel more fitting than the Open Air Theatre to stage a production full of magic, young love, mystical forests and twinkling lights. Yet everything is not as it seems in this dream directed by Dominic Hill, artistic director of the Citizens Theatre in Glasgow, who has turned the standard representation on its head.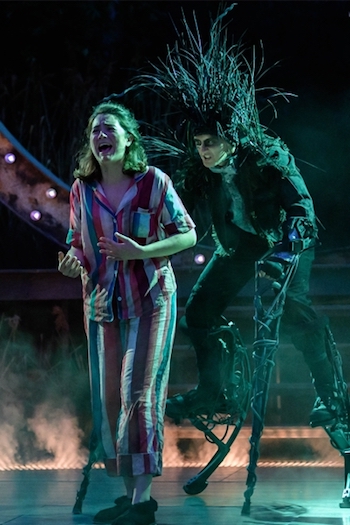 We open the play ready to party. Balloons litter the stage and the young Athenians throwback shots of Grey Goose to the rhythmic sound of beatboxing. The staging is minimalist and modern, although the text is five centuries old. The entire company excels at really giving clarity to the words, with many of the audience commenting that the story was clear throughout despite the Shakespearean dialogue contrasting sharply with the setting.
The air turns cold when we enter the fairy realm. Emerging from under the stage on all fours on stilts, as if out of the reeds of the surrounding park, they are a spectacle in black and their arachnid-like forms send palpable shivers down the spine. There is a Tim Burton-esque quality to this world, from the elongated Edward Scissorhand-style limbs to the highly coiffed hairstyles and the Dr Marten boots. Nymphs with flower garlands these fairies are not.
In Puck (Myra McFadyen), we see a joker, mysterious rather than mischievous, haunted rather than magical, certainly not an innocent trickster. He (she) jumps onto Oberon's lap, a ventriloquist's dummy in the making, and conjures spells in a scene reminiscent of Doctor Faustus' deal with the devil, complete with a smoke filled ring. Her Charlie Chaplin-inspired three-piece suit gives her validity in the world of the court and the fairy realm of the forest, transcending the boundaries that separate the two. Her closing speech is beautifully delivered in a very nuanced performance.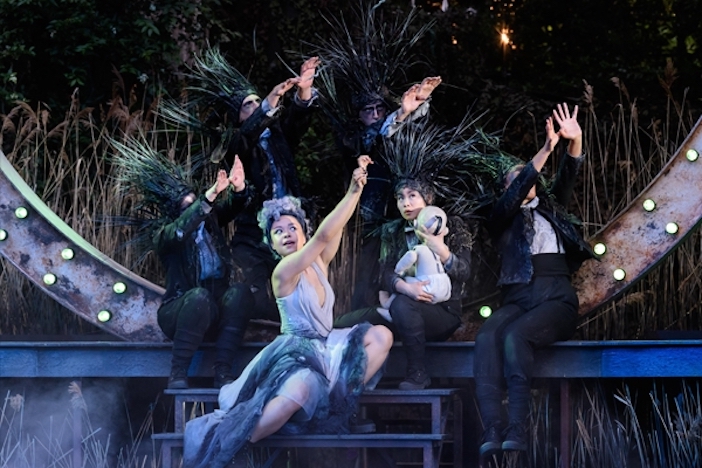 This is a much heavier, less humorous interpretation of the text which gives more weight and credence to the female voices. We can't just snap our fingers for a happy ending when there have been so many mishaps along the way, and the controlling male figures still abound. The gender politics so entrenched in Shakespearean writing is enhanced and there is a tentativeness to the happily ever after. It's not the 'dream' we're necessarily used to seeing performed, as described by designer Rachael Canning, "…[it is]a dream world, but not necessarily a sweet dream" made all the more unsettling by the walk out of the park as the (proverbial) curtain falls.
A Midsummer Night's Dream at Regent's Park Open Air Theatre until 27th July 2019. Running time approximately 2 hours 35 including an interval. For more information and tickets please visit the website.