Great Expectations has been brought to the screen many times before and all with varying degrees of success – from the definitive, faithful 1946 version starring John Mills and Valerie Hobson, the BBC's recent atmospheric slow-burner, to the questionable contemporary adaptation of 1997 (Gwyneth Paltrow and Ethan Hawke took the leads) and Mike Newell's rather superfluous offering that seemed to sink without a trace at the end of last year.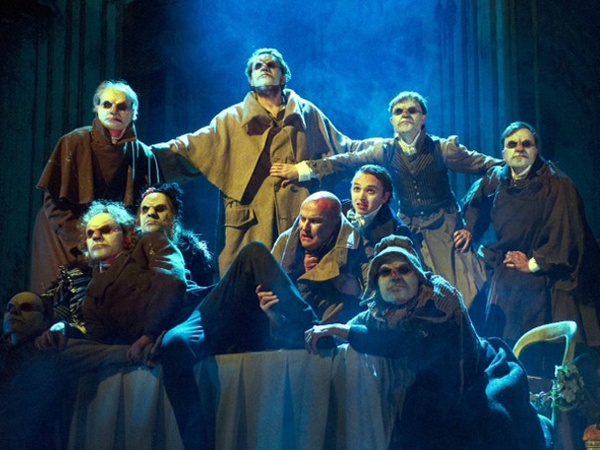 Now the Vaudeville Theatre's has taken up the gauntlet and attempted to translate Charles Dickens' melancholy, beloved, complex tome into a two-hour stage production. This is a tough gig, no doubt about it – and I was always going to be a tough critic: not only do I count the 1860 masterpiece as one of my favourite books, but the fact I'm named after one of the lead characters has ingrained in me a particular sense of ownership where Great Expectations is concerned.
So – while I sympathise with her plea in the programme that there was "just too much" in the original material – I was disappointed to see the truncated, pantomime-ish results of Jo Clifford's adaptation. For all the gusto of the performances and lavish visuals, what's lost is that crucial emotional engagement with the characters. I found it hard to see the majority of them as anything more than flamboyant stereotypes. Mrs Joe is a cross between Punch's Judy and Cinderella's wicked stepmother, and Pumblechook is Tweedledee missing his other half.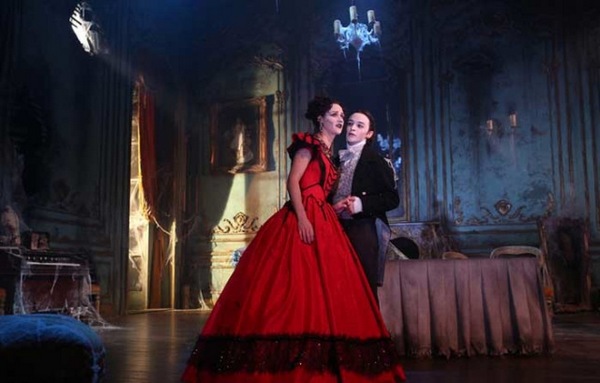 Chris Ellison delivered a suitably menacing and maligned Magwitch, yet Grace Rowe's Estella was a more precocious tease than the icily aloof, proud and magnetic heroine Dickens depicts. Only Pip, played by new talent Taylor Jay-Davies, gets to exhibit something like a multi-faceted personality through the rushed scenes, capturing the right blend of naivety, longing and callowness. Yet his transformation into proud gentleman is all too sudden. As soon as he gets his smart threads on, courtesy of a mysterious benefactor, he's into 'preening and pretentious' mode. He looks like a boy who's raided a dressing up box rather than a well-turned-out young cad, and his new-found snobbishness seems particularly inexplicable. After all, Great Expectations isn't a straight up rags-to-riches Disney tale; there are no simplistic villains here. Yes, people commit cruel deeds, but we can always trace their hostility or bitterness back to some past injustice. To portray them as two-dimensional villains glosses over the psychological complexity of Dickens' creations – even Mrs Joe Gargery, Estella and Miss Havisham are tragic, pitiable figures as much as they are 'baddies'.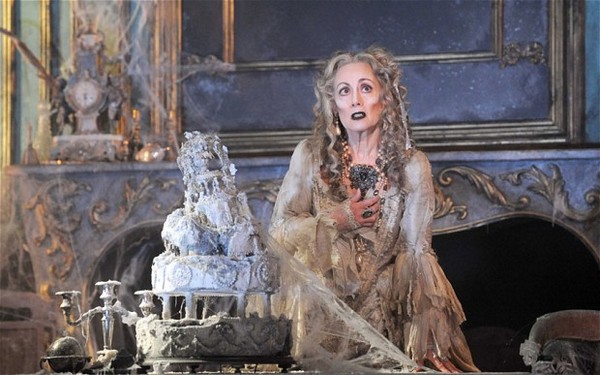 Robin Peoples' set is so spectacular it drew a few audible murmurs of appreciation when the curtain went up. Miss Havisham's lair is a grand yet decrepit Victorian drawing room with gaping holes in the tapestried walls, thick cobwebs cascading from the candelabra and mantelpiece and the table, upon which sits the mould-ridden, mice-gnawed wedding cake, serves a second level to the stage which the actors frequently clamber over. The costumes – a Tim Burton-esque ensemble of stripy tights, top hats and oversize collars – are also on the money. Unfortunately the same cannot be said for the make-up, which was straight out of a kids' Halloween party. Everyone had thick black lines etched along their cheekbones and conspicuously sported black nail varnish. Maybe to enforce their dirt-encrusted poverty or dark deeds, but the effect was more Emo than emotive.
Bringing such a challenging and classic tale to the stage for a new audience is laudable, but the main stumbling block is that in such a truncated re-elling of an epic tale, subtlety is quashed. For those who already cherish the book and even the films, I fear they'll find this lacking – or, more precisely, feel that what they'd actually seen was Great Expectations: the Panto.
Great Expectations is at the Vaudeville Theatre, 404 Strand, London until 1 June 2013. Running time approximately 2 hours and 20 minutes including interval. For more information visit the website.