Having long been a fan of the original 1952 MGM musical comedy 'Singin' in the Rain' starring Gene Kelly and Debbie Reynolds, I was excited to see it brought to life on such a grand scale. Adam Cooper leads the cast as silent movie actor Don Lockwood and bravely pulls off possibly the most memorable dance sequence in movie history. Daniel Crossley stars as Don's sidekick Cosmo Brown and entertained with the comical 'Make 'em Laugh' routine. Scarlett Strallen is perfectly cast as Kathy Seldon, as is Katherine Kingsley as the extremely annoying, yet terribly amusing, dumb blonde drama queen Lina Lamont.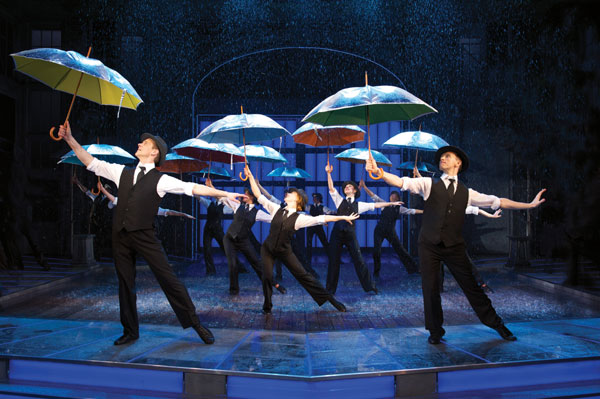 Directed by Jonathan Church, this acclaimed production transfers to London's Palace Theatre from Chichester Festival Theatre following a sell out run. Now bigger and better, in keeping with such a large venue, the exceptional set designs by Simon Higlett pays homage to the glitz and glamour of Hollywood in the 1920s and the struggle silent film stars underwent to retain popularity in an era on the verge of the 'talking pictures'. The vibrant costumes are a delight, complementing the energetic choreography by award-winning Andrew Wright. The production is impressive, especially when it comes to large routines such as 'Broadway Melody' which bursts with colour and exuberance.
Featuring the familiar songs 'You Are My Lucky Star' and 'Beautiful Girls' by Nacio Herb Brown and Arthur Freed, seeing the 'Good Morning' routine performed live on stage goes above and beyond simply capturing the mood of the film and that is what makes this an unmissable theatre experience. This production doesn't simply replicate the original routines – the choreography is cleverly designed to give the audience something a little unexpected, whilst staying true to the original vibe.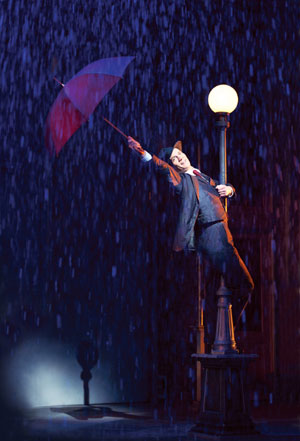 When the much anticipated 'rain' was turned on like a power shower for the title sequence at the end of Act I, I joined most of the audience in having to hold my sides in order to contain my hysterics as Adam Cooper danced (or rather waded) through the puddles caused by the unceasing and torrential downpour. The 'rain' made another appearance at the end of Act II, when the full cast appeared for the finale wielding silver and multicoloured umbrellas. They certainly looked as if they were having a ball splashing the front row of the audience and deserved the standing ovation for entertainment value alone. This production offers everything you could possibly want from a West End musical; razzmatazz, panache, and style. Quite simply I defy you to leave without a big grin on your face. You may even find yourself whistling on your way home…
Singin' in the Rain, Palace Theatre, 109-113 Shaftesbury Avenue, London W1D 8AY. Running until 29th September 2012 (first booking period). Performances Monday and Tuesday at 7pm, Wednesday – Saturday at 3pm and 7.30pm. Tickets from £15 – £65. Tel: 0844 412 4656. For more information, visit the production's website.