Marie Jones's 1996 two-man hit tragicomedy Stones in His Pockets is, for many theatre-goers, a long overdue revival by Theatre Royal Bath Productions and Rose Theatre Kingston; the first West End production having run for four years, scooping countless awards including the Olivier and Evening Standard 'Best New Comedy', before receiving three Tony nominations on reaching Broadway.
Opening at Theatre Royal Bath before commencing an extensive UK tour, director Lindsay Posner has a lot to live up to, whether audience members are familiar with the play or not. With minimalist set and costumes by Peter McKintosh taking us to a sleepy Irish village in County Kerry that is descended upon by a Hollywood film crew as they shoot The Quiet Valley, Owen Sharpe and Kevin Trainor play film extras Jake and Charlie who become friends on set, whilst dividing up fifteen other characters including the dazzling American actress star, Caroline Giovanni, film director Nick Curtis, and the stooped, Mickey, who is the last surviving extra from The Quiet Man (the 1952 film starring John Wayne and Maureen O'Hara)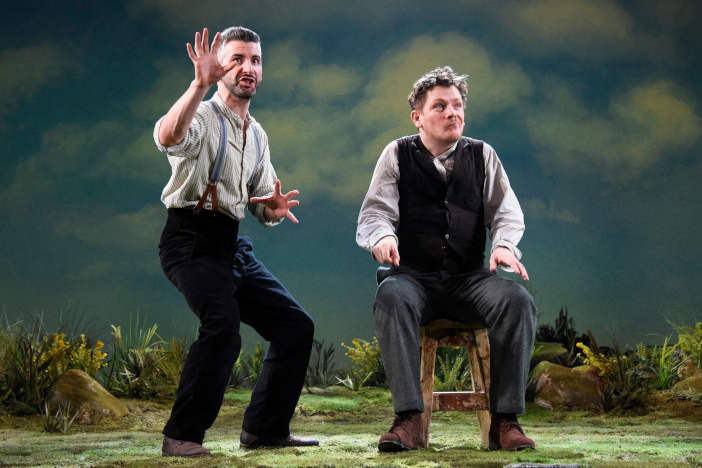 A clash of cultures ensues as filming rolls on, with Sharpe and Trainor changing roles so frequently, with barely any costume changes, that it's initially hard to keep track, until each character's mannerisms and accent become familiar to us and we adjust to the fast past of this relatively short play; illustrating, through writing that attempts to be both comic and poignant, that Tinseltown's stereotypical vision of rural Ireland is a far cry from the reality – the movie industry equally.
When Jake's teenage brother Sean is humiliated by Caroline in the local pub and later commits suicide by drowning with stones in his pockets, the community is embittered by the intrusion of the film production and their ignorance of their way of life. Charlie is further disillusioned when his own screenplay, which he tries to punt throughout the play and is persuaded by Jake to rework into a drama about Sean's suicide, is dismissed by Curtis, who claims film audiences are only looking for a happy ending.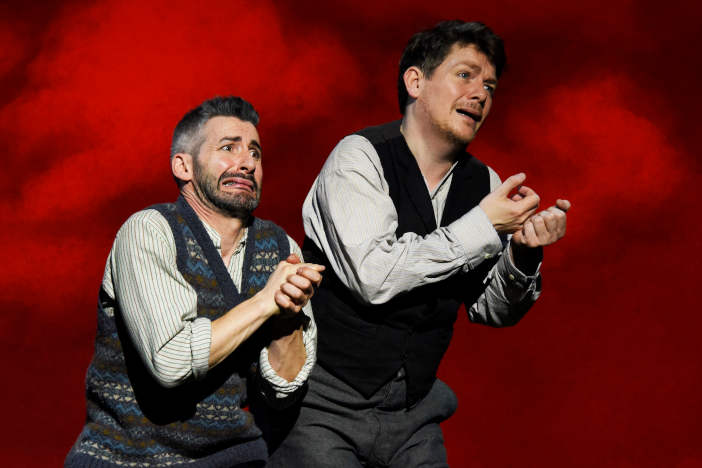 Without having seen the original production, it's hard to judge the success of this revival, for whilst the direction and acting is nigh-on flawless, there are only ripples of laughter and amusement rather than guffaws from the audience during the press night at Theatre Royal Bath, a disappointment given the billing of hilarity and hysterical humour. Even now, I'm not sure whether it's the subjective nature of comedy or a certain missing magic of this production that is at fault.
The award-winning West End production, which was directed by Pam Brighton, who later lost a High Court battle for joint copyright of the show with Marie Jones, will undoubtedly live on for many fans of the show. The device of two actors portraying a range of male and female characters has been successfully achieved in many plays from The Woman in Black to The 39 Steps, and is perhaps the most entertaining element of Jones's play. But while Sharpe and Trainor throw themselves into the diversity that Stones in His Pockets offers, it falls short of either true comedy or tragedy and left me strangely deflated rather than invigorated and longing for more Irish charm.
Stones in His Pockets at Theatre Royal Bath until Saturday 16th March 2019. Running time approximately 1 hour 45 minutes including an interval. Production images by Nobby Clark. For more information and tickets please visit the website.