Felicity Kendal, long-since celebrated for her comic brilliance since appearing in the BBC's hit sitcom The Good Life, returns to Theatre Royal Bath in William Boyd's droll family drama, The Argument; exploring the often simple catalysts which spark blisteringly honesty and brutal arguments between family relations. Is it love, loyalty or tolerance that keeps couples together and families still speaking? What happens when one party becomes too intolerant or undiplomatic to hold the lid on things?
The play centres around two couples at either end of the marital journey, with young, arrogant British Museum curator Meredith (Alice Orr-Ewing) and her husband Pip (Simon Harrison) having been married for just three years, while her parents Chloe (Felicity Kendal) and Frank (Rupert Vansittart) have been married for thirty-six; albeit the senior couple's union has been anything but smooth running due to Frank's infidelities. Vansittart clearly relishes playing the posh, red-trouser-wearing Frank, who appears to take one day at a time with the help of the vodka bottle.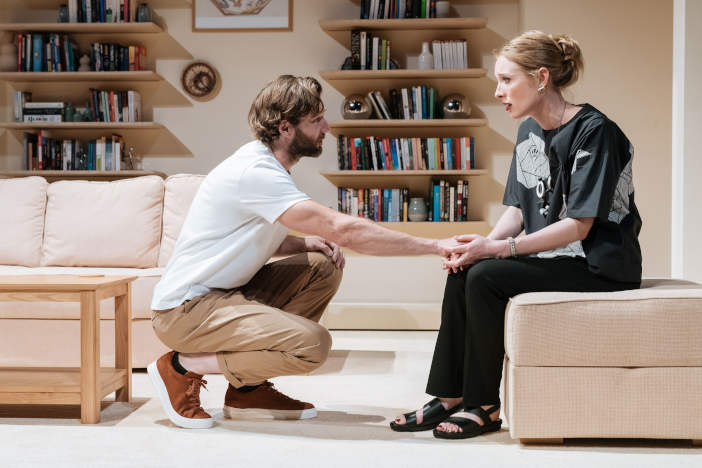 Orr-Ewing is terrifically scary as the pincer-tongued Meredith, not least when she discovers during a wine-fuelled argument that Pip (whom she hurls abuse at and patronises constantly) has been sleeping with a work colleague for three months. Her mother, in 'told-you-so' stance, reveals that neither she nor Frank ever thought much of their 'barrow-boy' son-in-law, and it is only when her daughter appears to be heading over the precipice and down the cliff of divorce that Chloe suddenly changes her tune and announces her fondness for Pip, all the while suspecting that something is going on between Meredith and an old school friend, Luke (whom we don't meet).
Directed by Olivier-award-winning Christopher Luscombe, Simon Higlett's canny drop-down set design features various backdrops transporting us to the different living rooms of Meredith and Pip, Chloe and Frank – and get ready for there being almost always one or more characters chatting on the sofa. In fact the action (or non-action) is so sofa-driven as to be akin to watching an episode of Gogglebox. Even when Pip gets his own seedy flat after separating from Meredith, he and his friend Tony (Esh Alladi) have a row whilst watching the footie over some beers – cue a drop down partition with a flat screen showing Match of the Day. Tony suggests that Pip, a 'ghost' of his former self under Meredith's influence, merely had an affair in order to provoke a separation.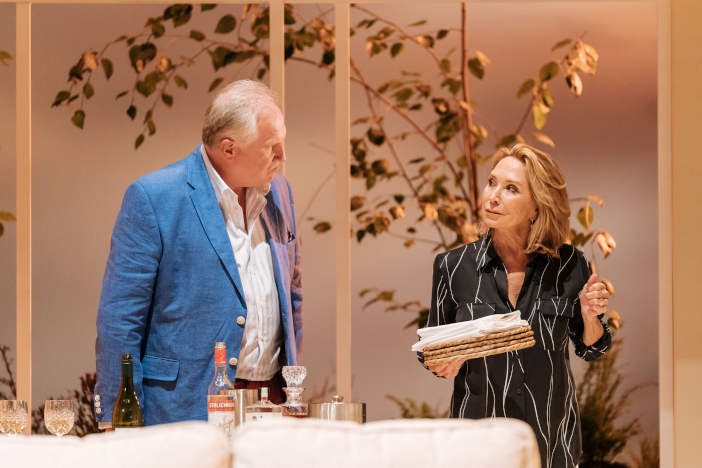 Meredith is meanwhile enraged when her best friend Jane (Sarah Earnshaw) analyses her marriage breakdown. Suggesting that Pip was unfaithful as a reaction to having felt emasculated by Meredith, due to her incessant reminders of her intellectual superiority, Jane's defence of Pip reveals her attraction to her best friend's husband. Meredith eventually decides to take Pip back, encouraged by Chloe, who points out the power a woman has over her husband when once he has betrayed her; a reconciliation is cemented by argument after argument. When Pip has a heart to heart with his father-in-law, Frank likens the success of marriage to following the highway code – whatever you do, however clapped out the car, you must not abandon the vehicle. The strain between the two men is palpable, while Pip's outburst of disrespect and an 'up-yours' gesture, has the majority of the audience turning to their companion in eyebrow-elevated surprise.
Alan Ayckbourn-esque, although the dialogue is supremely natural (both the writing and the delivery), the plot engaging, and the characters well drawn, it is by no means a great or mould-breaking play. For example, it's doubtful that this work will still be revived in three let alone thirty-six years. That doesn't prevent it being worthy entertainment for today's audience, however, and what elevates The Argument to something truly enjoyable is the flawlessness of this Theatre Royal Bath production, uniting an experienced and highly comic cast with strong direction. There can be no 'argument' that Boyd and Luscombe have nailed a thoroughly amusing exploration of family and marital politics, and I defy anyone not to find something familiarly rib-tickling therein.
The Argument at Theatre Royal Bath until 24th August 2019. Production images by Manuel Harlan. For more information and tickets please visit the website.