The tone, feel and political outlook of St John's Wood can be gathered remarkably quickly. Shortly after leaving the Tube station, one comes across a neat, polite piece of graffiti. With the obligatory hashtag, it said 'Never Corbyn'. Given the large Jewish population around the area, this antipathy is hardly surprising. Yet there are other reasons why everyone's favourite Marxist allotment-owner may not be flavour of the month here. Revolution has come to St John's Wood, but in a quiet, understated way, courtesy of the property asset company Trophaeum Asset Management. Their aim has been to take an old-fashioned shopping area, the high street, and to ensure that only exciting and forward-looking brands proliferate, casting off any reputation for fustiness or hanging back.
In the words of Trophaeum's managing director Matt Farrell, 'We have set a vision for the high street and begun to bring it into action. There have been ten fantastic new openings on St John's Wood High Street in the past two years, which are bringing footfall to the unique neighbourhood. We've sought to offer more variety for a wider age range of customers, which is continuing to develop.' And more are planned, as well. Farrell tells us that 'We have brands including British chocolatier Rococo, opening in late November, more fashion and beauty brands planned and we're also on the hunt for an Italian restaurant, pizza parlour and sushi location.'
Certainly, one doesn't lack for places to eat right now (although, being an aficionado of pubs as well as restaurants and delicatessens, it is a disappointment not to see a really interesting one), but there is a welcome egalitarianism for such an undeniably expensive area. If one walks into St John's Wood undoubted star delicatessen, Panzer's, which has recently celebrated its 75th anniversary, then you can spend hundreds of pounds on fine wines and their legendary hampers, but you can also spend rather less than a tenner on their smoked salmon and cream cheese bagel, which, in my humble opinion, is the best one that I have ever had, beating even the previous high-water mark of Beigel Bake on Brick Lane. It is a wonderful place. But then newer entries onto the high street must have their moment in the sun, as well; a trip to Laurent's delicatessen produced mediocre peach iced tea but a welter of delicious patisseries, which were carted off like spoils of war. Which, I suppose, they rather were.
It is in keeping with the growing excellence of St John's Wood that two of London's most consistently superb restaurateurs, Chris Corbin and Jeremy King, decided to open their latest establishment here. Corbin and King have made a successful career out of giving their customers exactly what they want, and their latest restaurant, Soutine in St John's Wood, follows on from their highly successful French bistro Colbert in Sloane Square. You know what you're going to get almost before you arrive: the comfort and style of a classic Parisian establishment, transplanted to North London, with well-chosen brasserie classics and well-drilled service.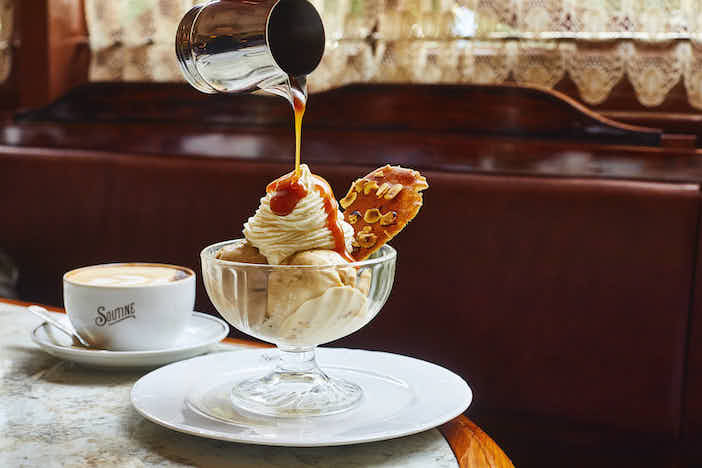 Just as well, then, the food is of an outstanding high standard, from the plump, juicy escargots to the excellent steak frites and a particularly good coq au vin (the 'vin' in this case being Riesling). Even the unusually temperate suggestion of a bottle of the house red proves to be a good call, its being a fine, drinkable Pays d'Oc. By the time that an epic chocolate mousse ('a partager', the menu helpfully suggests as if there was any possibility of getting through it solo) arrives, diners are likely to be both replete and extremely satisfied with their new neighbourhood spot.
But it would be against my journalistic duty to neglect the other new arrival in the area, and so my guide-cum-partner-in-crime Helena and I stroll up the street to the Ivy St John's Wood. By now, anyone living in a salubrious town, city or area of city will have been watching anxiously out for the arrival of their Ivy; like Waitrose, it is the surest signifier that their postcode is not so much up-and-coming as thoroughly arrived.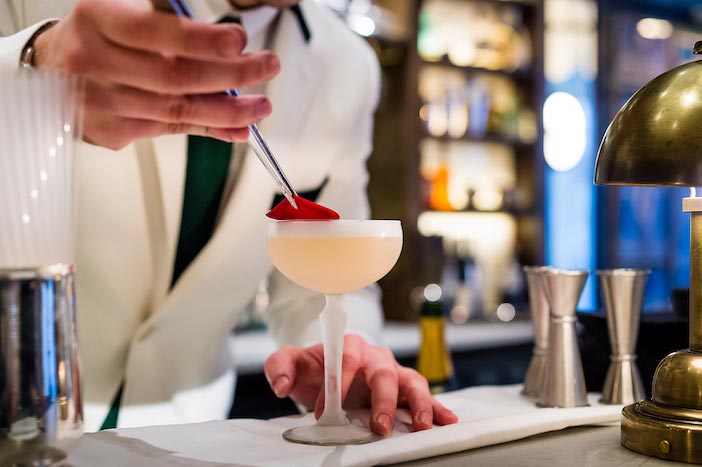 Usually, I would be excited at making inroads into their menu, but Soutine had so sated me that the only thing that I was up to was the drinks list. The fine house Champagne began the voyage, followed by a really excellent bottle of oaky, buttery Macon from Burgundy. The stuff of happy afternoons, it sent me into a happy reverie, before a brisk pomme epicée, a combination of gin, apple cider liqueur and tonic, delivered me back onto St John's Wood High Street, ready for further adventures.
It's hard not to share Farrell's vision for the area. There is a real buzz around St John's Wood now – with or without Jeremy Corbyn – and anywhere that can house Panzer's and Soutine is a serious food-oriented destination. It will be worth keeping an eye on further developments, but already, this corner of NW8 should be on any serious gourmand's radar.